Happy Robots Records and The Electricity Club are pleased to announce that ARTHUR & MARTHA will reunite for a one-off performance at TEC005 on SATURDAY 2ND MARCH at The Islington in London. Also joining the bill will be PLASMIC from Orange County California and RAINLAND from Glasgow.
ARTHUR & MARTHA's blend of electronica was branded 'cutie krautrock' or 'tweetronica' – they used using toy and playground electronic gizmos, battered old synth and cheapo drum machines to create gentle, tinny yet poignant pulsebeats that propel their achingly pretty, minor-chord melodies. Imagine, if you will, SAINT ETIENNE in space or KRAFTWERK playing THE FIELD MICE at a freshers' disco.
ARTHUR & MARTHA were Alice Hubley and Adam Cresswell; the lo-fi electro duo released their only album 'Navigation' in 2009 to critical acclaim with favourable reviews from The Word, The Guardian, Artrocker and NME. The synthetic motorik of 'Autovia' was one of its highlights while the LADYTRON go Krautrock of 'Squarewave To Heaven' and the delightfully mournful NEW ORDER tribute 'Turn to Dust' captured their peculiarly English essence.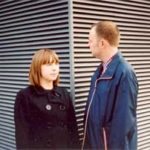 Described as "Gilbert & George, disguised as The Carpenters…", the pair quietly parted ways for a few years after the release of 'Navigation' but in 2015, Cresswell made a surprise return to music as RODNEY CROMWELL with the superb 'Age Of Anxiety' while 2019 will see Hubley release her first solo record as ALICE HUBBLE. Their reunion as ARTHUR & MARTHA will see a special live presentation to celebrate the 10th anniversary of 'Navigation'.
Supporting the bill will be PLASMIC, described as "your abused Barbie doll from childhood". Combining J-Pop with CRYSTAL CASTLES and DEVO, Lauren Lusardi is the precocious talent behind PLASMIC. She studied electronic music at a local community college where she developed her knack of detonating infectious lo-fi synth bombs.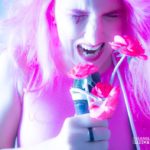 The undoubted standout from PLASMIC's 'Validation Nation' EP was 'Baby Machine', an immensely catchy feminist electropop anthem utilising a mixture of vintage Casio and Yamaha sounds that challenges the expectations of women to bear children. Her most recent single release was a delightful cover version of 'Female Trouble' to celebrate the birthday of the late actor and HI-NRG diva DIVINE. Meanwhile on the other side of the coin, she has also covered 'Every Day Is Halloween' by MINISTRY!
Opening TEC005 will be Weegie synthpop duo RAINLAND. Although they have so far only one EP 'Touch' to their name, Ian Ferguson and Derek MacDonald are experienced hands having been the musical lynchpins of their previous band ANALOG ANGEL, best known for songs such as 'We Won't Walk Away' and 'Drive'.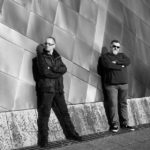 Now free of the industrial shackles that occasionally held them back, their self-titled number 'Rainland' was a stomping synthpop statement in the vein of ULTRAVOX with Ferguson's vocal stylings not dissimilar to a certain Midge Ure while 'Touch' with its digital slapped bass and HI-NRG flavour is a nod to BRONSKI BEAT. Having accompanied ASSEMBLAGE 23 on two UK tours, their rousing stage manner make them perfect as cheerleaders to begin any live presentation.
With 'Autovia' by ARTHUR & MARTHA, 'Black Bog' by RODNEY CROMWELL and 'We Won't Walk Away' by ANALOG ANGEL all featuring on 'The Electricity Club' 2CD compilation released by Amour Records / Minos EMI / Universal Music, TEC005 will also act as a launch party for its release. Simon Helm of Cold War Night Life will DJ between each live set.
---
ARTHUR & MARTHA, PLASMIC + RAINLAND play TEC005 on SATURDAY 2ND MARCH 2019 at The Islington, 1 Tolpuddle Street, London N1 0XT – tickets are available now from https://www.wegottickets.com/event/457122
Facebook event page at https://www.facebook.com/events/757337877964541/
https://www.happyrobots.co.uk/arthur-and-martha
https://www.facebook.com/arthurandmarthaband/
https://www.facebook.com/RainlandtheBand/
https://rainland.bandcamp.com/
https://www.facebook.com/plasmicpower/
https://www.facebook.com/happyrobotsrecords/
https://twitter.com/Happyrobotsrecs
https://www.instagram.com/happyrobotsrecords/
---
Text by Chi Ming Lai with thanks to Adam Cresswell
10th December 2018