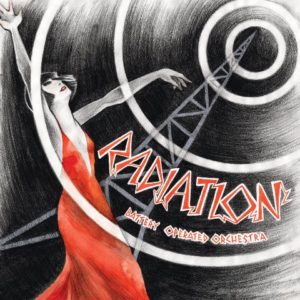 Since their 2012 debut mini-album 'AC/EP', BATTERY OPERATED ORCHESTRA have been steadily building a fine reputation for their quirky chiptune influenced synth adventures.
Crossing CRYSTAL CASTLES with YELLOW MAGIC ORCHESTRA, the husband and wife DIY duo of Brigitte Rose and Chris Black released their first album 'Incomplete Until Broken' in September 2014. While Black's previous project KATSEN folded after just one long player, luckily the Duracells have lasted for BATTERY OPERATED ORCHESTRA to produce a second album.
Inspired by a poltergeist experience after a gig in Hamburg, the resultant work 'Radiation' is a dark journey encompassing themes of broadcasting, ESP, sex, mind control and alien beings. The opening song 'New Town' is a sombre number that captures the claustrophobic brilliance of early HUMAN LEAGUE. Yes, there are musical references to the past, but it is fully Battery Operated.
With Brigitte's wonderfully dispassionate vocals complimenting the Motorik backing to a tee, the following 'Radiation' title song brings to mind TUBEWAY ARMY and as it searches for its shadow in vain, the unsettling Dsytopian build is strangely uplifting as the countering brightness takes hold.
The computer game influenced 'Grey Room' is archetypal BOO while the album's first single 'The Sea' is another variation on the theme, with blips and ghostly overtures adding to the energetic mystery. It all comes over like a more in-tune version of XENO & OAKLANDER.
'I Go Invisible' takes on a steadier pace while the vintage synths provide colour, but the bouncy charge of 'Diamond Feelings' ramps up the alluring action, with some haunting detuned intervention.
The crisp aural spectre of 'Live Rail' utilises hypnotic Casio rhythms effectively, while the drone laden 'Rewild' enters more gothic territory before a great wobbling synth solo makes its presence felt.
'Fairy Tale' is a mighty Kling Klang referencing tune with a duel female / male vocal that works wonderfully with a melodic burst reminiscent of TIME ZONES' ' World Destruction'. This album highlight comes with the bonus of a WEM Copicat processed Theremin at the start and the end as they decide it's "Time to end what we've begun". So closing 'Radiation' is the sparse 'Backburning', an eerie slice of wonky pop that sounds like it could fade into a black and white Sci-Fi movie.
'Radiation' is a significant artistic progression for BATTERY OPERATED ORCHESTRA while maintaining their quirky, irony free ethos. This really is a record made for the sake of being made, rather than the calculating entitlement mentality of some independent acts who frankly are just too normal and lacking in talent.
This album might not be for everyone, but it is perfect for those who can tell their drum machines from their tape recorders, especially if it's the Roland 707. While perhaps not as straightforwardly accessible as VILE ELECTRODES, BATTERY OPERATED ORCHESTRA's fun but authentic approach to synthesizers is a welcome ray of sunshine to what has so far been a dreadfully gloomy 2016.
'Radiation' uses the following synthesizers: MFB Dominion 1, Roland SH-1, Teisco 110f, Yamaha Reface DX, Roland MC202, Casio MT70, Casio CT401, Casio CZ101, JHS Drum Synth, Moog Etherwave Theremin, Arturia Minibrute, Yamaha PSS480
---
'Radiation' will be released as a CD and download 1st August 2016, pre-order at https://batteryoperatedorchestra.bandcamp.com/album/radiation
'Diamond Feelings' is available as a free download until 8th July from https://batteryoperatedorchestra.bandcamp.com/album/diamond-feelings-single
http://batteryoperatedorchestra.com/landing_diamond-feelings/
https://www.facebook.com/batteryoperatedorchestra
---
Text by Chi Ming Lai
13th July 2016