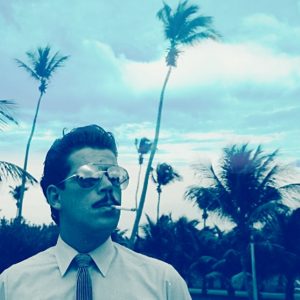 YELLO co-founder and instrumentalist Boris Blank is to release a boxed set of unreleased soundtrack material recorded between 1977-2014.
Together with partner Dieter Meier as YELLO the Swiss duo's tongue-in-cheek avant pop has attained a worldwide cult following with songs such as 'I Love You', 'Lost Again', 'Vicious Games', 'The Race' and 'The Rhythm Divine' featuring Dame Shirley Bassey. Their music notably appeared in films such as John Hughes' 'Ferris Bueller's Day Off' and Michael J Fox's 'Secret of My Success'.
'Electrified' is a solo collection of soundtrack work from Blank; originally launched as a Kickstarter project, the 58 musical sketches range from the race friendly uptempo title track 'Electrified' that was commissioned for Volkwagen, to the more abstract, spacey vibes of 'The Time Tunnel'. The Electricity Club is pleased to be able to premiere the video of the latter.
This limited edition boxed set will contain 3 hours of unreleased music. Over the years, Blank wrote a large number of soundtrack ideas that were never publicly released. The boxed set will also contain a 36-page booklet of Boris Blank's personal photographs, biography and comments.
---
'Electrified' is released by Blank Media as a vinyl / CD / cassette boxset on 15th September 2014. A limited edition 20 track promo CD is available.
https://www.kickstarter.com/projects/inkyblackness/boris-blank-electrified
http://borisblankelectrified.com
https://soundcloud.com/boris-blank-electrified
https://www.facebook.com/yello.ch
---
Text by Chi Ming Lai
19th June 2014