It's not often that a band takes 37 years to release their debut album, but that's exactly what Chris Payne's ELECTRONIC CIRCUS has done. It all started as a side project for the one-time Numan sideman who joined the former Gary Anthony James Webb for the recording of 'The Pleasure Principle' in 1979. 
Gathering together a collective of friends, the (then) ELECTRONIC CIRCUS released their first single 'Direct Lines' in 1981.
A bouncy synthpop tune with dark lyrical undercurrents about an impending nuclear apocalypse, 'Direct Lines' entered bargain bins faster than Lewis Hamilton during a qualifying lap at the Italian Grand Prix.
But over decades, it gained cult status and achieved over a million plays ovia a bootleg YouTube video synchronised to an obscure Swedish arthouse film.
Now featuring Chris Payne with Tim Vince, Mike Stewart and Dominique Hemard with occasional vocal contributions from his daughter Marikay, his ELECTRONIC CIRCUS promise a human cannonball of electronic sounds with 'The Falling Tower'!
Of the album's twelve tracks, four were premiered on the 'Direct Lines' EP which included a 2017 re-recording of its title song. Nearly forty years on, 'Direct Lines' sounds like it could have been written today and its subject matter is still sadly relevant as the powers that be square off along the 38th Parallel.
Within this background, 'The Falling Tower' title song acts as an acute warning to the looming collapse of western civilisation. To add further poignancy to the message, it is entirely sung in Esperanto by Dominique Hemard; the language was created by LL Zamenhof in the late 19th Century and its intention was to foster harmony between people from different countries.
"The idea was to use it as a kind of metaphor for global unification" explains Payne, "Something I personally believe we should have concentrated on a long time ago. Basically the theme is simple: 'If we don't look after the planet, nothing else matters'". Ni amos! Pacon! But with Esperanto being Latin based, for aural aesthetics alone, the Cornishman confirms that "The song wouldn't have worked half as well if it had been in English irrespective of the fact that most people won't understand it".
The solemn air of Armageddon is also reflected during 'In Red Fields' sung by Marikay Payne. Her father doesn't hide his anger when he considers how despite the lessons of previous conflicts, his family could have no future: "'In Red Fields' is a poignant song honouring all war dead from all sides of the conflict in World War I. It's about the suffering caused by the usual bunch of political f*cking idiots dragging us into conflict that could of been avoided, and how ordinary people are used to further their ends. Plus its 100 years since the end of the conflict this year".
The album itself starts with 'The Trapeze', another track from the 'Direct Lines' EP, but now intro-ed by a variation on the famous circus theme 'Entry Of The Gladiators' composed by the Czech conductor Julius Fučík; the wondrous tone of humanistic unity on the main act flows over a brilliant neo-instrumental with a symphonic theme that gallops like classic ULTRAVOX. But despite the pomp, there is a dominant melancholy which is retained throughout much of this record.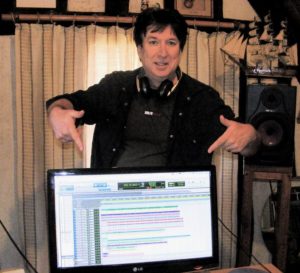 As can be expected from a violin player who studied Medieval Music, 'The Falling Towers' sees classical and traditional music forms figuring strongly. This comes to the fore on 'Would Vivaldi Have Liked Electro?'; "I've been intrigued about this notion of how classical composers would have dealt with today's modern music" says Payne, "Of course, we will never know but I think they would have embraced it. That's the Vivaldi track theme". With its frantic chopping violin, it recalls the B-side 'Pomp & Stompandstamp' by his previous band DRAMATIS.
The electro classical template continues on the appropriately titled and beautiful 'Nocturne For Piano & Synths', which Payne describes as "My way of expressing a classical piano piece using synths not orchestra", adding "Did you know that towards the end of his life the Russian composer Dmitri Shostokovich was said to have listened to CREAM for inspiration?".
Meanwhile, Payne's daughter Marikay returns for the folky choral ballad 'Graceland', while bandmate Mike Stewart, a former pupil of the late Sir John Tavener, provides a filmic electronic interlude in the VANGELIS-like 'Krakatoa'.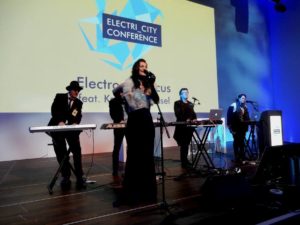 'The Falling Tower' may appear to be a bit heavy and cerebral, but the album has its lighter themes and purer synthpop moments. Those come with the electronic earworm of 'Roundabout', a delightful tune about midlife reworked slightly from the 2013 single release and the quirky computer game celebration of 'Space Invaders'. Both voiced in a wonderfully innocent Gallic tone by Hemard, they are excellent tunes but are let down slightly by the bangy live drum samples which sound out of sonic context.
Anyone who knows anything about Chris Payne will know that he co-wrote 'Fade To Grey', a German No1 for VISAGE in 1981, with Billy Currie and Midge Ure. So on a collection that has connected his present with his past, it is appropriate that the main act closes with a wonderful new version of the New Romantic anthem, sung by German diva Katja von Kassel. Her deep Dietrich-like tones, combined with Hemard's authentic counterpoints, give the song an even more unified Mittel Europa feel than the original, something that reflects Payne's French domiciled status of nearly thirty years.
"I guess what I have tried to achieve is to express myself through this album is something a little different in electronic music" adds Payne, "It won't be to everyone's liking, but the idea from my point of view is to try and create a newish style using old retro synths and newer granular synthesis. My love of ULTRAVOX, JEAN-MICHEL JARRE, OMD and early DEPECHE MODE will hopefully come through on the recording".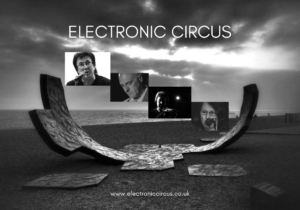 As the antithesis of all the vacuous EDM and beach mix nonsense that passes as electronic music these days, the ambitious neo-classical stylings of 'The Falling Tower' provide an intelligent and thoughtful listen, while also satisfying cravings for good melodies and timeless musicality.
After all, when was the last time you heard a record that was sung in Latin, Esperanto, French AND English?
---
'The Falling Tower' is released as a download, available direct from https://www.electroniccircus.co.uk/store/
http://www.chrispaynemusic.com/
https://www.facebook.com/chrispaynecomposer/
https://www.instagram.com/chris.payne.music/
http://www.electroniccircus.co.uk
https://twitter.com/electrocircus
---
Text by Chi Ming Lai
31st March 2018