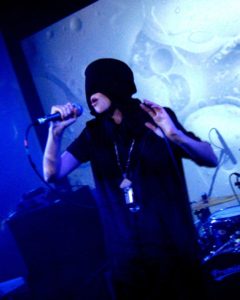 GAZELLE TWIN headlined a special London showcase for Anti-Ghost Moon Ray, the Brighton based label that also acts as an artistic co-operative for BERNHOLZ, ACQUAINTANCE and GREAT PAGANS as well as GAZELLE TWIN.
Its manifesto is that it "explores common ground in a strong aesthetic approach towards art, film, music, technology, science, and nature". Certainly this union collective was there for all to see as musicians from all four projects assisted each other on stage throughout the evening. ACQUAINTANCE opened the evening with dreamy electronic instrumentals fused to a contemporary dance backbone but without the overbearing beat dominance that afflicts most club music.
Meanwhile BERNHOLZ, the moniker of Jez Berns delivered a set of obscure art pop accompanied by bleepy synth, occasional guitar and what appeared backing tracks from a Tascam cassette portastudio.
Following on were GREAT PAGANS, probably the most conventional act of the showcase and who could be considered to be Anti-Ghost Moon Ray's experimental indie supergroup with both ACQUAINTANCE and BERHOLZ featuring in the line-up.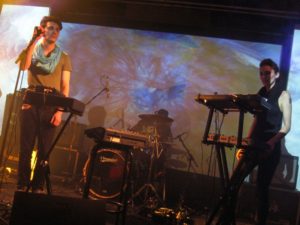 But it has been GAZELLE TWIN aka Elizabeth Walling who has drawn the most critical acclaim and attention within the Anti-Ghost Moon Ray camp.
Championed by electronic pioneer JOHN FOXX, her dark Fourth World atmospheres have gained an appreciative audience and led to remixes for GARY NUMAN.
Her track 'Bell Tower' was also used to accompany a promotional clip for the Ridley Scott film 'Prometheus'.
Tonight, clothed in a habit, her face was obscured by a veil except for her mouth while her two band mates were dressed rather unusually in red hoodie track suits! It was an incongruous contrast but it worked, with one handling manipulations and textures while the other frantically tapped the brooding, intense rhythms on a drum machine.
GAZELLE TWIN's new material 'Unflesh' and 'Innate' certainly took on a more percussive stance and added Arabic overtones. The droning synth washes and sorprano cries were reinforced with a prominent tribal backbone that was first hinted at with the marvellous 'Men Like Gods' from 'The Entire City' which acted as one of the first cornerstones of the evening's set.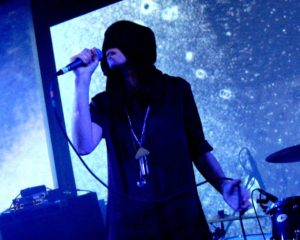 The haunting metaphysics of 'I Am Shell I Am Bone' and 'When I Was Otherwise' provided the other points of familiarity while 'I Turn My Arm' from the new 'Mammal' EP was cinematically unsettling with its resonating bass taking a widescreen hold within the confines of the theatre. Walling was far more animated on stage than expected and coupled with the cerebral visual projections and aural tension, it was wonderful to see an artist of integrity deliver with such conviction. It was an absorbing performance that was far too short… now that's a good sign.
---
GAZELLE TWIN's 'Mammal' EP is released by Sugarcane Recordings available via the usual digital outlets
http://greatpagans.bandcamp.com/
http://www.facebook.com/acqntnc
http://www.antighostmoonray.com/
---
Text and photos by Chi Ming Lai
23rd February 2013