Of GIRL ONE & THE GREASE GUNS, Undo Records say "Imagine a place where THE HUMAN LEAGUE meet LUSH, but on the way they stumble on Sarah Records' Heavenly and all together, they finally meet Alan Vega and SUICIDE!!! Confused, that's the point!!"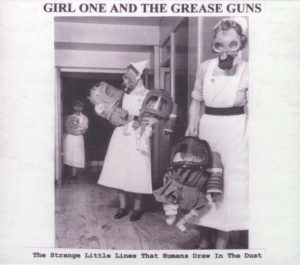 GIRL ONE & THE GREASE GUNS are shrouded in mystery…
Their names Sissy Space Echo, Warren Betamax, Charles Bronson Burner and Bruce LeeFax confirm their intentions "to thrive on causing confusion with a mixture of pure synthpop and more experimental electronic sounds".
They came to the attention of small UK indie label Squirrel Records by placing a cassette under the windscreen wiper of a car outside the label's HQ!
Since 2013, they have released a series of vinyl singles. But now, all their recordings have been compiled on a singular CD by Undo Records, snappily titled 'The Strange Little Lies That Humans Draw In The Dust'. Containing the dysfunctional indie synthpop of 'Driving Without Headlights (Once Again)' and the noise fest of '(I'm A) Willing Receiver', this pair of paranoid dystopian ditties served as the opening gambit of GIRL ONE & THE GREASE GUNS.
But it was their accessible second single 'Jessica 6' that got the mysterious combo some wider attention. A tribute to the cult Sci-Fi favourite 'Logan's Run', the eerie post-punk cacophony of sound laced with icy Yamaha string machine and a frantic reverbed backbeat was a frantic salvo that came over like THE PIPETTES fronting an OMD assisted JOY DIVISION.
The brilliantly titled 'Bring On The Dancing Horse Meat' on the flip showcased some sexily nonchalant vocals from Sissy alongside a barrage of low-fi guitars and a battered Casio. Despite being capable of melody, GIRL ONE & THE GREASE GUNS couldn't help their progressive mechanical desolation, as proven by their third single '(Here Come) The Catastrophe Machines', basically 'Nag Nag Nag' but more violent!
Indeed, ultra-violence was a recurring theme as titles like 'Hitting The Brick Wall', 'The Nightmare Room' and 'Bashed, Beaten & Broken (Trip The Switch)' proved. But despite this, a song like 'The Shatterproof Man' sparkled with pretty melodies like early OMD meets THE RONETTES despite the detuned synth backing.
GIRL ONE & THE GREASE GUNS actually revealed a much softer side with their marvellous fourth single 'No Longer Spellbound'. With its beautiful atmospheric quality smothered in icy synth strings and grainy vox samples, if 'Twins Peaks' had been set in The Lake District, then the theme tune might have sounded like this.
All bases were covered with a version of 'Veronica' originally by punksters THE MANHATTAN LOVE SUICIDES treated with some frantic pulsing electronics, while the feisty 'Suburban Robot' recalled the magic of early LADYTRON. An unsettling dysfunctional waltz shaped 'The Creep Circus' which only added to the oddball but tuneful fun and this was without THE NORMAL inspired 'Jesus On The Grille'.
With their DIY noise and motorik backbone, this compilation of GIRL ONE & THE GREASE GUNS is like the winter of discontent set to music and an ideal soundtrack for the current frosty climate. Yes, it's time to fuel that paraffin heater until the combo release their first album proper…
---
With thanks to Undo Records
'The Strange Little Lies That Humans Draw In The Dust' is released on CD by Undo Records
http://www.squirrelrecords.co.uk/girl-one-and-the-grease-guns/
https://www.facebook.com/pages/Girl-One-And-The-Grease-Guns/440754999339179
---
Text by Chi Ming Lai
26th November 2017