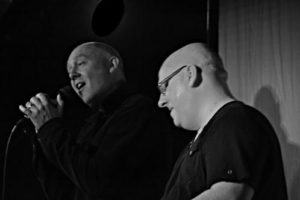 Paul Russell and Mel Bell have been writing music together on and off for just over twenty years, although it wasn't until the spring of 2012 that EURASIANEYES was formally created
The name was taken from a song by COREY HART, best known for his North American hit 'Sunglasses At Night'. With music heavily influenced by ULTRAVOX and MIDGE URE, their style is emotive and powerful.
Their debut live performance at The Flapper earlier this year was undertaken with bounds of energy and enthusiasm; even a false start to their cover version of 'She Cried' (made famous by PJ PROBY) didn't phase them in the slightest. It has taken a while for the pair to settle on their roles within the band. In the past, both have provided vocals, but now Mel takes the lead and Paul concentrates on keyboards, being the more trained and experienced in this area.
Their debut single 'Far Off Land' is one of their strongest tracks and tells the story of the pain and anguish that one experiences after a relationship break up. The self-directed video footage was shot on an overcast day in July up by Hadrian's Wall, a perfect backdrop to reflect the title of the track.
They have already released two EPs 'Silent Cries' and 'Crisis' both mixed by Geoff Pinckney and their second single, 'Walk As One' is due out at the end of August. EURASIANEYES are definitely on the right road to making a name for themselves. Having shown consistency with their music and utilised classic monochromatic imagery to promote their brand, they are certainly an act to watch out for.
---
EURASIANEYES' first two EPs 'Silent Cries' and 'Crisis' are available as CDs from http://www.eurasianeyes.co.uk/
The new single 'Walk As One' is available as a download direct from EURASIANEYES' bandcamp at https://eurasianeyes.bandcamp.com/
https://www.facebook.com/eurasianeyes.duo
https://eurasianeyes.bandcamp.com/
https://eurasianeyesblog.wordpress.com/
---
Text by Karen Buxton
Photos by Red Kite Photography
17th August 2014, updated 31st December 2016