It's not often it can be predicted that a band will become their given name… however, it could be destined for this band from Reykjavik, Iceland. LEGEND are front man Krummi Björgvinsson, keyboard player Halldor (Dóri) Bjornsson and drummer Frosti Jon Runölfsson.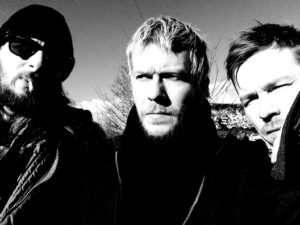 Krummi and Frosti (ex-KLINK) were already in an up and coming hardcore rock / punk band together called MINUS when in 1999, Krummi and Dóri met at a party. Dóri had a little studio set up as he was part of a duo ATINGERE at the time.
Krummi was so impressed with what he heard that he returned the next day with his drum kit and declared he would join the band.
Fate intervened however as after a few live gigs together, Krummi was off touring with MINUS supporting the likes of METALLICA and FOO FIGHTERS for over six years and they eventually lost touch…
By 2007, Krummi, Frosti and MINUS bandmate Bjarni were in an alternative country band called ESJA, an eclectic mix of talented and successful musicians. The front man was Daniel Ágŭst Haraldsson, the Swedish lead vocalist of celebrated Icelandic electronic band GUSGUS while Krummi was on guitars this time with Smutty Smiff of chart rockabilly band THE STRAY CATS also a member. Krummi invited Dóri to play piano on a session and with their musical relationship rekindled, LEGEND was born.
Their debut album 'Fearless' was released in 2012 with comparisons being made to NINE INCH NAILS and DEPECHE MODE amongst others, although they have a completely distinct sound of their own.
With its immaculate self-production, the album was compulsive listening. Tracks such as 'Amazon War', 'Benjamite Bloodline'  and 'Sister' summoned visions of a rousing call to arms.
However when questioned about how important his Icelandic heritage is to the band, Krummi replied candidly "when you express yourself through art, your legacy will always somehow appear because I believe that your heritage is subconscious and it will find its way on your lyric or note sheet, but it's not very important to us but, being an islander can give you a strong sense of home".
So many of the tracks could easily fit seamlessly into a big screen production. None more so than the dark, brooding and sexy tracks 'Lust' and 'Devil In Me'. But it has been the second single from the album 'City' that has probably received the most attention as the most immediate and accessible offering. The creativity doesn't end in the studio. Krummi has written and directed all of the videos with some help from friends while Frosti is highly accomplished in his the role of editor of the videos.
Can LEGEND get any better? The answer is a resounding yes… if you see the band live! Krummi's performance on stage conjures words such as "mesmerising" and "captivating" while the quality of their live sound is just as accomplished as their studio and video productions. LEGEND are currently in pre-production on their second album. 'Fearless'will be a very hard act to follow but this multi-talented band show no signs of relinquishing their high standards in all areas of their production and 2015 should see LEGEND receiving the accolades they deserve…
---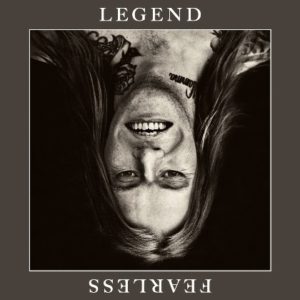 'Fearless' is available as a CD via Artoffact while the download version can be obtained via http://legend2.bandcamp.com/album/fearless
https://www.facebook.com/Legendband
http://www.stormingthebase.com/legend/
https://twitter.com/legend_band
---
Text by Deb Danahay
5th November 2014