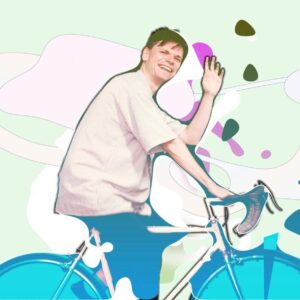 Compared on occasion to an electro Ian Dury and an urban Jona Lewie, Cambridge-based vocalist, producer and songwriter Theo Sayers was first spotted by The Electricity Club opening for KNIGHT$ at his 2019 Halloween gig.
Although he released 'My Nose Is A Little Runny', a SLEAFORD MODS styled musical response to the worldwide lockdown crisis that concluded "sleazes cause diseases" in March, his latest video goes back to a highlight from his debut 'Ado Perma'
EP that came out back in July 2019.
'Impatient' charmingly comes over like Edwyn Collins fronting a lo-fi KRAFTWERK and in an enjoyable video directed by Rhys Votano, Sayers plays himself and a female alter-ego Dora. Inspired by an unfortunate cycling accident that he once had, he told The Electricity Club: "The music video is a fun and colourful representation of the song's retro synthpop flavours."
Sayer's first showcased his music under the moniker of BLACK TIBET with the exotic pop of 'Venezuela' in 2017, before releasing a more distinctly electronic single 'Goddess' under his own name in 2018.
Ranging in style from hip-hop to electro, from crooner to rap, from chilled grooves to dancey beats, Sayers' streetwise take on life exudes witty humour and a playful sense of fun. But despite this, there is also a heartfelt side as expressed on the lounge reggae of 'Belly Slaps' from 'Ado Perma' which attracted support from BBC Introducing.
Continuing his kinship with KNIGHT$, Theo Sayers recently contributed a new glitchy remix of 'Dollars & Cents'
from the Britalo exponent's debut album of the same name.
---
'Impatient' is from the 'Ado Perma'
EP released by Procrastawerks via the usual digital platforms including Bandcamp at https://theosayers.bandcamp.com/album/ado-perma
https://www.facebook.com/theosayersmusic/
https://twitter.com/theosayers
https://www.instagram.com/theosayers/
https://open.spotify.com/album/6OaTeK2pz0DgPkk8O63FRt
---
Text by Chi Ming Lai
4th July 2020