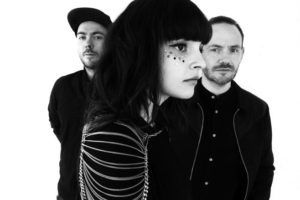 Today, CHVRCHES are perhaps the nearest thing to the 'Synth Britannia' tradition and have proved that there is an international market for synthpop.
With catchy melodies and riffs that work with vocal toplines rather than being swamped by them, they are presently the saviours of synthpop, bringing that sound to a new generation.
But elsewhere, acts like YEARS & YEARS and EKKOES are being championed by the mainstream press as synthpop when they clearly aren't. As the Athens-based synth maidens MARSHEAUX recently put it to TEC: "For sure you can't say that YEARS & YEARS are synthpop. Maybe the production is electronic, but the entire attitude is not." 
In that case, why are so many modern acts being described in the mainstream as synthpop? These mis-sold products would surely be questioned under the Trade Descriptions Act, like PPI? It goes on, so what has happened to synthpop?
Back in the day following the paths laid by KRAFTWERK and JEAN-MICHEL JARRE, a new trend began as a riposte to angry punk music dominating the alternative charts… three keys versus three chords, why not?! Moog synthesisers on TUBEWAY ARMY's 'Are Friends Electric?', which topped the UK charts in 1979, were to pave the way for cheaper, but perfectly usable Korgs or Rolands for THE HUMAN LEAGUE and OMD to play with to their hearts' content.
But these first outings were more doom than pop, with some arguing that was exactly what electronica was supposed to be about. To this day, reluctant League fans quote 'Reproduction' and 'Travelogue' as their favourite albums. Philip Oakey preferred that pop factor, which he achieved with the recruitment of Joanne Catherall and Susanne Sulley.
Of course GIORGIO MORODER's take on synth has always been on the disco side, pleasing Oakey himself to oblivion 'Together In Electric Dreams', further disambiguating the meaning of the genre.
With similar instincts, Vince Clarke cited "boredom with touring" in DEPECHE MODE, to abandon them for YAZOO and then the super poppy ERASURE. "He wanted to be the new ABBA" said John Fryer, co-engineer of those early DM recording sessions. Meanwhile, with Martin Gore as their chief songwriter, the Basildon lads gradually darkened and went off to achieve God like status across the globe.
For arguments sake, if ERASURE are pure, 100% synthpop, then DEPECHE MODE would be dark synthpop. But is every song with synths a synthpop song? Is TAYLOR DAYNE electronica, because the bassline for 'Tell It To My Heart' is produced on synthesizers? How about REAL LIFE with 'Send Me An Angel' or any WHAM! song for that matter? The obvious answer is no…
If the Musicians Union once tried to ban the use of the synthesizers during live performances and in studios, why has it become so important to jump on the synth bandwagon while doing, what can be described (at best) as mediocre pop?
Maybe it's the simple passage of time, where things change with their natural flow and genres merge and mutate. THE HUMAN LEAGUE used to sing about Sci-Fi, but they'd never do that now. DEPECHE MODE's 'Construction Time Again' was like a socialist manifesto… but Gore's not really been political in a while. Instead of writing songs about electrical current, with 'Tesla Girls', OMD moved towards songs about attractive ladies using electrical current.
'Synth Britannia' suggested that while NEW ORDER and PET SHOP BOYS took synthpop into dancier territory, the meaningful, innovative electronic pop started to dwindle down with the likes of THOMPSON TWINS and HOWARD JONES.
With "too much synthpop being around", the songs seemed to follow a more conventional template, even with the use of synthesizers. Post-'Synth Britannia' saw the dissolution of some bands and only a few managed to stay true to their roots and evolve around their electronic blueprint like DEPECHE MODE.
Fast forward to 2008 and what appeared to be a synthpop revival took to the stage. Artists like LADY GAGA, LA ROUX, LITTLE BOOTS and HURTS were branded synthpop. But were they? Or was it just simple pop with synth elements?
The abundance of synth dazzled on LADY GAGA's super pop songs, both 'Poker Face' and 'Paparazzi' include a fabulous mixture of electronic sounds. Whether it was a publicity stunt, or not, one could not deny the geniality in which way her songs were produced, and how synthy they sounded. But is that what synthpop was supposed to revive into?
LA ROUX was blatantly described as synthpop and commercially successful, but the remixes of her tracks were curiously done by dubstep producers. Some accused her of jumping on the synth as a fashion statement, especially when she described the genre as dead and unsurprisingly, the follow-up to her debut opus, contained less synth and more guitar. But redeeming action would seem to have taken place in 2015, when she lent her voice to a number of tracks on NEW ORDER's comeback album 'Music Complete'.
LITTLE BOOTS used synths more than competently and made headway on her debut 'Hands', although follow-ups 'Nocturnes' and 'Working Girl' ventured towards the less challenging territory of dance, despite her collaborating with JEAN-MICHEL JARRE in 2015.
Alongside the girls were two boys, HURTS. They engaged in a well-designed commercial success story, being signed to a Sony subsidiary and involving themselves with big names like KYLIE MINOGUE. Packaged as synthpop, they quickly gained the trust of thousands of fans, particularly in Europe, and extensive gigging cemented HURTS' success. If 'Happiness' had elements of electronica in it, they were carefully placed and adequately exploited to produce a very polished album with commerce in mind.
But by 'Exile', HURTS aspired to be stadium-era SIMPLE MINDS, while on their third album, the Manchester lads visibly "surrendered" their synth vision in favour of lukewarm pop with 'Some Kind Of Heaven' sounding no different to the blandness of SAM SMITH.
While today, Gaga is still active and using synths in her production, RiHANNA and KELIS have been at it too! And now TAYLOR SWIFT can be super electronic at times. But the majority of it is merely pop.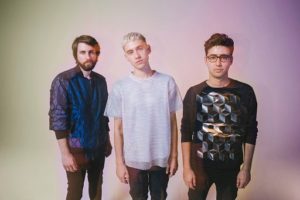 Back in the day, most people got into synths through synthpop. The choruses were often not sung and comprised of catchy melodies, while counter-melodies provided an additional source of musicality; those very counter-melodies so often found with ERASURE aren't really practised any more, even with acts like SHELTER who utilise the Clarke / Bell template. Still, SHELTER are more synthpop than YEARS & YEARS will ever be!
So why do the mainstream press feel the need to call a pop house act like YEARS & YEARS synthpop? To gain respect or pretend to be niche? It must be! No self-respectable VISAGE or BLANCMANGE fan would entertain the audacity of the comparisons. But for the casual music fan, it can be very misleading.
Eagerly described as electropop and synthpop, YEARS & YEARS have nothing to do with the synthesizer's legacy. 'King' has a synthy bass line but that's where it ends, other than the strategic positioning of a Moog Voyager in the video. The need to try and define it as synthpop is shameless.
The synthpop definition is causing much head scratching. Whatever, YEARS & YEARS are not KID KASIO; frontman Olly Alexander may be blessed with a soulful singing voice, but he has more in common with BROS than either YAZOO or early EURYTHMICS, two classic acts who successfully combined bluesier vocals with electronics.
With songs like 'Don't Go' or 'Sweet Dreams (Are Made Of This)', everyone remembers the synth riffs that dominate the intros as much as the vocal hooks. That in a nutshell could define synthpop. MARSHEAUX added: "Placing two synthesizers in front of a band doesn't make them a synthpop band. 'Synthpop' is a lot of other things than just a synthesizer. Apart from the music, there is also the attitude in a band".
Meanwhile, Mark Brooks of NIGHT CLUB said: "YEARS & YEARS are almost like a RICK ASTLEY thing… you could say BRITNEY SPEARS is synthpop because it's synthesizers, but what defines it as synthpop in that underground way is what NIGHT CLUB or CHVRCHES do".
EKKOES, despite being closer to the genre than YEARS & YEARS, still however feel more pop than necessary.
Even the title of their debut album 'Elekktricity' feels like a cynical marketing attempt to reflect synthpop's quirky, maverick heritage without really truly understanding it. It goes back it to pure economics and lazy labelling, with the ideals of synthpop watered down to appear less threatening to gain sales. Like HURTS, what actually hides behind the surface is music that is pleasant and polite, but somewhat insipid.
And like most modern pop, the emphasis is on vocals rather than any synthesized lead lines or counter-melodies. The album's first single 'Heaven' has a short instrumental break, but appears to be a more token act of "look, we're synthpop!". Meanwhile, 'It Goes On' is akin to a boyband ballad, but without the up-off-the-stools key change…
In a recent interview with John Doran of The Quietus, PET SHOP BOYS' Neil Tennant said one of the problems in modern pop music is how everything revolves around the singer and their emotions. One of the key appeals of classic synthpop, be it 'Are Friends Electric?', 'Mind Of A Toy' or 'New Life' was that aspect of a role playing narrative and use of metaphors. Things were a lot more thought-provoking then but today, pop lyrics are generally far less complex…
Perhaps in a dwindling market for purchasing music, the use of the term synthpop by the mainstream press is aimed at nostalgic 40-something adults with a disposable income, who still have an interest in tangible product. This strategy would counter Da Kids who might show up to a gig or buy a set of Beats headphones, but would not be caught purchasing a download, let alone buying a CD.
And when on further investigation, it is learnt that major record companies have a stake in several music magazines, the situation becomes a bit clearer. Those seemingly random five star reviews from clueless journalists who can't tell their tape recorders from their drum machines reveal the media bias at large. There's no conflict of interest there of course, in the rush to sell not only product, but advertising space too…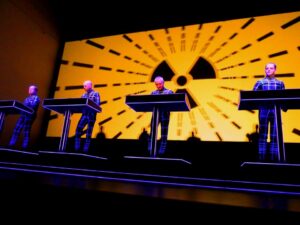 The specialist electronic music outlets cannot be relied on either, with their over-intellectualisation of KRAFTWERK to validate a blinkered obsession with Detroit Techno and the belief that dance music is the only way.
Within this environment, one cult artist has felt the need to use the phrase dance in their new album's title in order to gain traction, even though to all intents and purposes, it IS actually a synthpop album!
So the irony is, pop records are being sold as synthpop records, while synthpop records are being sold as dance records!! No wonder people are confused!
It's interesting that some from the mature adult demographic still hang onto continued mainstream recognition as a measurement of value. They are waiting for THE HUMAN LEAGUE to be played on Radio1 again or DEPECHE MODE to be offered that coveted slot on the Pyramid Stage at Glastonbury, while eagerly hoping that GARY NUMAN, ULTRAVOX or OMD will again make it into the Top30. But it ain't gonna happen! To still believe in charts, is to believe in fairies.
Instead, the listener has to make more effort now and maybe seek out informed independent media for guidance, especially as independently-minded acts like KITE, VILE ELECTRODES, NIGHT CLUB, JOHAN BAECKSTRÖM, MARSHEAUX,  KID KASIO and RODNEY CROMWELL work to keep the spirit of the classic era alive. But aside from CHVRCHES, quality synthpop in the traditional sense will not generally be championed by the mainstream press.
However, as with the shake-up within the music industry over the last ten years, the middle man can now by-passed. And that can only be a good thing for the true synthpop enthusiast.
---
Text by Monika Izabela Trigwell and Chi Ming Lai
11th August 2016