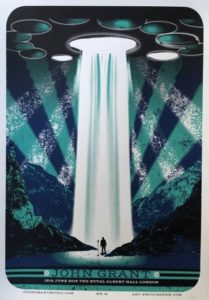 Although maybe not an obvious choice, WRANGLER were chosen as an opening act because it's well known that JOHN GRANT is a huge CABARET VOLTAIRE fan.
Ex-Cabs front man Stephen Mallinder, JOHN FOXX & THE MATHS sideman Benge and Phil Winter from TUUNG, flooded the venue with songs from their 'LA Spark' album. Although the notoriously cavernous Albert Hall acoustics did not always suit the purity of WRANGLER's synthetic sound, tracks such as 'Harder' and 'Theme from Wrangler' gained a good response from the audience; many of whom were likely to be unaccustomed to such a dark and foreboding electronic aesthetic.
As Benge hammered out patterns on a minimal electronic drum set-up, Mallinder vocalised moodily over a sequenced backing; to emphasize their set, WRANGLER used a hypnotic montage of visuals on HD screens set up in front of their stage equipment. It was obvious to the audience that WRANGLER relished this opportunity to play in such a hallowed venue, but sadly the show opened up earlier than expected so many missed the band's electronic masterpieces.
JOHN GRANT came on stage to the spoken word 'Intro' (based upon an excerpt from the 'First Epistle of Saint Paul to the Corinthians') and opened with 'Geraldine', the MOBY styled song about the much maligned actress Geraldine Paige. The downtempo vibe and live vocodered vocals of the track combined with low key lighting helped set the tone of the show to follow.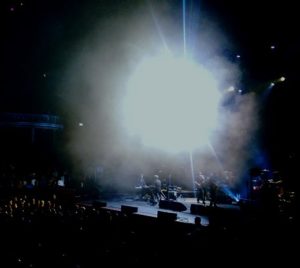 'Down Here' with its low pitched Bowie-esque 'Ashes to Ashes' backing vocals saw the stage enveloped in dry ice to the point where the band were rendered almost invisible.
After a short explanation about how its lyrical content combined the meaning of midlife crisis in Finnish and the Turkish for Nightmare, 'Black Tickles, Grey Pressure' showcased Grant at his most open and sardonic, the lyrics taking in everything from Hemorrhoid commercials through to talk of the sexual promiscuity of the 1970s.
'Marz', 'It Doesn't Matter to Him' and 'Outer Space' maintained the intimate atmosphere and an early name check for his band (including Budgie from SIOUXSIE & THE BANSHEES on drums) also included a special mention for Grant's Roland Juno 106 and made you wonder why more artists don't give props to their favourite synths on stage!
In what was the first of three surprise guest spots, Grant welcomed onstage CATE LE BON who duetted with him MARY MacGREGOR's MOR classic 'Torn Between Two Lovers', making a point on emphasising how messed up the lyrics were, the ménage à trois lyric still sounding squirmingly uncomfortable even now.
'Pale Green Ghosts' showcased Grant's electronic credentials with its sequencing, synthetic woodblock percussion and MASSIVE ATTACK inspired middle string arrangement. 'Snug Slacks' and current single 'Voodoo Doll' upped the tempo in a set, which covered every spectrum of Grant's eclectic nature, one minute electronic, the next acoustic, the next funk. After climaxing the main set with the wonderful 'GMF', RICHARD HAWLEY was welcomed in to add funk guitar to the single 'Disappointing'.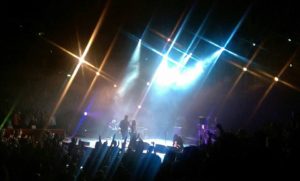 Following a short break, the band came back for a six-song encore including the big surprise of the evening, the appearance of KYLIE MINOGUE for 'Glacier'.
In a move reminiscent of her unexpected guesting with NICK CAVE, the Antipodean pop princess ably held her own against her male foil.
But there was a missed opportunity in not having her sing the TRACEY THORN part on the previously despatched 'Disappointing'. Following on, 'Black Belt' was a return to GRANT's electronic psyche with its squelching synth bass, before a clutch of ballads climaxed the 21-song set.
Throughout, Grant cut an extremely watchable and compelling figure, when not seated playing synths or piano, his body twitched and danced to the more upbeat numbers all the while stalking the stage and relishing every second in the limelight. Because of its downtempo nature, it would be all too easy for the main bulk of Grant's material to sink into a quagmire of ELTON JOHN veined MOR.
However the combination of quality songwriting, spot-on sonic references (AIR / PINK FLOYD / GARY NUMAN / DAVID BOWIE) and an affable stage presence meant that he deftly sidestepped this trap. Grant portrays himself as the anti-hero, this fact is emphasised by using understated lighting (even in a big venue), and at many points is more than happy to share the limelight and blend in with his band rather than playing the typical ego-driven solo artist.
In a musical world where the over-produced and over-exposed likes of ED SHEERAN and SAM SMITH reign supreme, the underdog approach by JOHN GRANT is all the more welcome and judging by the rapturous reception he now receives, any further midlife crises or Grey Tickles should now be banished… well at least for the time being)
---
JOHN GRANT 'Grey Tickles, Black Pressure'
is released by Bella Union
https://www.facebook.com/johngrantmusic
WRANGLER 'Sparked Modular Remix Project'
is released by Memetune
https://www.facebook.com/mallinderbengewinter/
---
Text by Paul Boddy
20th June 2016