Following the positive critical reception of the initial vinyl and download release of 'A Broken Frame', MARSHEAUX are to finally release a 2CD deluxe edition on Undo Records.
A rework of DEPECHE MODE's 1982 sophomore album, the package comes with a CD of the album with newly recorded versions of the original B-sides 'Now This Is Fun' and 'Oberkorn', plus a second CD featuring an extended version of 'A Broken Frame'. The MARSHEAUX's new version of 'Now This Is Fun'
is particularly special as it features the majestic vocals of James New, best known as the lead singer of MIRRORS.
New had previously contributed vocals to two tracks FOTONOVELA's 2013 album 'A Ton Of Love' which also featured MARSHEAUX. The Athens based synth maidens also contributed the 'Greek Girls Are Not Easy Remix' of MIRRORS' 'Into The Heart', so an artistic union between the two parties was almost inevitable.
Marianthi Melitsi and Sophie Sarigiannidou's respectful and intuitive approach towards reimagining DEPECHE MODE's most under rated album has been well received among electronic music fans and Devotees alike. Writing for The Electricity Club, DM fan Monika Izabela Goss said: "Expressive, innovative and full of character, they denote exactly what this cover album is".
MARSHEAUX will be playing selections from 'A Broken Frame' at various live shows across Europe including Electronic Summer in Gothenburg on Saturday 29th August 2015.
---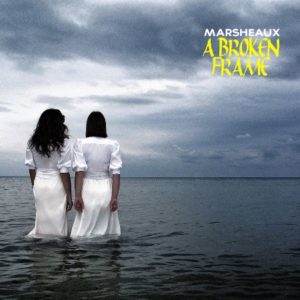 MARSHEAUX's reinterpretation of 'A Broken Frame'
is released on 30th April 2015 as a double CD set with B-sides 'Now This Is Fun' and 'Oberkorn' plus an extended version of the album. The standard album is available as a download through all the usual digital outlets including Amazon, iTunes and Spotify
https://www.facebook.com/marsheaux
http://marsheaux.wordpress.com/
---
Text by Chi Ming Lai
3rd April 2015