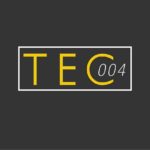 The Electricity Club and The Touring Principle are pleased to announce that MARSHEAUX will be headlining TEC004 on SATURDAY 5TH NOVEMBER at Norwich Epic Studios.
It will be MARSHEAUX's first UK live appearance since 2012, when the girls played TEC002 in London alongside The Blitz Club legend Rusty Egan. Also appearing will be KID KASIO and RODNEY CROMWELL.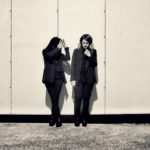 Athens based synth maidens MARSHEAUX, who are best known for exquisite synthpop numbers such as 'Hanging On', Dream Of A Disco', 'Radial Emotion', 'Breakthrough' and 'Come On Now', covered the entire of DEPECHE MODE's 'A Broken Frame' in 2015 as an album release on Undo Records. Their new album 'Ath.Lon' reveals a new subtle, aggressive side to MARSHEAUX. The duo's celebrity fans include Jared Leto, Andy McCluskey, Tom Robinson and Mark Reeder.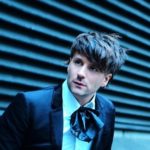 KID KASIO is the project of Nathan Cooper. Formally of THE MODERN, his unashamedly synthpoppy tunes have gained a cult following over the past few years. He said "Whether I release it in 2013 or 2016, it's still going to sound like 1985!" – now imagine if DEPECHE MODE was fronted by Nik Kershaw instead of Dave Gahan? With his song 'Full Moon Blue', that musical fantasy became fully realised. Melodic and lively, his most recent album was the excellent 'Sit & Wait'.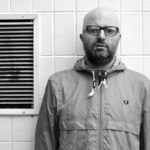 'Age Of Anxiety' by RODNEY CROMWELL was an unexpected favourite of both critics and independent radio outlets in 2015. The musical project of Adam Cresswell, this concept album of sorts chronicled his problems with depression and anxiety. The honesty apparent in his dissonant vocal styling echoed the spectre of acts such as SECTION 25 and NEW ORDER, with songs like 'Black Dog', 'Fax Message Break Up' and 'You Will Struggle' embodying the album perfectly.
Epic Studios in Norwich is based at the former Anglia TV studios and was the location of "the quiz of the week", 'Sale Of The Century' presented by Nicholas Parsons. In the last few years, the venue has played host to a number of key acts including WOLFGANG FLÜR, MIDGE URE, HOWARD JONES and THE RADIOPHONIC WORKSHOP.
---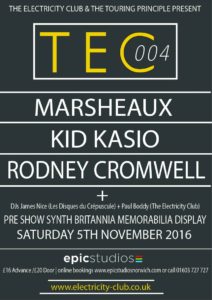 TEC004 featuring MARSHEAUX, KID KASIO + RODNEY CROMWELL takes place on SATURDAY 5TH NOVEMBER 2016 at Epic Studios, 114 Magdalen Street, Norwich, Norfolk NR3 1JD
Doors open for the show at 6.45pm with the first band on stage at 7.30pm
There will be a free memorabilia display at the venue between 3.00pm – 5.00pm exploring the pioneering era of Synth Britannia, featuring acts such as DEPECHE MODE and GARY NUMAN
Tickets are £16 in advance, £20 at the door – available from the box office on 01603 727727 or online at
https://www.ticketsource.co.uk/date/248712
http://www.epic-tv.com/events/tec004-the-electricity-club-ft-marsheaux-kid-kasio-rodney-cromwell/
---
Text by Chi Ming Lai
TEC004 Artwork by Mark Walker @ MNW Visual Communications
12th April 2016, updated 9th May 2016