MODOVAR are Glen Wisbey on synths and the suave persona of Christopher Beecham on vocals, a man with a self confessed admiration of ALISON MOYET.
They have been slowly gaining a profile within the British synthesizer scene supporting the likes of DEPECHE MODE tribute band SPEAK & SPELL and darker domestic acts such as MECHANICAL CABARET.
An EP launching their album 'The Sea of Unspoken Words' was issued following their well received appearance at BASII in 2012 but a variety of circumstances have led to its delay and reworking. But the album has now has finally been released.
From it, the most immediate song is their debut single 'Clearly' where the full force of Beecham's Moyet-esque lilt can be enjoyed. Who cannot remember hearing 'Who Needs Love Like That?' for the first time and thinking it was YAZOO? And thus MODOVAR have often been compared to ERASURE.
But there are songs here that Andy Bell and Vince Clarke would be proud of; 'The Sea Of Unspoken Words' title track oozes with sharp synths and heartfelt passion over a steadfast Eurobeat while 'If I Called' is a soulful drama with the grainy drum machine providing a fitting rhythmical core to the song.
'This Moment (Hold On)' and 'Where There's Life' could happily sit alongside any number of ERASURE's emotive ballads. Adding a swooping groove, 'Save The Day' also has a wonderful descending stringed progression to savour while 'The Lies We Tell Ourselves For Love'and the rousing 'Darkest Shadows' fly over from the poppier end of the spectrum. The lengthy piano tinged 'Only A Fool' brings the album to an emotive conclusion with its widescreen grandeur.
MODOVAR spoke to The Electricity Club about their "eclectic collection of melodic, anthemic, chorus led songs, lyrically focused on the undercurrents of love and the human condition…"
'The Sea Of Unspoken Words' has had a long gestation period, why has that been?
Christopher: It has taken a while! We first met way back in May 2010 and the album was pretty much written within the first year. There have been various reasons for the delay. We were invited by Deb Danahay to play at the very first Bas event, 'A Special Weekend In Basildon' in July 2011 and so the album was put on hold for a while as we prepared and rehearsed for that as it was our very first gig together.
It's been a learning experience in a lot of ways…the album was initially going to be produced by someone else but 'artistic differences' played a part in our parting company and so the album has been produced by us and so what you hear is definitely our vision.
Glen: It was mostly down to a series of live gigs that came along that delayed the album, the songs were all written but getting time to do all the mixing etc was put on hold for rehearsals. Then we had some personnel changes within the band and this spun the album off for a bit as we had to go back and look at the tracks again, but this gave us time to reassess and gave us the opportunity to look at some of the ones that were not sounding totally right.
But the gap has allowed you to write some quite up and optimistic numbers. What circumstances inspired that?
Christopher: Well the up and optimistic numbers are in the pipeline for album two… 'The Sea of Unspoken Words' is a very reflective album and I wrote all of the lyrics retrospectively about various relationships. The core of the album is five songs which chart a relationship from beginning to end (love at first sight in 'Clearly' to disillusionment in 'Only A Fool'). I think I was processing a lot of stuff about a recently ended relationship while I was writing this album and so it is very much of that time.
While we've been finishing off this album, we've been busy writing the next one and have 14 songs in the mix for that. The up and optimistic songs you're referring to have all been written during this period… songs like 'One Life', 'Homeward Bound' and 'Fire' which we're really looking forward to playing live very soon.
The inspiration for these? Basically, I fell in love again! So they're a celebration of that. All of the new songs were written in the 'now' and so feel very current to me whereas the songs in 'The Sea of Unspoken Words' are very much of the past. On the sleeve notes to the album, we added a quote from Rumi which sums this up very well and paves the way for the next album… "Everything about yesterday has gone with yesterday. Today, it is needed to say new things"
Don't worry though there's a still a safe dose of misery in there too! Life is all about light and every shade of grey…it's never black and white in my world!
Glen: I think the gap has helped us refine the tracks and get the album to a perfect balance of light and shade.
'Clearly' has still been a pivotal track for you? It's like your calling card?
Christopher: We didn't intend it to be but people really do seem to have responded to it. It was one of the fastest and most simple songs that we've ever written. It's very instant, radio friendly and by the end you're singing along to the chorus which is always a good sign. For me, it's the least representative of the album but I'm really proud of it. I think this song is the main reason for the ERASURE comparisons and let's face it, they know how to write a great pop song!
Glen: 'Clearly' is one of those tracks that was written in 20 minutes, and just fits together really well; I think you know that a song is good when it all comes together so effortlessly.
It's a track that has always gone down well with a live audience and so this made it an obvious choice as our first single.
How would you describe the creative dynamic with MODOVAR?
Christopher: We're most definitely a partnership. Finding the right person to work with in music is just the same as in trying to find a romantic partner. It's all about trust, allowing the relationship to develop and not stifling the other person. Although I've a musical ear and I write the vocal melodies, I can't play any instruments so I most definitely need a musician to co-write with. Glen by his own admission is no lyricist and that's one of my greater strengths so we really do complement each other. MODOVAR is definitely a sum of the two of us. I couldn't do what I do without Glen and visa versa.
Our songwriting has most definitely developed over the years. The songs usually start out as a musical idea from Glen which I'll take away, find a vocal melody and then write the lyric to that. Once I have either the song title and theme or a chorus then everything falls into place from that. Mind you, the last song that we wrote called 'Cold' was written live in the studio in 30 minutes… we started with eight bars of music and literally wrote, sang, recorded as we went along and it's turned out to be one of our strongest songs! The strange thing about the creative process is that you never know where it's coming from or when it will come again!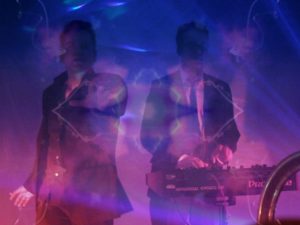 Glen: I am good at music but no good with lyrics and Chris is good at lyrics but not technical in any way! We both offer comments to the other to make sure the song is the best it can be, but we cannot work with out each other.
I will normally work on the music, this is normally a very rough demo which will be just a bunch of chords on a piano with a basic drum track, if I am feeling in a good mood there may be some strings too … which I will send to Chris, and he will add a melody and lyrics. At this point we start adding the electronics and building the track up and seeing what direction it is taking.
Which songs from the album have been your favourites to record and why?
Christopher: It varied throughout the writing and recording process and it's been so long since we started these songs that I've forgotten! Every lyric is autobiographical to some degree and so they all mean different things to me. My personal favourite is probably 'The Lies We Tell Ourselves For Love', I'm really proud of that one and think it's one of the best lyrics I've written.
Although not my favourite, 'King Of Pain' was very powerful in that it allowed me to finally exorcise the demons of a particularly destructive relationship from decades previously so that was very cathartic! The vocal you hear on the album was only the second time I sang the song out loud and was done in one take so you're hearing was very much in the moment! There's a lot of angst wrapped up in our shiny pop!
Glen: There are a few which are my favourites, but one that sticks out throughout the recording of the album would be 'If I Called'. This was the very first song that Chris and I wrote and from the basic demo of piano, drums and vocals we knew it was a great song.
But the final version on the album went through so many incarnations before it got to the final album version that you hear, and that in itself was really interesting to see how a song could change and evolve with different tempos and sound palettes. In fact we made some last minute changes before the final mix of the album, so it was the first song written and one of the last to be recorded.
You're playing a Vince Clarke based covers set at BAS2013 in May, how did that come about? What songs are you considering?
Christopher: We've been involved with Deb Danahay and Bas Productions from the very beginning and we will have played at all three BAS events. For the past two years, we've played our own material but this year for one night only we're doing an exclusive set of material associated with Vince (YAZOO, THE ASSEMBLY and ERASURE). We recorded 'Midnight' and 'Situation' on our covers EP and have played both live so Bas Productions came up with the idea of us doing a full set for their 'Sound of Basildon' night. My biggest influence vocally was ALISON MOYET and so it feels very natural to be singing all of the YAZOO songs that I've loved for years. YAZOO will be in the majority and we're doing all the hits and a lot of 'Upstairs at Eric's' and also select songs from 'You & Me Both'. We're also doing some of ERASURE's biggest hits and also 'Never Never' by THE ASSEMBLY. I actually used to write to Deb Danahay as a teenager when she ran the YAZOO Information Service and so this really is me coming full circle and it's a real thrill to be able to sing all of these songs live.
Glen: We were asked by the BAS team about playing a YAZOO covers set for the final night at BAS2013, and we expanded it to cover all of his musical partnerships post-DEPECHE MODE…well, all except for 'One Day' with Paul Quinn. We have a couple of little treats in store for the night.
But are you not worried that might add more fuel to the fire from some that MODOVAR already sound a lot like YAZOO and ERASURE?
Christopher: If anyone thinks that we sound like YAZOO that I'll take that as the greatest compliment! Likewise for ERASURE, they write great songs and Andy has a great voice too!
Because my voice has been compared to both Alison and Andy's at times then there will always be the inevitable YAZOO and ERASURE comparisons but in reality it probably sits between the two of them and I think that anyone listening to the album in full will see that in reality we're not really like either group.
ALISON MOYET was my key vocal influence growing up but so were artists like Billie Holiday, Dinah Washington, Eartha Kitt, Randy Crawford, Stephanie Mills, Chaka Khan, Marlena Shaw… lots of jazz and soul influences and also singer/songwriters like Joni Mitchell, Sarah McLachlan and Jane Siberry. I grew up listening to classic pop like ABBA, BLONDIE and Disco, and then YAZOO, HUMAN LEAGUE, EURYTHMICS and SOFT CELL. Put all this together with Glen's influences then there is a whole melting pot of sounds. We don't consciously try to sound like anyone and hopefully the listener will hear that we have our own identity.
Glen: YAZOO was the first electronic band that I was into, and sometimes your influences do bleed into the music you write, not intentionally but all bands have little bits of other stuff in them. I don't think that getting compared to your influences is a bad thing, it certainly did not hurt OASIS!
Saying that though, it's quite timely ALISON MOYET has returned with an electronically based track in 'Changeling'. What do you think of it?
Christopher: I loved 'Changeling' when I first heard it and can't wait to hear the album and seeing it performed live in October. If ever there was a voice made for electronica then it's hers. 'Hometime' was a majestic album that really didn't get the success that it deserved (neither sadly did 'The Turn') so I really do hope that this re-establishes Alison in the minds of the public as one of the UK's greatest female vocalist and brings her great success.
Glen: I think its a great track and nice to hear her going back to her electronic roots.
Would you ever consider doing a version of it live as MODOVAR?
Christopher: Probably not as this is Alison's current material and for me personally it wouldn't be respectful to her to cover it at this present time. I'm happy just to enjoy it as a fan.
However, if you read this Alison, MODOVAR are available for support slots during October or if you need a new backing vocalist gratis then I'm there!
Glen: We are going to be doing less cover versions from now on. Cover versions are a good way of getting audiences interested in the band and what we do, but with the new material for album 2 we will be doing less covers and replacing them with our own songs.
What are your hopes and fears for 'The Sea Of Unspoken Words'?
Christopher: There have been times over the past few years that I never thought we'd get to this stage and so it's a relief just to actually release it! I could tie myself in knots about what I'd like to happen to the album and for our careers but I'm a firm believer that everything finds its own place and in its own time. There have been a lot of synchronistic events surrounding the album development for which I'm truly grateful… like meeting Deb Danahay again, 25 years after we last met and it's her belief in us that has really helped to push us forward. We met Gary Clark through Deb and Gary has been instrumental in mixing the album for us. Both Deb and Gary have links to Alison so I take that as a very good sign – I realise that I'm starting to sound like her stalker now ha ha!!
Seriously though, I just hope that the songs somehow resonate with an audience and that they enjoy it, anything else is a bonus (but a publishing deal would be nice thanks!)
Glen: Hopes are that people like it and enjoy the album, fears are that no one likes it…
---
'The Sea of Unspoken Words' is available now as a download album from the usual digital outlets or the MODOVAR website
http://www.facebook.com/Modovar
https://twitter.com/modovarband
---
Text and Interview by Chi Ming Lai
17th April 2013