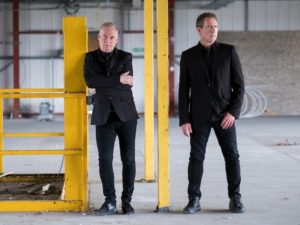 With the first two songs previewed from their new album 'The Punishment Of Luxury', could it be possible but OMD are even more electronic than ever before?
'The Punishment Of Luxury' is OMD's thirteenth long player and the album title takes its name from an 1891 painting by the Italian divisionist Giovanni Segantini that shows women being punished for preferring a life of ease over a life of duty!
Paul Humphreys recently mentioned that ATOM TM was a big musical influence…the project of Uwe Schmidt, the German producer was also responsible for SENOR COCONUT who did salsa styled covers of KRAFTWERK!
OMD continue their retro-futurist themes with 'Isotype', inspired by the International System of Typographic Picture Education developed in 1935. It's an observation on how society has been reduced to marketing algorithms and "reduced to isotype" . An extension of 'History Of Modern Part I', this song could well be warning of the apocalypse as well…
With a beautifully whirring hook generated by Omnisphere and wild siren sounds that fluctuate to provide a human counterpoint despite their synthesised derivation, there's also the surprise of a beautiful bendy synth solo taking its lead from 'Caught Between' by BRIAN ENO.
Meanwhile, the recently unveiled album title song is a classic OMD number with Germany calling. A mighty rhythm section of synthetic bass and electronic percussion is offset by that bright melody, robot harmonised harmonies and chants. With an instrumental chorus and middle eight chorals, it sounds like OMD, but it's not like how they've sounded before.
It comes over like KRAFTWERK in the 25th Century if the RFWK line-up had been cryogenically frozen and genetically mutated with THE ART OF NOISE and THE PRODIGY. With sly 'Radio-Activity', 'Close (To The Edit)' and 'Firestarter' references, 'The Punishment Of Luxury' captures the dilemma of first world problems, that we have EVERYTHING yet we are still not happy…
With Andy McCluskey's conceptual overview and cryptic lyricism covered in metaphor, coupled to Paul Humphreys' musical direction and melodic magic, 'The Punishment Of Luxury' looks like it will be a work of art to savour with the added twist of veiled social political commentary, as revealed earlier in the year with 'La Mitrailleuse'.
---
'The Punishment Of Luxury' will be released by White Noise Ltd on 1st September 2017 in CD, CD+DVD, yellow vinyl LP, standard vinyl LP, cassette, digital and deluxe book with book formats.
OMD's 'The Punishment Of Luxury' 2017 tour, Ireland + UK dates include:
Dublin Vicar Street (23rd October), Belfast Mandela Hall (24th October), Liverpool Empire (29th October), Bristol Colston Hall (30th October) , Southend Cliffs Pavilion (1st November), Ipswich Regent (2nd November), Cambridge Corn Exchange (3rd November), Leicester De Montfort Hall (5th November), Nottingham Royal Concert Hall (6th November), Sheffield City Hall (7th November), Reading Hexagon (9th November), Southampton Guild Hall (10th November), Guildford G Live (11th November), London Roundhouse (13th November), Bexhill Del La Warr Pavillion (15th November), Manchester Academy (17th November), York Barbican (18th November), Glasgow Royal Concert Hall (19th November), Birmingham Symphony Hall (21st November), Gateshead Sage (22nd November)
European dates include:
Erfut Traum Hits Festival (25th November), Hamburg Grosse Freiheit (26th November), Berlin Huxleys (28th November), Leipzig Haus Auenesse (29th November), Munich Tonhalle (30th November), Offenbach Stadthalle (2nd December), Düsseldorf Mitsubishi Electric Hall (3rd December), Tilburg 013 (5th December), Antwerp De Roma (6th December), Lausanne Les Docks (8th December)
https://www.facebook.com/omdofficial/
https://twitter.com/OfficialOMD
---
Text by Chi Ming Lai
19th July 2017