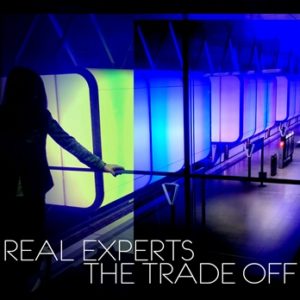 REAL EXPERTS came into the London electro/ indie scene led by its founder Andrew Maley, who says he is heavily influenced by the likes of PET SHOP BOYS, NEW ORDER, THE BELOVED, DEPECHE MODE, WHAM! and more recently, HURTS.
Joined by John Humber on lead guitar, Will Rutley on bass, Paul Harris on percussion and Victoria Knowles on vocals, Maley calls the band 'hit churners', collaborating with various singers to achieve the perfection and versatility they strive for.
'The Trade Off' is their second long player, promising a "catchy, charming and endearing" experience, catering to young and old synth lovers. 'Disco Tears' opens the production with Phil Oakey sounding vocals by Daniel Agnelus, who is the lead singer of SURRENDER HEARTS. Reminiscent of glam discotheques of the vintage era, the track brings a pleasant twist to the rendering of today, with flawless classical references audible in the production.
'My Love Is Nothing More Than This' features Eden, an eighteen year old vocalist often considered to be a concoction of ADELE, RIHANNA and ROBYN. The sophisticated, yet simplistic electronica pleasantly canvasses the young voice, making it a contemporary, chart worthy track. The tempo changes with 'Sugar Rush' performed by the band's original vocalist Victoria Knowles. A DAFT PUNK inspired tune, or perhaps something SOPHIE ELLIS-BEXTOR wouldn't be ashamed of, either way it's an apt dance piece, fabulously mixed and perfect for partying.
'Pure Attention Seeker' sees Maley himself taking the vocal baton, marking the track with his gentle rendition over a guitar laced presentation. A catchy and simple piece, it would suit the likes of Eurovision perfectly. Australia based Mike Burnett lends his vocal skills on 'She Hurts', a piano ballad which essentially embodies a perfect pop song. Meanwhile Daniel Angelus comes back on 'Don't Stay', changing the mood into an ERASURE meets HUMAN LEAGUE piece. This coagulation of synthesis is alarmingly fresh, yet reminiscent of the best electronic era of the big eight-ohs.
Maley reclaims the microphone on 'Swoon', creating a catchy, in your face and dirty synth track, loaded with elementary pop a la PET SHOP BOYS. 'Space Age Love Song' is performed by Mimisinga, a French/American singer often compared to Tracy Chapman or Macy Gray due to the texture of her vocals, and Angelus. This truly is a modern romance reverberating in a textured melody and slinky production.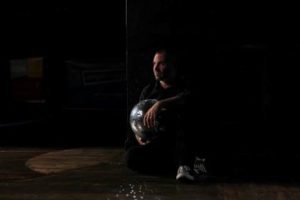 Another shift in the REAL EXPERTS' music manufacturing skills is palpable in '3:1 Ratio'; Maley's vocals, this time reminiscent of KLOQ's Dean Goodwin, are placed over a messy medley of guitar, bass and percussion, all to transform into 'Forever Is A Big Word' featuring Vivian Marie. The track is musically inspired with a rather interesting production, bringing back the likes of THE BELOVED. The vocals, however, lack soul, and clearly are the weakest point of this otherwise efficient concept.
'Beograd' thankfully brings back Daniel Angelus, to whom music is "about sharing emotions through sound. Silence is canvas we paint on". Again, unbelievably Phil Oakey sounding in range and style, at times it is also Bowie-like. 'Beograd' is a contemporary take on 'The Lebanon' with the added sound of modern analogue synth. 'Skytoucher' is an example of that "moment of perfect pop", as described by Andrew Maley. It is synthy, catchy and very NEW ORDER with the added pitch bend.
The production is concluded with the voice of renowned British sports journalist Patrick Barclay, who shares the microphone with Victoria Knowles on 'Lemon Is Lemon'. A bouncy way to wrap up the record in an unusual manner, slight elements of German dance DJ ATB are noticeable, along with more NEW ORDER influences. A curious mixture of elements, on the surface it shouldn't work. Yet, somehow, they do and leave the audience with a need to re-listen to the album once more.
To Andrew Maley, "it's all about capturing the moment, hearing something and it making a difference. Having something that matters to you. Happy or sad". REAL EXPERTS are all about designing that "moment of perfect pop". Definitely rooted in retro-pop with a twist of modern, they're an interesting listen and worth introducing into a synth lover of today's collection.
---
'The Trade Off' is released by Black Towers Records, available from: http://realexperts.bandcamp.com/album/the-trade-off
REAL EXPERTS appear with VILE ELECTRODES and NIGHT CLUB at Dublin Castle, 94 Parkway, Camden, London NW1 7AN on WEDNESDAY 25TH NOVEMBER 2015. Further information at http://thedublincastle.com/
http://www.black-towers.com/realexperts
https://www.facebook.com/RealExperts
---
Text by Monika Izabela Goss
26th October 2015