SINESTAR were formed in January 2011 from the ashes of its predecessor, JAGGED.
Sharing their Bristol origins with the UK's best kept secret MESH, the band quickly turned heads with their first synth outing in the form of 'I Am The Rain'.
The debut track from the same titled EP, laden with a heavy synth hook and the catchiest of choruses, opened a few doors for the West Country combo. With such a grand entrance, the expectations for the first album were ample; the effect was disappointing, however.
While a few songs on 'Singularis' showed signs of potential, it was not realised, being blanketed with poor production, mixing and mastering. The following EP, 'Running Home' showed much needed signs of improvement, with no other than Richard Silverthorn of MESH being involved in its execution.
'Evolve' sees the keyboardist and programmer of the band, Mark Trueman taking the reins of charge, instantly achieving a more electronic template and promising a more grown-up, fuller sound. Incidentally, 'Fortunes Faded', 'The Same Way' and 'Running Home' from that previous Silverthorn produced EP, show up on the tracklisting, to append the album's eleven Trueman steered songs.
'Ready Set Go & Die' opens with an unmistakable MESH shadow sound, canvassing a rather unoriginal vocal from Iain Brownlie. It is a catchy start, preparing the blueprint for what follows, with 'The Madness Of Control' and 'The Same Way'; the latter, fully loaded with all the correct synth sounds over the disappointing flatness of the lead voice.
'Stop The Clocks' changes the landscape into an analogue ERASURE-esque melody, which suits the vocal perfectly on this occasion, while 'Heart To The Fire' pleasantly continues the Clarke-Bell formula. In this case, a big Eurovision worthy chorus dominates the production.
The surprising choice of the first single, 'Fortunes Faded' blandly fills the gap between the previous track and 'Running Home', which sonically repeats the MESH recipe, but with an added female vocal. 'Falling', 'Avoiding the Silence' and 'Time Expired' follow without a deeper lasting effect onto 'The Mirror Song', which is a melodious venture, probing deeper into the early works of the 'Chorus' masters, until it reaches a seemingly alien half rap, half talk bridge / ending.
'Chemical Romance', or is it 'Love To Hate You'? It's hard to determine. 'My Perspective' regains some originality, which SINESTAR are clearly capable of, with the production closing on 'Sentinel', a slower, less paced track, heralding gentler Numan connotations.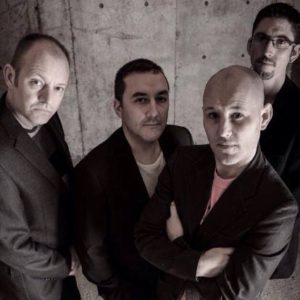 SINESTAR, now signed to Germany's Conzoom Records, have certainly produced something much cleaner, less cluttered and more electronic than its predecessor. The songs are guaranteed to impact during live performances. A noted improvement on the last production, this album will probably be best enjoyed in a concert environment.
Judging by the obvious MESH and ERASURE connections, together with an Axl Rose resembling vocal, the long play may appeal to much a wider audience than the usual electronica die-hards.
---
'Evolve' is released by Conzoom Records, available as a 2CD set from
http://www.conzoomrecords.com/index.php/en/shop/product/view/1/76
SINESTAR play The Fleece in Bristol on Saturday 23rd January and Musikens Hus in Gothenburg as part of Electronic Winter 2016 on Saturday 30th January
https://www.facebook.com/sinestarmusic/
---
Text by Monika Izabela Goss
20th January 2016