SPEAK & SPELL, the world's best and most authentic DEPECHE MODE tribute band, are to play two special UK concerts performing the 'Music For The Masses' album in full.
These dates take place at Manchester Sound Control on Saturday 9th September and London Islington Academy on Saturday 25th September, just a few months after the band impressed at Glastonbury 2017.
Luke Turner of The Quietus and The Guardian said of SPEAK & SPELL's appearance at 'The Radical Essex' weekend in September 2016: "Fronted by a 'Dave Gahan' who's mastered all the right notes and knows just when to whoop "yeah" in 'Never Let Me Down Again', they're mostly convincing and entirely fun, rattling away through versions of the last 30 years of the Basildon boys' strange, dark pop songs"
Released in September 1987, 'Music For The Masses' was the album that broke DEPECHE MODE in America. As well as including 'Never Let Me Down Again', 'Strangelove' and 'Behind The Wheel', it also featured the wondrous KRAFTWERK inspired ballad 'The Things You Said' and the metallic electro-gothic drama of 'Nothing'. Among the album's extras, SPEAK & SPELL will also be doing 'Pleasure Little Treasure', the B-side that was last played at the Pasadena Rose Bowl in June 1988, a concert later immortalised in the film '101'.
Without doubt, SPEAK & SPELL have become the preferred option for the disillusioned Depeche fan, tired of the real DEPECHE MODE's current rockist tendencies and disowning of their electronic heritage. With numbskull drum solos and lashings of jazz hands noodling, the modern day live incarnation of DM have become something of an underwhelming experience, with what is effectively an arena show plonked into stadium on the 'Global Spirit' tour.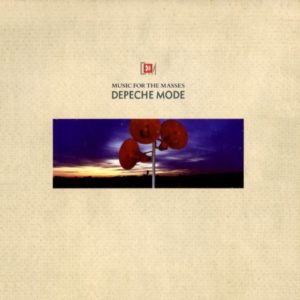 A lot more entertaining and far better value for money, half of SPEAK & SPELL's set is usually made up of songs that the Basildon combo will never play again, while the other features classic material which the real band now ruin; so it is a win-win situation.
And because they revisit the classic three synths and tape machine line-up of DEPECHE MODE made famous by Dave Gahan, Martin Gore, Andy Fletcher and Alan Wilder, SPEAK & SPELL are not marred by nonsensical guitar solos on synthpop tunes like 'Everything Counts', or the distraction of live drums and bass guitar as with other Mode tribute acts.
---
SPEAK & SPELL perform 'Music For The Masses' in full + more at Manchester Sound Control on Saturday 9th September and London Islington Academy on Saturday 25th September 2017, tickets available in advance from http://www.songkick.com/artists/1196840-speak-and-spell
http://www.depechemodetribute.co.uk/
https://www.facebook.com/Depechemode.uk
https://twitter.com/Depechemodeband
---
Text by Chi Ming Lai
Photo by Andy Goss
22nd August 2017