Featuring DE/VISION, FORCED TO MODE, BEBORN BETON, EMPATHY TEST + NINA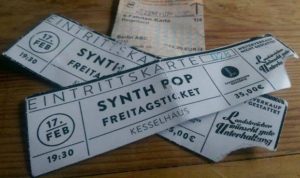 Located a short walk from Eberswalder Straße U-Bahn, the Kesselhaus venue is situated in the heart of the Kulturbrauerei.
A complex built around a 19th century brewery, the venue's industrial aesthetic was perfect for a weekend's festival of electronic music and certainly made a pleasant change to what would have been the UK's equivalent, the increasingly grimy Electrowerkz!
The line-up over the Synthpop Goes Berlin weekend, which included MESH, Marcus Meyn from CAMOUFLAGE in his new guise of M.I.N.E. and ADAM IS A GIRL on the second day, was an interesting one in that within the heartland of electronic music, it featured two UK acts which in itself must be seen as a sign of home-grown synth artists being able to hold their own against their European counterparts.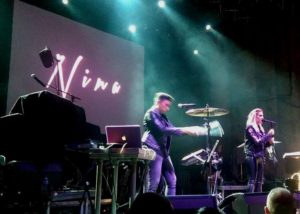 Opening act was NINA on vocals and synths, supported by her electronic percussionist Laura Fares.
The UK-based German solo artist made a breakthrough with her second single 'My Mistake' when it was picked up by Mercedes-Benz for an ad campaign. As a finale, the crowd was treated to a slowed down version of BLONDIE's 'Heart of Glass' which was well received.
After a short changeover and a video introduction by Daniel Graves of AESTHETIC PERFECTION, next up was EMPATHY TEST; having seen the band a couple of years ago, it was interesting to see how they've developed both sonically and image-wise.
Gone thankfully is the bored-looking guy staring at his iPad along with vocalist Isaac Howlett's inappropriate man-bun. Meanwhile musically, things have definitely ramped up a notch with the band's newer material showcasing a welcome deviation away from some of their formulaic earlier music.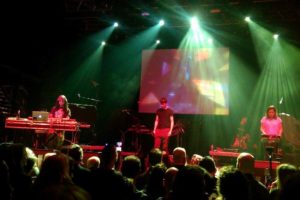 Newer tracks 'Seeing Stars' with its 'Blasphemous Rumours'-style scissor sample and 'By My Side' were played alongside older material, with the B-side 'Vampire Town' being dedicated to London.
Unsung hero of the band was electronic percussionist Christina Lopez who provided some excellent visual interest amongst the synth prodding.
Along with headliners DE/VISION, their one-time label mates BEBORN BETON were the other veterans on the bill. 'A Worthy Compensation' was their 2015 return after 13 years off the electronic scene having made a breakthrough in 1996 with their fourth album 'Nightfall'.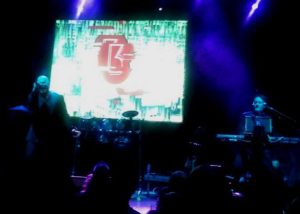 Comprising of vocalist Stefan Netschio, synth player Michael B Wagner and on synths/electronic drums Stefan 'Till' Tillmann, the band upped the energy level in the venue with a harder driven sound.
Visually there were some interesting things going on with Tillmann effortlessly switching between synths, a hand-held Arturia Beatstep (cleverly used as a MIDI controller) and a large set of white latter-day HUMAN LEAGUE style synth drums.
Next up was the DEPECHE MODE tribute act FORCED TO MODE, their positioning on the bill a testament to how popular some DM tributes have become, now that their real-life counterparts appear to have lost their way in their live delivery of their back catalogue.
Opening with 'The Sun & the Rainfall' from 'A Broken Frame', it was interesting comparing the act with the real DM, with vocalist Christian Schottstädt making a perfect 'Devotional' period Dave Gahan with his longer hair, whilst the two accompanying musicians, although sounding good, would have had the purists scratching their heads at a couple of ways they delivered the songs.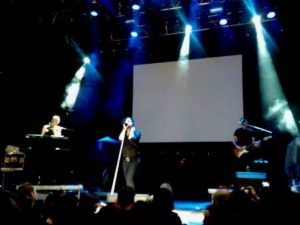 Matthias Kahra played guitar on every song regardless of the fact of whether there was any on the track originally, and this came across rather odd on tracks such as 'Shake the Disease' and 'Photographic'.
Meanwhile, synth player Thomas Schernikau utilised a rather lowly Yamaha SY85 which certainly wouldn't have darkened the door of any Depeche track let alone appear on stage!
Ending their twelve song set with 'Never Let Me Down Again', the band nevertheless had the majority of the crowd singing along to the mix of singles and album tracks to provide a perfect warm-up for headliners DE/VISION.
Comprising of vocalist Steffen Keth and synth player Thomas Adam, the band were joined live by percussionist Markus Koestner on a full acoustic kit which unfortunately conjured up unwelcome comparisons with Depeche session player and drumhead Christian Eigner.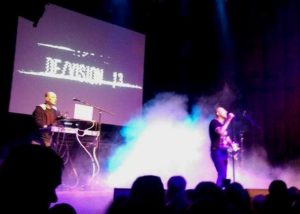 Opening with 'In The Cold Light of Day', the band's set mainly consisted of tracks from last year's album '13', plus three from 'Popgefahr' before closing with 'Your Hands on My Skin' from their 1994 debut album 'World Without End'.
The band themselves are highly respected in Europe and it's easy to see why, with consistently strong songs and a melodic take on synthpop, they soon had the Berlin crowd eating out of their hands. All-in-all this was a strong synthpop bill.
---
---
Text and Photos by Paul Boddy
23rd February 2017