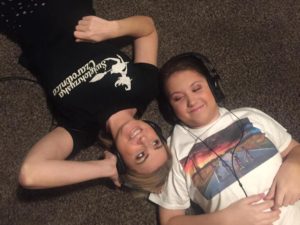 Sitting on the sofa with my now thirteen year old daughter, who over the years has acquired a rather sarcastic sense of humour (who on Earth does she get that from?!) and pondering how to approach this task of reviewing 'The Electricity Club' compilation, makes us both burst out with hearty laughter.
After all, she wants to rise to the occasion properly, and review things "just like Mummy does", or maybe not, as "Mummy always says it as it is!"
Children have the innate ability to always tell the truth; my daughter, however, has an uncontrollable need to please people, so this could really go either way. She will either be pulling her disgusted face, saying "what a load of rubbish!", or candidly praise, without certainty.
My own adventure with music dates back many years indeed. I was brought up within, what they used to call in communist Poland, "an intelligence family", meaning both my parents were white collar workers, rather than working class.
My father, a respectable judge, had loved his music greatly and was an avid guitar player himself, while my mum, a teacher, enjoyed listening to pretty much anything within the popular genre (usually via her radio, which, to this day, is always on).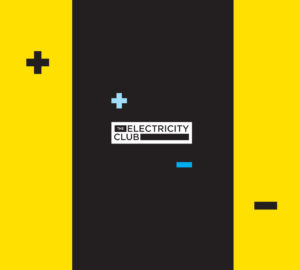 Recalling the baby book entry, which my mum recorded when I was at the tender age of five, saying "Monika loves listening and dancing to records, she could spend all day doing so", makes me try and remember the old record player and hundreds of vinyl albums which my parents owned.
All this said, I hold my older by ten years brother solely responsible for my eventual music choices. As I was growing up, I just had to endure what he was listening to (at great volume, may I add!).
As legal copies of western music were incredibly hard (or, simply, impossible) to get, his room was full of pirate cassette tapes of everything from THE HUMAN LEAGUE to MICHAEL JACKSON and anything and everything in between.
He would take great pride in inviting me into his musical cave and fed me with DEPECHE MODE, ERASURE, ELECTRIC LIGHT ORCHESTRA and OMD.
And all this worked… during his absence, I'd sneak in and put my favourites on, which would primarily include the works of DEPECHE MODE, with the vinyl of 'Black Celebration' and maxi-single vinyl of 'Stripped' being the firm first choices. And that's how I acquired the electronic music bug. From then on, not much else mattered but coming home from school and playing the entire back catalogue of the Basildon boys, dotted with the works of YAZOO and ERASURE.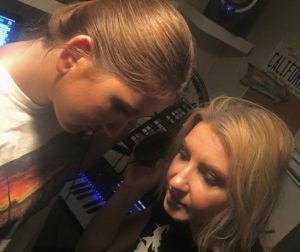 My Allie has had little choice, since her musical adventure dates back to being in my womb. At the age of three she would sing ERASURE's 'You Surround Me' on top of her little baby voice, and her sweet childish vocal was sampled and recorded by a well-known UK electronic duo.
Her first gig was at the age of five, and she went to see ERASURE at six and DEPECHE MODE twice at the grown-up age of seven, keenly taking part in the experience.
Although since she's found love for KATIE PERRY, ARIANA GRANDE and TAYLOR SWIFT, and electronic music hasn't been on her radar much lately, she absolutely loved ASHBURY HEIGHTS' 'The Looking Glass Society'. She also has a lot of vintage DEPECHE MODE on her Spotify playlist, interestingly enough none of it past 'Songs Of Faith & Devotion', and plays it at least twice a week.
Having heard that, I would include her opinion in the tongue-in-cheek review of The Electricity Club compilation, she keenly decided to be a serious contributor, and so it goes…
MAISON VAGUE Synthpop's Alive
Allie: I don't like it but I like it…
Mon: Bit GARY NUMAN this is! But a tad laboured and rough and ready.
Allie: I like the synth sounds, the voice sounds a bit weird.
KID KASIO Full Moon Blue
Mon: Ah, my favourite of Nathan's! Love it, love it, love it!
Allie: I like the sounds, the first bit sounds a bit like DEPECHE MODE!
Mon: Yeah, a tribute to 'Two Minute Warning'!
Allie: That's it! I like it a lot. I like his voice.
ELECTRONIC CIRCUS Roundabout
Allie: Oh my God! Rubbish!
Mon: Why? *cannot contain the laughter*
Allie: It's just rubbish!
Mon: Erm, the synth is good, not sure about the vocal…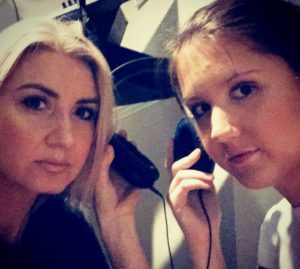 DAYBEHAVIOR It' s A Game – Marsheaux remix
Mon: I like this, analog synth! Lovely…
Allie: I like it, like the vocal, but it's not something I'd listen to if I had a choice.
Mon: Oh, I would. Very good song and well produced by MARSHEAUX.
MARNIE The Hunter
Allie: Reminds me of something but I don't know what. I like it, love the vocal.
Mon: I hear a bit of LADYTRON, BJÖRK and MARSHEAUX. It's fresh and enticing.
Allie: Yes, LADYTRON! That's it!
NIGHT CLUB Cruel Devotion
Allie: Ohhhh, I like that!
Mon: You've met them last year Allie! Very good!
Allie: Oh yes, I do like this! I like the background sound and the vocals. I'd play that in my room… She doesn't sound American! Is she American?
Mon: Yes! *laughs*
Allie: I'd make music like that!
ELEVEN ELEVEN Through The Veil
Mon: I like the beginning, bit of KYLIE there.
Allie: I don't know who that is! I like the vocals!
Mon: I like the sound! (Note to self: "must educate Allie on KYLIE").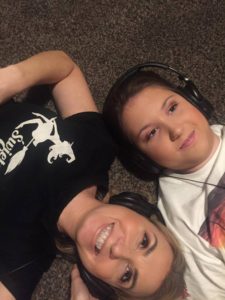 QUEEN OF HEARTS United
Mon: Oh I'm liking this, fat synth and decent voice…
Allie: I like it, both synth and the vocal.
KATY PERRY Hot N Cold – Marsheaux remix
Allie: It's KATY PERRY! I like this! I like this remix, it's different from the original! *singing out loud*
Mon: I never liked the original and this doesn't do it for me either.
Allie: What?! I love it! But her voice is a bit screechy, like on the normal version!
ERASURE Be The One – Paul Humphreys remix
Allie: Sounds like ERASURE…
Mon: It is!
Allie: Ah, I knew it! Is it a remix?
Mon: Yep.
Allie: I love ERASURE, this is lovely.
Mon: Totally agree.
KID MOXIE The Bailor
Allie: I don't like her vocals.
Mon: I do, it's a good song.
Allie: I like the music, the melody is nice.
Mon: It's a grown up song, very atmospheric and cinematic. Great use of synth. My kind of electronica.
KEEP SHELLY IN ATHENS Oostende
Allie: I like it! The vocals are great. I'd listen to it in the car.
Mon: Yes, it's good, both vocally and musically.
FOTONOVELA featuring JAMES NEW My Sorrow
Allie: I've heard it before.
Mon: Really? I haven't! You must be thinking of something else.
Allie: It's ok, reminds me of something you've played before.
GIRL ONE & THE GREASE GUNS Jessica
Allie: I don't like it, vocals aren't great, don't like the music.
Mon: It's not my cup of tea either, but I'm sure it'll appeal to few people.
AUTOMATIC WRITING Continuous
Mon: Interesting start! It's different, I shouldn't like it but I do.
Allie: It's ok, again, it reminds me of something.
METROLAND Thalys – London edit
Mon: Oh I like that. Simple arrangement and that's all you need. Not sure about the voice sample though.
Allie: It's very robotic, like science fiction. It's like something from another planet. It's KRAFTWERK!
RODNEY CROMWELL Black Dog
Allie: Yeah! That's ok! *does a little dance*
Mon: Hmmm, not sure. It's not unpleasant.
SIN COS TAN Trust
Allie: Don't know, not sure about that one.
Mon: It's ok.
Allie: Bored now!
POLLY SCATTERGOOD Other Too Endless – Vince Clarke remix
Mon: Good synth on this one. Liking this a lot. Competent vocals and arrangement, a real stand out.
Allie: Not my cup of tea.
TENEK What Do You Want?
Allie: Is that MESH? Sounds like it!
Mon: No, it's not, it's TENEK. It's a good song.
Allie: Yes, I really like it. I like the instruments.
ANALOG ANGEL We Won't Walk Away
Allie: It's fast. Not my kind of thing.
Mon: It's very well written. It needs more oomph! Very OMD.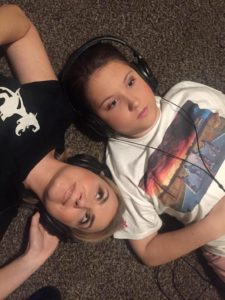 ARTHUR & MARTHA Autovia
Allie: It's not in tune… I don't know, I don't like it.
Mon: It's different, not me either…
MARSHEAUX Suffer The Children
Mon: A cover. Good.
Allie: It is good, bouncy.
SECTION 25 My Outrage
Mon: Oh dear, messy! Too candied for me, bit all over the place.
Allie: Yes, I don't think it's good. I can't describe it but it's not something I'd listen to.
047 featuring LISA PEDERSEN Everything's Fine
Allie: Clubby! Like it. Yes, I do! *bounces away*
Mon: Good, isn't it? I like the club feel to it. A good dance song.
TAXX Is It Love?
Mon: Oh yes, good stuff! Progressive. Decent vocal too.
Allie: It's ok, but I wouldn't listen to it in the car. At a disco, maybe…
LIEBE I Believe In You
Allie: You know the ding-ding sounds? They remind me of PET SHOP BOYS!
Mon: "Ding-ding sounds!" To me the vocal technique resembles NEW ORDER. It's good.
QUIETER THAN SPIDERS Shanghai Metro
Mon: It's ok.
Allie: Too poppy, way too poppy. Chow mein? *laughs*
iEUROPEAN feat WOLFGANG FLÜR Activity Of Sound
Mon: That's it! The synth is all there. Semi-modular synth? Very tidy!
Allie: I do actually like it! It's club but different.
TWINS NATALIA Destiny
Mon: Not me vocally but decent synth I suppose.
Allie: I like the vocals! I don't know, all confused now, too many songs!
Mon: No, that's awful.
MESH Tuesday
Mon: YAZOO cover Allie!
Allie: I knew that I knew it! Is that MESH?!
Mon: Yes!
Allie: Thought so. I like anything MESH!
Mon: Now, there's a surprise!
Allie: You know me!
MIRRORS Between Four Walls
Allie: Like this one, nice music.
Mon: Bit laboured… it's not bad though.
OMD Time Burns – Fotonovela rework
Allie: Very robotic.
Mon: Not me!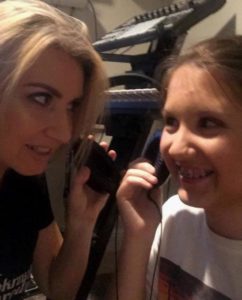 VILE ELECTRODES Deep Red
Allie: I like the vocals, sounds a bit like Sarah Blackwood!
Mon: It's Jane actually!
Allie: Ahhhh! Doh! I like that a lot. It's slow! *laughs*
Mon: It is good, but no surprise there.
Allie: Is that the last song?!
Mon: Yes…
Allie: Thank god, I'm tired now!
She will sleep well! I have to say, she did surprise me with some songs and disappointed with others but that just proves to me, that tastes do indeed vary, and even if I'm vehemently against something, others will find it enticing.
'The Electricity Club' compilation is a marvellous collection of tunes, and that's a given. There's something for everyone here and what a cross-section of all electronica. Still, I come to conclusion that thirteen year olds are probably not mature enough to fully appreciate certain synth music…
Will she follow in my steps? Not for a while… if ever! The one thing we certainly have in common: WE SAY IT AS IT IS!
---
'The Electricity Club' is released on 3rd December 2018 by Amour Records / Minos EMI / Universal Music in collaboration with Undo Records as a 34 track 2CD set in a deluxe 6 panel digipak with track-by-track commentary and 'O' card; the compilation can be pre-ordered from the following retailers:
Europe http://www.poponaut.de/various-artists-electricity-club-p-18056.html
North America https://stormingthebase.bandcamp.com/merch/various-the-electricity-club-2cd
Please note this product is NOT on sale through The Electricity Club website and only via retailers
A Spotify sampler of the compilation can be listened to at: https://open.spotify.com/playlist/7xwTYTeH6b5vgCqjZudfGE
https://www.facebook.com/amour.records/
https://twitter.com/Amour_Records
https://www.instagram.com/amour_records/
https://www.facebook.com/MinosEmi/
---
Text by Monika Izabela Trigwell
1st December 2018