Now in its third year, the TEC panel interview brings together musicians, DJs and enthusiasts to assess the state of the synth nation. The rendezvous for this year's discussion was Covent Garden, in the heart of London's West End.
Joining the panel was Keith Trigwell, a member of Europe's premier DEPECHE MODE tribute act SPEAK and SPELL. Also airing views on all things electro were Chi Ming Lai of TEC whilst chairing proceedings once again was TEC's Steve Gray.
2013 has been a great year for synth music so far, with several of our heritage acts releasing new albums. Two of the biggest were OMD's 'English Electric' and DEPECHE MODE's 'Delta Machine'. Which, in your opinion, is the better album?
Keith: For me it's 'Delta Machine'. It's the braver album of the two. DM have circumnavigated the tech and gone back to their musical roots with the bluesy R'n'B thing. But I do think it's a close call because the OMD is exceptional; it's a genuine electronic album. If it weren't for the fact that the DM album is such a brave move away from what they've done, then I would say OMD's would easily be the better album.
Chi: Right, 'Delta Machine' is a far better album than 'Sounds Of The Universe', so let's get that out of the way first of all!
However, let's not get carried away; I've had trouble enjoying 'Delta Machine', but it has its moments. 'English Electric', on the other hand, is the best OMD album for 30 years; it's electronic, it's modern, it's melodic. It goes back to their innovative, unconventional song structures and slightly pretentious concepts; 'Helen of Troy' and 'Dresden' are actually metaphors for McCluskey's personal life.
As for DM, 'Welcome To My World', which is my favourite track on the album, could have been so much better… the synths could have been louder, the mix could have been more dynamic and danceable but it's so strangely muted. I think Martin Gore is almost embarrassed to write an uptempo dancey tune with synths in. For me, the remixes of the singles are better than the original songs! I think DM are the wrong judges of their own music. It needs that outside influence that Alan Wilder brought in, with 'Enjoy The Silence' being the obvious example.
Another major album release to look forward to is GARY NUMAN's 'Splinter', his first proper studio album for 7 years. Chi, you've already heard the album…
Chi: Yes, I've recently interviewed Gary for The Electricity Club, and he said one of the reasons for the album taking so long was "mid-life crisis" type stuff; as well as bringing up a family and being distracted by being a dad. But he said all of those problems had become food for creativity. The album will be a surprise to people.
It's an extension of 'Dead Son Rising' in the sense that it's a varied album. There are the electro rockers; 'Who Are You?' is absolutely fantastic; 'Love Hurt Bleed' is really good too, but there's also this stripped bare stuff, which is going to really surprise. There's a track called 'Lost' which is soulful, and that isn't a term you'd often use for a GARY NUMAN track! I had to listen to it a few times to check I'd heard what I'd heard. It's possibly his most significant work since 'Pure'.
Keith: I'm not a devout fan either, but I do have an enormous amount of respect what he's done. He's a pioneer, and there aren't many people on the scene who have as much gravitas as he has; just his name carries it. I've heard  'I Am Dust' and I think that's bloody great; it has enormous choruses! I hope that with the new album he gets the recognition he deserves.
Probably the most talked about act is CHVRCHES, who are set to release their debut album in September. Are they worthy of all the praise heaped upon them?
Chi: Having seen them twice live, they are the real deal. They're brilliant.
They've just re- released 'The Mother We Share' and I absolutely love it; it's synthpop perfection. It's like TAYLOR SWIFT being uprooted to Berlin and being made to listen to 'Black Celebration'! They do pop songs, but arranged in a vibrant, exciting, electronic manner.
Keith: I really like what I've seen; she's got a great voice, but I'm just not sure if there's enough of their DNA in their music yet. I really hope we'll see something good coming through.
Which other new acts have caught your eye (or ear) this year?
Chi: Funnily enough there's some great new talent coming out of North America. One band is FEATHERS, who some have called the female DEPECHE MODE, but actually they are more like post-apocalyptic BANGLES!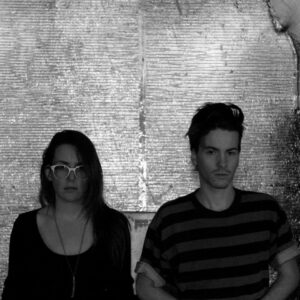 Keith: Post-apocalyptic BANGLES?! *dissolves into laughter*
Chi: …or Emo BELINDA CARLISLE! Anyway, they're very good. And there's another electronic band out of Texas called ELEVEN: ELEVEN. But the biggest surprise has been an act called TRUST. TEC discovered them thanks to Deb Danahay and their album is a real grower. North America seems to be where it's happening at the moment.
Keith: Well new "for me" this year were VILE ELECTRODES. I think they're bloody excellent!
This is also shaping up to be a good year for live music. What have been your highlights so far?
Chi: KARIN PARK at The Lexington was absolutely fantastic. It was something different; a heavy metal drummer (who happens to be her brother) and a 6 foot 7 inch model! And a personal highlight for me was seeing VILE ELECTRODES support OMD in Cologne.
Keith: DEPECHE MODE of course were brilliant, but the best live act for me was MESH at the O2 Academy Islington. That was a really strong gig. The automated intros, the singer standing at the back for the last song, I just stood there and thought, "this is a bloody good thing for anyone to aspire to".
Do you think that the new wave of synth festivals like BAS and I-Synth are good for the scene? Are they helping to promote new acts?
Keith: I think they are incredibly important. Bas has been brilliant, and the social aspect is fab. People come from all over Europe and beyond, and it's enormously useful.
Chi: The social side is great, but it concerns me that it's always the same collective of bands playing these events. Another concern is that if musicians try to organise events themselves, there will quite often be a hidden agenda. The Electricity Club had its time wasted by two musicians trying to set up an aborted festival last year; they had no idea about any of the new acts I talked about or anything! At TEC, we've run two live events but haven't done a third yet because we don't feel that we should repeat the line-ups we've had before; we want TEC003 to be something special. I think there is a danger of things becoming complacent. It's always the same faces and the scene is not as big as people think it is.
TEC recently ran an article mourning the disappearance of MIRRORS, who, despite an outstanding debut album and record label support, failed to gain mainstream success. Just how difficult is it for new synth acts to break through in this country?
Chi: In the case of MIRRORS, there was the usual ambivalence from the real music brigade, but the electronic community wasn't interested either. A lot of that was insular; all of a sudden this band came out of nowhere with a record deal, videos, suits, the works and I think people were jealous.
For acts like VILE ELECTRODES, it's taken them three years to make their debut album because they're funding it themselves, making the videos themselves, doing the promotion and they have day jobs!
But we love both of these acts because they invest their time in making their songs sound as good as possible, and doing the videos and visual images; it's the complete package.
Any band who says, "visuals aren't important"… well I'm sorry, it does matter!
Keith: You're right, it's enormously important. With DEPECHE MODE, it's always been about the synergy between the imagery and the music. It's like 2 +2 = 5, and for me the extra "1" is the bit that resonates with me.
Chi: For a band to get noticed by TEC, they need to have a good photo. You don't have to be the best looking band in the world to have a strong visual image! *laughs*
Also, crowd funding won't work with new acts because you actually need a fanbase to start with! You need to have been around for a few years and be a known act, for example IAMX or LADYTRON's Helen Marnie. You can't start completely from scratch with crowd funding.
There have been some memorable cover versions of synth classics over the years. What is your favourite synth cover version?
Chi: I like MARILYN MANSON's version of 'Tainted Love' although that's a cover of a cover! But I like what BEF have done, which is to make a lot of soul tracks electronic. My favourite is a cover of BILL WITHERS' 'Same Love' which has been done by DAVID J ROCH, and also STEVIE WONDER's track 'Every Time I See You I Go Wild', sung by KIM WILDE. And I love HEAVEN 17's cover of ASSOCIATES 'Party Fears Two'; it's completely different from the original.
TORUL have done a great cover version of 'Mad World' too. It takes it in quite a dark direction…
Keith: Well that's the basis of a good song. If you can reproduce it in any number of ways then the musical notation must be very valid. My favourite is ROYKSOPP's cover of 'Ice Machine'; it's so sharp and has a beautiful vocal.
---
Text and Interview by Steve Gray
16th September 2013