Welcome to TEC's Panel Interview, an annual platform for figures from the UK electronic scene to discuss the state of the synth nation. Now in its fifth year, the panel has always been passionate about what's hot and what's not, with lively debates often occurring within the discussion.
With questions and crowd control from new team member Monika Izabela Goss, joining panel regular and TEC co-founder Chi Ming Lai this year were Anais Neon and Martin Swan from VILE ELECTRODES.
The duo supported OMD on their 2013 German tour and their exposure there resulted in them winning 'Best International Album' and 'Best International Album' at Germany's Schallwelle Awards this year.
Among the topics discussed were DEPECHE MODE's 'Live In Berlin' DVD, the health of independent live events in the UK following the Alt-Fest debacle and VIP Meet 'n' Greet experiences. So let the panel begin…
ERASURE's 'The Violet Flame'… your opinions on the album and whether Andy and Vince still got it?!
Martin: I think I only heard one track! This year we haven't really been exposed to anything at all, due to our VILE ELECTRODES commitments. From what I heard, it's all right. I shouldn't be really saying this but I'm really not a big ERASURE fan. So it's probably something that passed over me to be honest.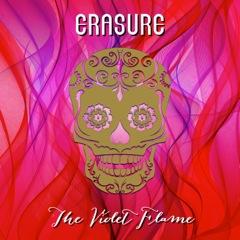 Anais: Haven't heard any of it!
Chi: certainly think 'The Violet Flame'is their best since 'Nightbird', there are some really great uptempo tracks. The track that starts the album 'Dead Of Night' is very good and very catchy. Funnily enough, the track that caught my attention came from the Box Set; the Paul Humphreys remix of 'Be The One' is absolutely superb… it's obviously an ERASURE track but Mr Humphreys did his 'English Electric' Synth-Werk thing to it. The album is much better than 'Tomorrow's World', which I didn't like at all… I only liked two songs from that!
Looking back, 'Light At The End Of The World' was ok at the time, but now I can only remember the chorus melody line for 'Sunday Girl'! So, I do think the new one is a good album, and at the end of the day, ERASURE can still cut it live, so I look forward to seeing them in December.
The new DEPECHE MODE 'Live In Berlin' tour DVD, what do you think the expectations are versus reality?
Martin: I don't have any expectations, because I didn't really enjoy seeing them live, it was just too corporate. It was just too much of a rock spectacle, which is not what I'm into and I enjoyed one or two of the songs, but it wasn't for me. Particularly as when we saw them, we came off the back of the OMD tour…
Anais: It was literally the day we got back!
Martin: So literally, we came back from 1500-2000 seater venues that were big, but still quite intimate where you still had a relationship with the band on stage. To then be going to the O2, seeing something that was not for me… I have no expectations.
Chi: I went to two shows on the tour and overall, doing the DEPECHE MODE thing with friends is very enjoyable, so I think people will enjoy the 'Live In Berlin' DVD. But it is good they filmed Berlin… thank heavens they didn't film the Birmingham show in January 2014, which was actually terrible!
There was just no momentum in that show. At the second London May show, there were highs and lows like one of GARY NUMAN's modern day gigs… so when it was up there, it was great, but otherwise it got really boring. The trouble with the Birmingham show, it was low for the first eight songs! I remember 'Touring The Angel' when DM were back on form and there was a bit of spice, a bit of drive and a bit of excitement!
Martin: Before the album came out, there were lots of teasers on YouTube of the band in the studio with modular synths and vintage instruments; we thought what the band was saying was "we are getting back to how we started", with exploring electronic textures etc. The album then came out and it was ok, better then some of the other last few albums, I quite enjoyed it actually, but then the tour… all of that just seemed to have disappeared completely, and the whole revival idea, the very thing that for me made them such an amazing band, had been lost to the need of wanting to be a rock band, in a stadium!
Chi: The last thing I want is bloody drum solos on 'Black Celebration' and 'Enjoy The Silence', and the ploddy intro to 'Personal Jesus'! All the decent songs have been ruined. With 'Halo'
, I do actually like the GOLDFRAPP remix, but not as a live track though! Don't be afraid to have something with a beat in it, you're playing a large arena! I actually want DEPECHE MODE to do new songs but I don't think the band actually know what the best of their new material is! Whatever the merits of 'Soothe My Soul', it was a very crowd pleasing element to the tour and they dropped it on the second leg. I sometimes think Mr Gore and Mr Gahan are just a bit too bloody minded about pleasing the audience.
It just comes across as lazy…
Chi: Yes and it's too reliant on drums these days, it started as an add-on during the 1998 Singles Tour, and now they're dominating things! And I do not believe most DEPECHE MODE fans like the drum solos, I'm sorry … but that's just my thoughts!
Martin: It strikes me that the only difference between DEPECHE MODE and U2, is that DEPECHE MODE make no announcements about the state of the world, it's a fine line…
Chi: I actually think that there were probably more synthesizers being used on U2's 360°
 tour than there were on DEPECHE MODE's 'Delta Machine' tour! *laughs*
Anais: Similarly to Martin really, we were exhausted from being on tour ourselves and found that the experience of the gig was just soulless…
Martin: It was like being in a lovely deli with all this amazing food that's freshly prepared, and the people in the deli are talking to you about what you like and then you leave the deli and you go into Asda… we nearly left!
Anais: We were thinking we should leave and we were really knackered and weren't enjoying it, and we thought "no, we paid our ticket prices, so will see it out till the end". I'm sure the fans will love the DVD but we won't be getting it…
Martin: I have a great respect for people staying true to loving the band, but I do think they will just love it anyway without even watching and listening to it. I've heard people value the experience of catching up with friends they may not have seen in a while, more than the actual gig.
It will be rather interesting to see the form of the DVD, as 'Touring The Angel' was horrendous, the editing made it very difficult to watch…
Chi: I saw the 'Tour Of The Universe' DVD for the first time this year and I actually enjoyed it… I was at the Athens gig which was cancelled due to Dave's illness so I think sometimes, something seems better when you haven't seen it for real yourself. With this tour, all I can think of is that horrible Birmingham gig… I like to get up and dance, but I didn't even feel like it at this one. Everything was just plod-plod-plod!
Martin: Music for middle aged people… I don't want to go to a gig and feel middle aged. I read about the UNDERWORLD gig at the Royal Albert Hall a couple of weeks ago, everyone there was in their 30s or 40s or 50s, but everyone never even thought of sitting down… that's what's missing!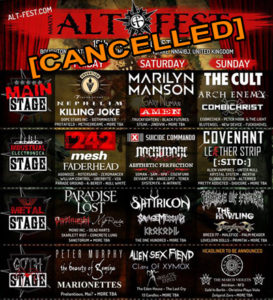 What about the Alt-Fest collapse? Will it have a damaging effect on the independent UK music scene?
Anais: Oh! They handled it so shoddily, didn't they? I mean because we weren't going, we had no financial interest in it but it was a car crash! I followed the breakdown and could not believe how they were so disrespectful towards people that planned to go to their event.
I don't necessarily think that it has had or will have a damaging effect on the scene. The immediate response was a feeling that nobody will dare to put an event on, because of how you'd done this but I don't think that's the case.
Lots of people have got their money back now and there will be brave people interested in putting on events in the future. I don't know why they tried to put on something on such a big scale, they didn't have enough money…
Martin: Something that we have realised this year is that promoters have egos. I guess they wanted to put on the biggest and best event that's ever been, but they totally overstretched themselves. If a promoter is given a chance to get a big act, like MARILYN MANSON, they think they will get 100,000 people attending the event.
Chi: I was suspicious straight away with Alt-Fest, the dates were announced with no bands and I'm always suspicious about that! A lot of promoters out there do that, as if the event is more important then the bands themselves… this is a big problem with events these days, everyone seems to forget about the music. But also, it's like the Alt-Fest team watched 'Wayne's World 2'
and got into that "if you book them, they will come" mentality… but actually, what they should have done was get themselves a pocket calculator, it was simple as that.
Before TEC001 which VILE ELECTRODES played, I had discussions with wannabe promoters who wanted me to be involved in their event, but they had no bands or venue booked, or even a date. I asked them how they were underwriting the event, and their response was "we're gonna sell tickets"! So they had no money to run the event! You must never base your figures on the number of tickets you think you're gonna sell!
Another person who aspired to become involved with TEC's live events wanted big acts like GARY NUMAN and RECOIL… trouble was, they started going public with this to people, so that's when I distanced myself from that person. There are egos combined with a lack of finance. Even if you're trying to be anti-corporate, you need money in the kitty to run an event. Also a very important thing is to at least cover the expenses for the bands and helpers involved… people are being expected to give their time for nothing which is not right. Of course, Alt-Fest did this crowd funding thing. I've always been of opinion that if you are new to something, crowd funding isn't the best idea. You've got to prove yourself by running events.
Martin: They should have run that event with some kind of investment from The City, they needed to have a quarter of a million investment to run it.
Anais: There have been plenty of events since, which proves they can work.

Chi: I know the Whitby Goth Weekend is an event that took the time to establish itself and is now able to attract bands like HEAVEN 17, VISAGE etc… and it's not getting beyond its capability.
Martin: All the Goths are university professors now! With Alt-Fest from the start, there was a sense of feeling "who are these people?", and although the interest was there, it didn't equate to selling tickets. All Tomorrow's Parties collapsed too, and on paper, things should have worked well because of out of season venues, a few big bands and some underground etc. Therefore Alt-Fest could not have gone all the way, not having been on the scene for 10 years…
Chi: I think the reason why All Tomorrow's Parties collapsed was the demographics, people end up having kids and when you have kids, you're not going to disappear for three days… that sometimes isn't taken into account. That's why 80s nostalgia and the success of the Rewind Festival are happening, as those people have had their kids and now that they're grown up, these parents can go out again. There are three Rewind Festivals happening now across the UK each year. But this outdoor thing doesn't appeal to me though. I wouldn't mind doing a weekender if it was indoors, I'm not camping now… but I didn't camp when I was in my 20s! *laughs*
UK electronic events in 2014, enough or not enough?
Chi: It's good there are a variety of events. The best electronic events are curated by electronic music fans.  Quite a few of the events are more social and the music is incidental… music content is what seems to be forgotten about and that's what concerns me a little. And the egos within the events.  On the other hand, some people put on events and are so discrete about it, nobody shows up!
Martin: There are too many festivals but not enough gigs. Or what the organisers call a festival. It's the ego of wanting for the event to look bigger than what it actually is. A little bit of humility is what we need from some people.
How do you feel about the Loudness War and digital over-production? Could electronic music benefit from reverting to more traditional production and softer mastering treatment?
Martin: Yes!
Chi: My friends at Undo Records master slightly quieter, so if you want it loud, turn the volume up! A remastered copy of SPANDAU BALLET's album 'Journeys To Glory' was given to me and yes, it did sound awful… the person who remastered it must have been deaf as far as I'm concerned. But when we were covering CHVRCHES on TEC last year, I've had a few disgruntled team members moaning about the album, but it was not because it sounded like TAYLOR SWIFT gone electro, it was about the mastering… I think there's too much moaning about mastering overall!
Martin: The CHVRCHES tracks I listened to, I didn't think sounded too loud, but they're commercially going for the pop angle, so there is an element of having to compete with bands who are mastering loudly. The war happened because bands were competing with other bands, in that sounding good equals sounding louder. We shouldn't be talking about this in 2014… at the time when METALLICA had the loudest album that had ever been released and people were saying that the Rock Band version of the album sounded better than the commercial release. I had a conversation about this with my students I teach and asked them what they thought mastering was. And one of them said "to make the tracks as loud as possible!" and it is the exact opposite.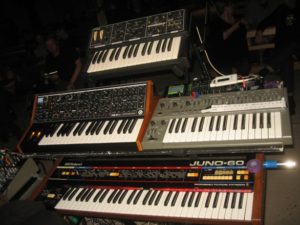 How do you see the new electronic music scene progressing in the UK?
Anais: It seems to be a bit saturated, me and Martin are thinking of playing acoustic guitar… not really! *laughs*
It has grown. People haven't got good quality control however. With social media, people are finding it easier to get music out there, but that brings both good and very poor music out.
Martin: Social media is a problem as no one wants to be negative and honest about what's out there, people must say their true thoughts and not be worried if they're not liked.
Martin has touched on a very good point; people want to be liked, so they will thumbs up anything. A band suddenly pops up, they haven't got even one song as a demo, yet they have 400 likes on Facebook and start selling merchandise. There's something wrong with that…
Martin: Definitely, it's all political. The scene we are in is not big enough to support the amount of bands that are in it, everyone seems to be in a band…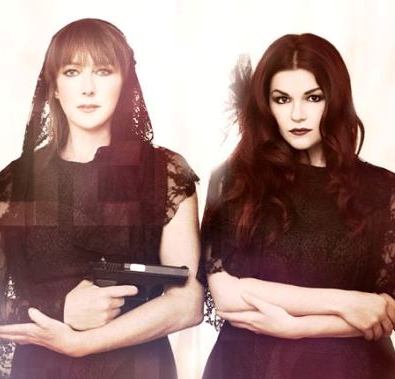 Chi: Yes, so it becomes a mutual appreciation society with people jockeying for position, whether they're musicians, DJs or bloggers… we interviewed CLIENT this year and Client A made a point that anyone can have the equipment and make music, but it saturates social media, so it's hard to find the good stuff.
Bands pop up from nowhere, do one song and demand the same attention as a well known band. We need to be brave and say when something is just "ok", rather than praising everything…
Anais: The quality control is so important, we went to a seminar chaired by THE NEW RADIOPHONIC WORKSHOP's Matthew Herbert who claimed that 95% of songs on iTunes are never downloaded and said there should be a ban on any new, bad music going onto iTunes.
Martin: Every day, I get invites to like a page on Facebook. I don't want to be being seen favouring one band over another, I don't get enough free time to listen to other people's music at best. If I like something, I will seek it out and like it on Facebook.
Chi: That's the problem with social media, I get approached by people in bands on my personal Facebook page, with people thinking that by knowing me, they will get featured on TEC. I got sent a video of a 40 minute gig recorded at a kid's birthday party, awful quality; what am I supposed to do with that?! *laughs*
Martin: There are lots of arguments on both sides, bands have more power without being under a label, but people need more quality control. I hate it when bands have to advertise every aspect of their artistic process… "We are in the studio writing a song! Like this status"…
Because they treat it as some sort of a marketing exercise… to create hype around themselves?
Chi: Yes, that's right. But TEC never announces it's got a big interview until it's done… I've seen it before when other bloggers say "We're interviewing Gary Numan today, have you got any questions you'd like us to ask him?"… but it's really embarrassing if the interview falls through at the last minute, which it can do! When I write an article, I don't actually expect anyone to read it. People mustn't get upset that someone isn't liking their writing / music as if it was an entitlement… but the positive of social media is that you can hear something and enjoy it ages before its release like with VILE ELECTRODES 'Deep Red' 😉
Martin: Everyone is in a band these days… Eric Ravilious was a famous landscape painter who was patronised by amateur water colour painters aspiring to be like him. That's what we have with the music business. Some people only lend support wanting support back. It doesn't quite work like that…
Recording an album is relatively cheap these days, everything else around it isn't! What chance have the new acts got presently?
Martin: You can't make money from music or releasing it digitally, but the model which music has now reverted to, is from years ago when music was free. If you're sensitive to your market however, you can do well. You have to invest lots of time and a little bit of money. We couldn't do it without the internet.
Anais: It is harder to be discovered but if you are doing something good, and plugging away, with time and energy, you have a good chance.
Martin: Bigger isn't always better. We sell merchandise and CDs on a scale that we can personally manage. It's a cottage industry really. It's sustainable and music is something that should be both pleasurable and sustainable. Most of bands I discover actually come from TEC and I feel TEC isn't appreciated enough for it. The strength is looking outwards, not inwards.
Chi: Bernard Sumner of NEW ORDER said in his book that what it's about, is to have fun with what you're doing and that fun is success. What you're saying Martin, translates not just to the artists but also to promoters, some of whom who are not even into electronic music… yet they put on electronic music events. One promoter I met was slagging off electronic music, at an electronic event, while promoting their own electronic event!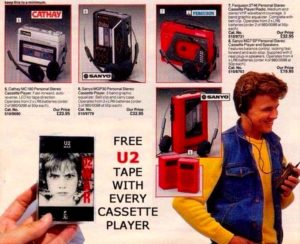 Apple's U2 'free download', is that where we are heading from now on?
Anais: I hope not! I don't know what Apple are thinking, surely they knew people would not like that!
Chi: One thing I saw on Facebook was an old page of a catalogue selling Walkmans, where they were sold with a free U2 tape! It was fake but it summed things up; U2 always went on about being the biggest band in the world and making people feel they were somehow missing out on something… it was all hype!
So everyone raved about the epic Red Rocks gig, but that 'Under A Blood Red Sky' live album which followed only actually had one track from it! Then there was the Live Aid thing with Bono jumping into the audience. This 'free' album is a very elaborate advert for the next U2 tour, which is probably costing an alarming amount of money.
It's a clever marketing exercise, where, if you happen to listen to the album, and like it, you may jump onto the U2 train and buy the previous releases…
Martin: I think you're right Monika and it's basically the question of ego again.
Anais: Bono said it was an instant gratification… for him of course!
Chi: It's a giant w**k stain! Like Formula 1 drivers spraying bottles of champagne, it's a sexual gesture.
Martin: If it creates enough negative press, then it's still creating press.
Chi: I spoke to a PR for a major artist about negative reviews; I was told that if a big act receives a negative one, it doesn't matter, as the fans will rally around and you'll get a lot of publicity from a negative review. If it is a small band however, a negative review can destroy them. It's like the KRAFTWERK thing with the Tate Gallery… even people not interested in music were talking about the Tate's online ticket shop going down, so the aim was achieved. They would have overfilled the venue with the amount of willing punters anyway because the venue was so small!
Do you welcome the revival of old synths, such as ARP Korg Odyssey, or 808 / 909 drum machine?
Martin: I don't mind, I don't think they're that important. They're clearly responding to the market. The prices of the originals are high so it's an opportunity for them to make money. It's a shame that they won't try to make new exciting modern devices, rather than being slaves to an old technology. It's cashing in, I think.
Chi: Nobody really followed up the type of controllability that you could get with an Odyssey so I think there's room for it. Nobody really tried to emulate this type of synth. OK, the Octave Cat was basically an Odyssey but it had knobs instead of sliders, so was different!
Anais: My only concern is that it may strike a note with Martin and he may decide to have it at all costs. We will have to go hungry so he can have a new synthesizer.
Martin: I've not bought anything as revival, I like things unique. But nothing old should be remade.
The UK vs Europe as electronic music destinations – where is best to play? Why?
Anais: European crowds are so enthusiastic. The UK can be harder to get things going. Also travelling to Europe makes things feel rock n roll!
Martin: People in Europe aren't afraid to travel great distances to see a band, the UK is quite opposite with people moaning that bands don't play near them. For bands to travel further usually means more money. I like to test the new material in Europe, you cannot do that here without it being on social media the next day.
Chi: Europe has a freedom of movement and some of my favourite gigs have been abroad. Most of the medium venues in Europe are standing but here, they're seated; I think that has a lot to do with it. I also think the drinking mentality has lots to do with it too. In Europe, the alcohol is just part of the evening… in the UK, the booze is the main reason for going to the gig and hence, people ruining it for others!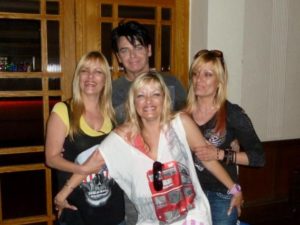 Your opinion on VIP packages with gigs and paying extra to meet the bands?
Martin: It is a way for bands to make money that they would not otherwise make, but it's ok as long the money goes to the band. Meeting fans is important and so is their feedback. I think DEPECHE MODE would benefit from real feedback from their fans. If you get lots thrown in, then it may be more desirable. Rather than trying to charge people for something they would do anyway. It needs to be done considerably.
Chi: I wouldn't pay for a VIP myself but we have to draw the distinction as to what is worth the outlay; I might pay to have a photo taken with TAYLOR SWIFT, but I wouldn't pay to meet VILE ELECTRODES, TENEK or ANALOG ANGEL. There's a lot of criticism about GARY NUMAN's VIP packages but I think they're good value. You hear about some really nice ones with lots of extras thrown in, like BRYAN FERRY's. However, there was a certain individual on the scene who tried to offer a £100 VIP package with their second release as part of an aborted crowd funding campaign, it was unreal! There's a humility that has to be applied at certain levels of the music ladder. But sometimes, the scene is a situation comedy that writes itself 😉
---
Interview by Monika Izabela Goss
18th November 2014