A TEC-nicolour dream come true…
Hertford's Corn Exchange certainly came to life on Saturday as The Electricity Club embarked on its third concert event TEC003.
It brought together DEPECHE MODE's finest tribute act SPEAK & SPELL performing DM's debut long player 'Speak & Spell' along with the dynamic synth duo that is VILE ELECTRODES and DJ SARAH BLACKWOOD of DUBSTAR and CLIENT fame to present a wonderful evening of live music.
However, before the acts had sound checked, the afternoon was kicked nicely in to touch with a terrific exhibition of DEPECHE MODE and YAZOO memorabilia which was kindly shared by Deb Danahay, former partner of Vince Clarke who co-founded DEPECHE MODE's fan club.
On show were a number of press articles that had been superbly preserved and fans poured over them with great interest. Signed albums and gold discs were also on show and many took the opportunity to have their photographs taken with these fine pieces.
At the heart of the exhibition though, several TEC team members were on hand to chat with fans about the band and their history while Deb looked in her element as she took people through folders that contained among other things, hand written lyrics whilst offering some personal recounts of her involvement with the band back in the day.
There really was a warm atmosphere throughout the afternoon as strangers conversed with one another sharing their own memories of concerts, debating over particular tracks and album choices and no doubt how the music scene has changed over the decades.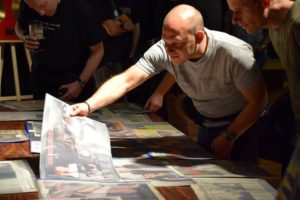 The other aspect that came across was that friendships which had initially formed via social media were now bonded by people meeting in person for the first time and not just people from the UK either; Europe was well and truly represented with visitors from Germany, Italy, Switzerland, Sweden and Greece to name but a few. People had travelled from all over for various reasons, whether it be for the friendship, the memorabilia, the music or all three.
After a couple of hours, the Corn Exchange closed its doors for a while to allow the bands to set up and carry out their sound checks. Fitting all the much needed equipment on to the stage without leaving trip hazards from trailing wires must have been like a Krypton Factor challenge. But fit it did and the sound engineer did a terrific job of making everything sound just right.
With performers, technicians, crew and other helpers briefed, fed and watered, it was soon time to open the doors again and it was Steve Gray's responsibility to welcome the first of the crowds with a 45 minute DJ set before the lights dimmed and SPEAK & SPELL were welcomed to the stage by compere (and TEC's newest member) for the evening Monika Goss.
DEPECHE MODE fans were of course in awe of SPEAK & SPELL's performance and why shouldn't they have been? The countless rehearsals were evident as they successfully pulled off what could have been a showcase difficult to master with wanting to replicate the original sounds we were so familiar with back in the day.
But with the use of monophonic analogue synths, Revox B77 reel-to-reel and even a spirited rendition of the camp cult favourite 'What's Your Name?', to quote an original review from Record Mirror "there was much to admire and little to disappoint". Being Dave Gahan in period costume, front man Paul Wood fully cherished his role.
Many were happy to stand back and enjoy the event from further back but it was a real pleasure to see several audience members taking the opportunity to sing and dance the evening away, whilst no doubt they were silently reminiscing of school discos and playing such tunes at high volumes on their turntables in the confines of their bedrooms.
TEC had also secured the presence of SARAH BLACKWOOD, who performed not only two DJ sets during the course of the evening but who also performed songs such as 'Stars', 'Not So Manic Now', 'I'm in Love with a German Film Star', 'Price of Love' and 'Justice', her most latest work recorded with FOTONOVELA.
With proceedings running smoothly the evening was well and truly underway. It's always a pleasure to see familiar faces supporting these events.
So special mentions go to Berlin based remixer Mark Reeder, George Geranios of Undo Records and FOTONOVELA, Sophie Sarigiannidou from MARSHEAUX and last but not least, Anne Swindell, who together with Deb Danahay and Jo Gahan, was involved in the beginnings of the DM Information Service.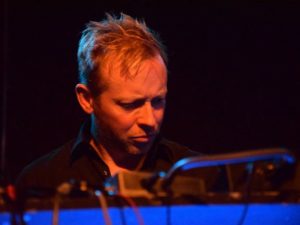 Now it was the turn of VILE ELECTRODES to entertain the crowds.
Being the first anniversary of the release of their debut album 'The future through a lens', it seemed appropriate to play the album in its entirety including all those little interludes that in this instance were provided by the Revox B77 used earlier by SPEAK & SPELL.
However, singer Anais Neon amusingly announced songs wouldn't necessarily be played in track listing order for fear of "putting the crowd to sleep". 'Office Politiks' and 'The Last Time' didn't get an airing on this particular occasion but the likes of 'Drowned Cities' and 'Damaged Software' were punched out with enthusiasm and abandon whilst the calming influences came from 'Nothing' and of course, the sublime final track on the album 'Deep Red'. Watching at the front, Mark Reeder was particularly impressed with the duo.
SARAH BLACKWOOD returned to the decks to conclude the main part of the show as the switchover began for TEC003's aftershow.
And for this, SPEAK & SPELL took to the stage again to celebrate the 25the anniversary of the release of the '101' documentary and live album. While the entire concert wasn't recreated, the selected highlights featured a number of special guest vocalists.
The first surprise was compere Monika Goss and her sensual take on 'I Want You Now' while VILE ELECTRODES followed, joining the band for some joyous choruses on 'People Are People'. The final union saw SARAH BLACKWOOD duetting on 'A Question Of Time' before SPEAK & SPELL drew the live music section of TEC003 to a close with 'Never Let Me Down Again', 'Everything Counts' and a not-strictly-in-theme 'Enjoy The Silence'. But no matter, the important thing was that everyone was having fun and this continued as DJ Paul Boddy spun a selection of darkly danceable but enjoyable tunes into the early hours.
Events like this take months of planning and TEC003's success is due to the hard work and dedication of a committed and knowledgeable team who have all given their time and energy to the project, without hesitation. They should all be proud of their achievements.
---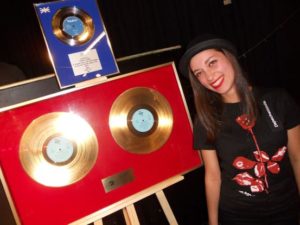 STEVE GRAY DJ setlist
RICHARD X Rock Jacket
GARY NUMAN Films
CHVRCHES Lungs
ANALOG ANGEL We Won't Walk Away
GOLDFRAPP Ooh La La
ULTRAVOX All Stood Still
WHITE LIES Getting Even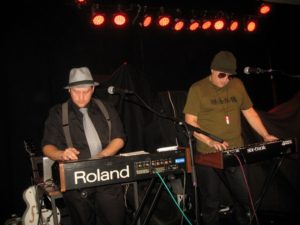 SPEAK & SPELL play 'Speak & Spell' live setlist
Big Muff
Puppets
Nodisco
Tora! Tora! Tora!
Boys Say Go
Photographic
I Sometimes Wish I Was Dead
Dreaming of Me
Any Second Now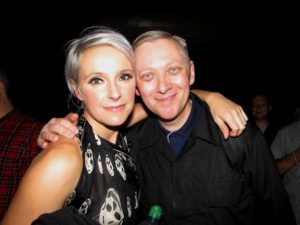 Ice Machine
Television Set
New Life
Just Can't Get Enough
What's Your Name?
SARAH BLACKWOOD 1st DJ set
THE HUMAN LEAGUE Being Boiled
SIMPLE MINDS I Travel
SOFT CELL Torch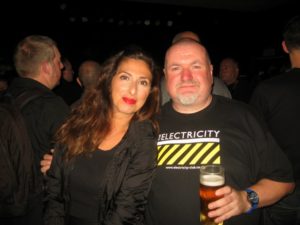 DEATH IN VEGAS Hands Around My Throat
ESG Moody Spaced Out
FREESTYLE Don't Stop The Rock
LIAISONS DANEREUSE Los Niños Del Parque
FAD GADGET Lady Shave
SARAH BLACKWOOD Not So Manic Now (+ live vocal)
SARAH BLACKWOOD Price Of Love (+ live vocal)
VILE ELECTRODES play 'The future through a lens' live setlist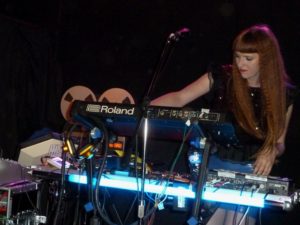 The future through a lens
Drowned Cities
Empire of Wolves
Interlude 1
Nothing
A Distance
Interlude 2
Feed Your Addiction
Damaged Software
Interlude 3
After the Flood

The Leopard
Tore Myself to Pieces
Interlude 4
Proximity
Deep Red
SARAH BLACKWOOD 2nd DJ set
HEIM Chelsea
MARSHEAUX Inhale
I BLAME COCO with ROBYN Caesar

ADVISER & DANIEL Giddy Up A Go Go
SARAH BLACKWOOD Justice (+ live vocal)
SARAH BLACKWOOD Stars (+ live vocal)
SARAH BLACKWOOD I'm In Love With A German Filmstar (+ live vocal)
SPEAK & SPELL '101' Aftershow Setlist
Behind The Wheel
Stripped
Blasphemous Rumours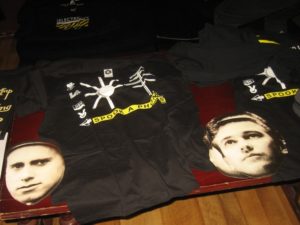 I Want You Now (feat MONIKA GOSS)
Master & Servant
People Are People (feat VILE ELECTRODES)
Question of Time (feat SARAH BLACKWOOD)
Never Let Me Down Again
Everything Counts
Enjoy The Silence
PAUL BODDY EMP DJ Set
MESH Leave Us Alone

FAD GADGET Love Parasite (EMP Remix)
NINE INCH NAILS Came Back Haunted
DIE KRUPPS Der Amboss
NEW ORDER Blue Monday (Hardfloor remix)
KARIN PARK Thousand Loaded Guns
GIORGIO MORODER The Chase (Jaia Express remix)
DONNA SUMMER I Feel Love (Afrojack remix)
THE PRESETS No Fun
ROBYN & ROYKSOPP Do It Again
AESTHETIC PERFECTION Inhuman
YAZOO Bring Your Love Down
HARD CORPS Je Suis Passé
---
The Electricity Club gives its warmest thanks to VILE ELECTRODES, SPEAK & SPELL and SARAH BLACKWOOD plus everyone who gave their time so generously and helped out at TEC003 in all capacities
http://vileelectrodes.bandcamp.com/
http://www.depechemodetribute.co.uk/
https://www.facebook.com/pages/Depeche-Mode-Information-Service-1981/342571782527621

https://soundcloud.com/paul-boddy-emp-remixes/
---
Text and Photos by Karen Buxton
Additiona Photos by Richard Price, Andrew Garley, Lo La Li and Chi Ming Lai
17th September 2014