A New Foundation
This month sees the return of Peter Steer and Geoff Pinckney, aka TENEK, with their eagerly awaited new EP, 'Another Day', It's been nearly 18 months since their last release, 'EP2' which earned glowing reviews and won over a legion of new fans.
The intervening months have been a transitional time for the band, having parted company with their record label and reverted to their original line-up as a two piece. Now the duo are back with a new resolve and a four track EP, the debut release for their own Alien Six label.
Perhaps inspired by the recent changes, lead track 'Another Day' features lyrics about moving on set to a backdrop of their trademark synths and guitar riffs. TENEK have a knack of delivering a catchy hook that stays with the listener long after the song has finished. Continuing on the theme of change is the second new track 'A New Foundation', a glorious slow burner which sounds like a cross between TEARS FOR FEARS and GARY NUMAN. Dealing with themes of loss and redemption, 'A New Foundation' is ultimately both epic and uplifting.
Intriguingly the tracklist for the EP is divided into two halves, 'Day' and 'Night', with the two new songs comprising the 'day' sequence. But as 'night' draws in it's time to raise a glass and break out the dance remixes! First up is 'Elusive', which was originally featured on 'EP2' and has since become a live favourite. Here it gets a punchy dance rework which is sure to induce movement in even the most reluctant of partygoers! Also included is a full-on club mix of 'Another Day' courtesy of Italian artist Alberto Trevisan aka AIRWOLF ONE.
The new EP marks the start of a busy year for TENEK. They will shortly be taking to the road for a full UK tour supporting REPUBLICA, and later this year they will be touring with DE/VISION in Germany – as well as a very special live date with HEAVEN 17 at the BAS 2013 festival in May
Pete Steer and Geoff Pinckney kindly took time out to talk to TEC about the new EP, life on the road and their plans for a new album.
Can you tell us a bit about the two new tracks? How did they come about? Do they hint at a new direction for TENEK?
Pete: I think 'Another Day' started on the guitar in the studio late last summer, it was one of those songs that came together quite easily for us once we'd recorded the basic idea as is often the way with us. There is a definite theme developing with the new lyrics, it's been a time of change for us in many ways and we did have a period of re-adjustment! We were also keen to have soaring anthemic synth line underpinning the chorus, so that works well.
'A New Foundation' is a track that we've had for a while but never really knew what to do with. I've always thought it was worth persevering with so we decided to work on it for the EP and see where we could take it. We tried numerous different vocal ideas and eventually came up with the one that worked! It's already had a tremendous response from those who have heard it so I'm really pleased we didn't give up on it. The lyrics are about being positive and making a fresh start despite life's setbacks.
The cover photo is quite enigmatic. Is there a hidden message in there?!
Pete: I think Geoff should answer this one, he took the picture!
Geoff: The lyrics in 'Another Day' and 'A New Foundation' touch on everyday life and beliefs. Some people feel the need to turn their back on old habits and beliefs in order to move on in their lives. We felt the image captured both the mood and the message of the two songs.
You'll be touring extensively this year, firstly with REPUBLICA and later with DE/VISION in Germany. Do you enjoy life on the road?
Pete: Yes, I think we both really enjoy touring in many ways. We know REPUBLICA and DE/VISION very well and that makes a huge difference as being on tour is quite an intense experience. It also really helps the band from a live perspective as each night you play a little better and can really hone the performance and sound. We are very much looking forward to playing the new songs from the EP as that's where you find out if the songs connect with the audience and that is something that is important to both of us as writers. Plus we are looking forward to the parties after the shows of course!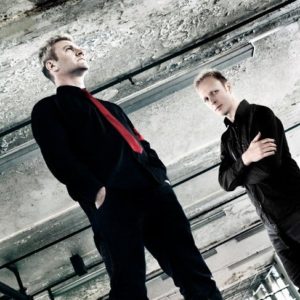 It's recently been revealed that you'll be sharing a stage with HEAVEN 17 at BAS 2013. That should be quite a night! Are you fans of Messrs Gregory and Ware?
Pete: We are both big fans of HEAVEN 17, I think the way they produce their big vocal sound has always been an influence on TENEK. 'Let Me Go' is one of the best tracks from the 80s, it's a stunning piece of music. Their show at Shepherds Bush Empire last November was the gig of the year for me, it was a fantastic night with an incredible set-list. We are absolutely delighted to be appearing alongside them at BAS 2013, should be quite a night!
Finally, how's work progressing on the new album? When can we expect it?
Pete: Things are moving along nicely with the new album, we'll be collaborating with Saffron from REPUBLICA on at least one track which we are very excited about as she's a great vocalist and lyricist. We are spending most of the summer in the studio finishing off the album, we already have a title which we are very pleased with and we aim to have it finished for an autumn release. It has taken a while for us to find the direction and sound but it needs to be a development from what we've done before, that was important to us both. There's a great vibe about the new material it's very epic!
---
The Electricity Club gives its warmest thanks to TENEK
Additional thanks to Cheri Freund
'Another Day' EP is released on Monday 11 March by Alien Six Productions and is available from all the usual digital outlets and as a CD from Headspace
TENEK play as special guests of REPUBLICA on their 2013 Tour. Dates include:
London The Garage (Thursday 14 March), York Fibbers (Friday 15 March), Tunbridge Wells Forum (Saturday 16 March), Newcastle O2 Academy 2 (Monday 18 March), Leeds Brudenell Social Club (Tuesday 19 March), Glasgow Classic Grand (Wednesday 20 March), Nottingham Bodega Social Club (Thursday 21 March), Bristol Thekla (Friday 22 March), Winchester Railway Inn (Saturday 23 March)
https://www.facebook.com/tenekinfo
---
Text and Interview by Steve Gray
Photo by Ed Fielding
12th March 2013