Following the publication of a '25 Frontwomen That Defined Britpop Beauty' list by fashion blog Never Under Dressed, The Electricity Club pondered as to what a synthpop list would look like…
The Electricity Club readily admits it features a significant number of new female fronted synth acts. In TEC's opinion, many of these artists are pushing the genre forward in directions that have not been pursued previously.
In the Synth Britannia heyday, other than Alison Moyet, Annie Lennox, Gillian Gilbert, Claudia Brücken and Terri Nunn, there were very few women involved in electronic pop music as equals.
Of course, today it is very different. Portable music technology accessible via laptops and compact keyboards such as the MicroKorg has opened up endless possibilities for the independent female musician. So when a classic styled synthpop track has feminine voices and talent driving it, there is a freshness to the approach that manages to avoid sounding completely retro. With so much being hung on a so-called synth revival, there are a number of male dominated acts that are quite clearly pastiches of key bands from back in the day.
So in alphabetical order and confined to women who front primarily electronic acts and / or play synths in the new millennium, here are The Electricity Club's choices to represent The Beauty Of The Synthesizer…
---
MIRA AROYO
While LADYTRON are very much a quartet musically, imagewise it has been the band's female pair who have been the focal point. When Mira Aroyo first appeared on the scene, her icy East European demeanour suited the band's dark terrorist chic meets the catwalk. With a look akin to the notorious Baader-Meinhof gang, Mira was armed with a Korg MS20 as her weapon of choice. As well as DJing, other projects have included her stark deadpan presence on the appropriately dystopian 'Watching A Building On Fire' with JOHN FOXX & THE MATHS in 2011.
---
AU REVOIR SIMONE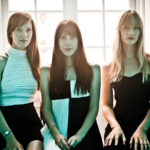 It's triple keyboard action with Brooklyn's studious librarians whose shows are a bit like musical slumber parties. No-one in the band is called Simone; there's Erika Forster, Annie Hart and Heather D'Angelo who each have their own sweet sense of style while handling an assorted array of synths including the Nord Electro2, Roland Juno 60, Casiotone MT70 and ubiquitous MicroKorg. With four albums to their name, AU REVOIR SIMONE are still very much considered hipster faves although they are a symbol of how the synthesizer can be universally integrated.
---
SARAH BLACKWOOD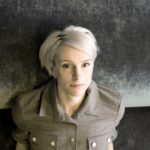 The charming, down-to-earth lass from Halifax has been a stylish presence since first hitting the mainstream with DUBSTAR in 1995, who managed to combine synth melodies with the more guitar laden manifesto of Britpop. Sarah Blackwood's girl-next-door charm has always been her appeal but when she formed CLIENT with Kate Holmes to adopt a harsher electronic sound complimented by the duo's uniformed Cold War chic, Sarah's position as a modern day synth icon was assured.
---
FEATHERS
The all female Texas based quartet feature a flexible line-up, but the one constant in FEATHERS is singer / songwriter / programmer Anastasia Dimou. As one can expect from a lady of Greek ancestry, Anastasia has an enigmatic Goddess-like quality about her that with her bandmates, results in a mysterious odyssey best exemplified by the video to debut single 'Land Of The Innocent'. Musically, FEATHERS' sound could be likened to THE BANGLES fronting DEPECHE MODE. They supported Basildon's finest on the final European leg of the 'Delta Machine' tour.
---
ALISON GOLDFRAPP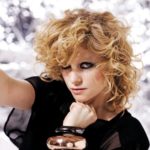 Modern electropop's most influential chameleon. From thigh booted dominatrix, to unicorn tailed X-rated Kylie and even sexy pink jump suited alien, costume has always been a way of overcoming Miss Goldfrapp's awkwardness with being a pop star. Her presentation sensibilities have ensured that all the looks have been alluring; "She's got great legs!" observed Sarah Blackwood. Meanwhile, her on-stage antics using a portable Theremin have been unforgettable; "Every girl should have one" she cackled when GOLDFRAPP supported DURAN DURAN in 2004.
---
GRIMES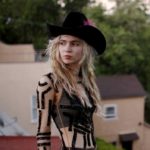 Montreal's GRIMES aka Claire Boucher and her faithful Roland Juno G have provided some interesting hybrid electro influenced by K-Pop, New Age and R 'n' B. Her kooky charm, leftfield aspirations and macabre artwork have impressed both hipsters and old fashioned synthheads alike. Her new song 'Go' features perhaps a more soulful, laid back groove whilst still playing around with technologically manipulated sound sources as she prepares to deliver even further after her acclaimed album 'Visions' in 2012.
---
PATRICIA HALL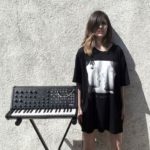 SOFT METALS lead vocalist Patricia Hall has that look which wouldn't be out of place in the Shoreditch set, but her willingness to join in the synth battles with her partner Ian Hicks makes her all the more appealing. Although she has described her look as being influenced by the timeless style Françoise Hardy and Jane Birkin, she has admitted that most of the SOFT METALS kitty ends up buying equipment rather than clothes. Her favourite synth happens to be the Roland Juno60, thanks to its patch memory and user friendly layout.
https://www.facebook.com/softmetals
---
IMOGEN HEAP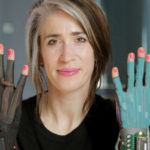 With her eccentric professor persona, Ms Heap could be considered to be the female Thomas Dolby. As well as being a crowdfunding trailblazer, she has also been involved in the development of new musical interfaces like the MIDI Glove, which she describes as an extension of her "no smoke no mirrors" approach with her audience. And she's not to be messed with either; when an advance promo copy of her 2009 album 'Ellipse' appeared on eBay, she rallied her loyal followers to sabotage the sale with bids of £10,000 and complaints to the online auctioneer.
---
I AM SNOW ANGEL
The location of the 1980 Winter Olympics, it is the apt that this village in the Adirondack Mountains should be at the heart of the beautifully gentle electronica of I AM SNOW ANGEL. The self-produced vehicle of the now Brooklyn based singer/songwriter Julie Kathryn, as can be imagined from the artist moniker, the music evokes images of icy landscapes and crystalline hydro basins. Proficient as a singer, songwriter, musician and producer, she adds some traditional Americana twang to the electronica aesthetic which in itself, is quietly subversive.
---
KID MOXIE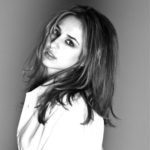 The stunning multi-talented Elena Charbila is a proficient bassist and programmer. Her abilities also extend into acting where she has appeared alongside Al Pacino and Malcolm McDowell. While her music has moved towards a cinematic electronic direction on her most recent offering 'The Bailor' the Greek born beauty has a love of pop music in all its forms which feeds her artistic mindset. One of her favourite all-time records is 'The Sun Ain't Gonna Shine Anymore' by The Walker Brothers. Her second album '1888' features contributions from Angelo Badalamenti.
https://www.facebook.com/kidmoxie
---
LITTLE BOOTS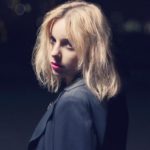 With her Korg Polysix, MicroKorg and Yamaha Tenorion, LITTLE BOOTS aka Victoria Hesketh perhaps represented what Joanne and Susanne from THE HUMAN LEAGUE would have done had they been teenagers in the 21st Century, ie get a laptop and take up the synthesizer themselves, rather than join a band of blokeys! She remains first and foremost, a musician / songwriter and whether she will ever recover from 679 / Atlantic Records attempt to turn her into the new Kylie Minogue remains to be seen.
http://www.littlebootsmusic.co.uk/
---
MARNIE
If Mira Aroyo is the Anni-Frid Lyngstad of LADYTRON, then Helen Marnie is Agnetha Fältskog. The sweeter, more pop inclined of the pair, Helen certainly appeared at home with a more glamorous image when LADYTRON relaxed their uniformed stance after their third album 'Witching Hour'. It was probably Helen who persuaded Mira Aroyo to sport swimwear on their 2003 DJ mix compilation 'Softcore Jukebox'
. She is obviously comfortable with that look as she has continued with the swimwear and gone for some glossy imagery in support of her pristine first solo album 'Crystal World'
.
https://www.facebook.com/helen.marnie.official
---
MARSHEAUX
The Athens based synth maidens borrowed their uniformed look from CLIENT, but have carved out their own wispy form of synthpop while performing in unison on a pair of MicroKorgs. Marianthi Melitsi is the Helen Marnie of the pair with her sweet vocals and porcelain looks. Meanwhile, Sophie Sarigiannidou is more akin to Mira Aroyo with a more smouldering demeanour which is deadpan in comparison. Their understated glamour has attained MARSHEAUX a cult following in Europe and gained admirers as diverse as OMD and 30 SECONDS TO MARS.
https://www.facebook.com/marsheaux
---
LAUREN MAYBERRY
Miss Mayberry looks like she would be ID-ed at every licensed venue she is due to be playing at. But behind the sweet Humanities undergraduate look is a strong minded writer and campaigner for women's rights. Despite the serious misogynistic abuse she has had to confront since the success of CHVRCHES, she retains a terrific sense of humour while performing… well, she would have to every time Blokey steps up to the microphone and tries to upstage her! What must she be thinking from behind that Roland A800?!
---
ANAIS NEON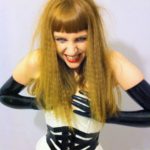 Anais Neon from VILE ELECTRODES is a synth nerd's dream, she played the part of Gillian Gilbert in the NEW ORDER tribute band RE: ORDER. She was once mistaken for Hannah Peel… this was not an entirely ridiculous observation as both have long red hair, but this incident took place at a JOHN FOXX & THE MATHS concert while Hannah was on stage with the electro pioneer! When VILE ELECTRODES supported OMD in Cologne, Anais endearingly said the only phrase she knew in Deutsch was "Mein Kannichen ist töt"… now what's the German word for "batteries" again?
http://www.facebook.com/vileelectrodes
---
SARAH NIXEY
"I was brought up to the sound of the synthesizer, I learnt to dance to the beat of electronic drums" proclaimed Miss Nixey on the song 'Andrew Ridgley' in 2003. With BLACK BOX RECORDER, her sophisticated allure has probably been exasperated by her ice cold lack of availability. The sexy school headmistress fantasy was fully exploited on songs such as 'The Facts of Life'and 'The School Song'. "You lot need toughening up" she deadpanned on the latter as the order to dive into an outdoor swimming pool in the middle of February was given!
---
KARIN PARK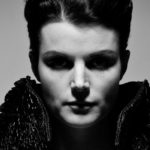 The statuesque Swede has a towering, entrancing presence on stage with her animated stares and jerky movements. Between songs and offstage though, Karin Park is gregarious; quite the opposite of the other Karin (Dreijer-Andersson). An impressive multi-tasker who dabbles with a Korg MS20 and keytar as part of her act, she even succeeded in penning a credible Eurovision entry with the DM influenced 'I Feed You My Love' for Norwegian popstress Margaret Berger. Following the critical success of 'Highwire Poetry', her new album is eagerly awaited.
---
PAWWS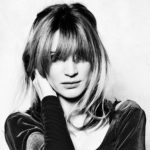 Known to her parents as Lucy Taylor, the earthy flute playing North Londoner has done stints touring with MGMT, but having acquired a Roland JX8P and borrowed a Jupiter 8, her own sugary pop sound has been bolstered by a use of classic electronics. The Sunday Times described the title song from PAWWS' EP 'Sugar' as sounding "As if Kylie had worked with OMD" and as she finds her feet, she could fill the void left open by LITTLE BOOTS and LA ROUX for a UK synth songstress.
---
HANNAH PEEL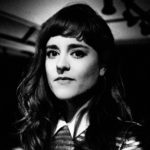 If Berenice Scott is the sexy but strict school teacher of the list, then Hannah Peel is her sweet, smiling student counterpart. Known as part of JOHN FOXX & THE MATHS' live presentation, the former Dennis Leigh described her look as being straight out the Andy Warhol 'Exploding Plastic Inevitable' scene. The multi-talented Hannah has the most captivating synth girl wiggle while playing along to tracks such as 'Catwalk'. Her own burgeoning solo career has seen her experimenting more with synthesizers as heard on her 'Fabricstate' EP.
---
QUEEN OF HEARTS
If Lauren Mayberry of CHVRCHES can sometimes sound like Taylor Swift gone electro, then our young royal looks like Taylor Swift gone electro via Queen Amidala. She once tweeted: "If it ain't electro, I don't wish to know x". Her debut album 'Cocoon' has been a long time coming but she has been steadily carving out a elegant niche and even adding her own vocals to DAFT PUNK instrumentals from 'Tron Legacy'
. QUEEN OF HEARTS' cooing allure has won over many fans including Berlin based producer Mark Reeder, who has now worked with her on several occasions.
http://www.iamqueenofhearts.com/
---
FIFI RONG
Beijing born Fifi Rong has taken music and fashion into some intriguing fusions. She first came to prominence as a member of THE TENORIONS, but has since embarked on a journey which has involved collaborations with TRICKY and releasing her first album 'Wrong' in 2013. With influences such as COCTEAU TWINS and MAZZY STAR, the development of her own traditionally inspired brand of crisp electronica has resulted in 'Next Pursuit', possibly her best work to date.
---
MARINA SCHIPTJENKO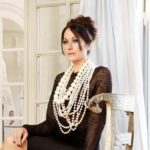 The ever smiling Maria Schiptjenko, along with Gillian Gilbert, was one of the first female synth players following the post-punk revolution as a member of Swedish duo PAGE, although their first album did not appear until 1991. Also a member of BWO, VACUUM and more recently JULIAN & MARINA, she has always possessed a European elegance that has served her well in all her projects, be they in music or art. Another exponent of the MicroKorg, Marina's sophisticated poise has complimented the more intense, animated stance of PAGE partner Eddie Bengtsson on their recent live dates.
https://www.facebook.com/PageElektroniskPop
---
POLLY SCATTERGOOD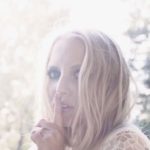 With key influences such as Bjork and Kate Bush, Polly Scattergood has combined jubilant experimental pop with her innocent, affected vocals. At times like GOLDFRAPP crossed with COCTEAU TWINS and rousing with an air of fragility, her kooky on-stage persona delightfully combines Sarah Brightman with Sally Thomsett. Meanwhile, her lyrical vulnerability, as best exemplified on her most recent album 'Arrows,' is perfect listening on those rainy winter nights. And she even has her own Polly Moog, a Little Phatty no less!
http://www.pollyscattergood.com/
---
BERENICE SCOTT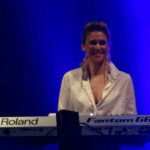 Berenice Scott is currently HEAVEN 17's live keyboardist and a solo artist in her own right with a new album 'Polarity' having just been released. TEC once described Berenice as "possibly the sexiest lady ever to get behind a synthesizer". With her synth of choice being the Roland Fantom G8, in her short skirt and high heels, her appeal is enhanced even further by the fact she reminds you of your favourite school teacher. This is especially evoked with her raised eyebrow and stern look of disapproval whenever Messrs Gregory and Ware are larking about in front of her 'desk'! No, she doesn't smile much on stage, but like any good teacher, she is fully focussed on her job.
---
EMILIE SIMON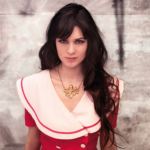 As referenced in the PET SHOP BOYS song 'Opportunities', Mademoiselle Simon studied electronic music at the Sorbonne and then later the IRCAM. There she found "Using the computer meant that I also felt very independent artistically". With a Kate Bush influenced dynamic, she exudes Gallic beauty and charm in her one woman shows where the Yamaha Tenorion and Casio guitar synth feature in addition to her array of keyboards. She also has a device not unlike Imogen Heap's MIDI Gloves, courtesy of a Steampunk styled arm controller developed by Cyrille Brissot.
---
Text by Chi Ming Lai
30th June 2014, updated 13th May 2017