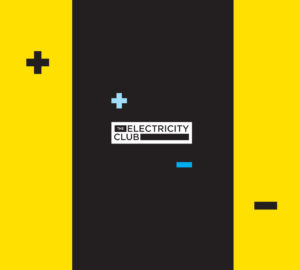 Amour Records / Minos EMI / Universal Music in collaboration with Undo Records are to release a 2CD compilation compiled by The Electricity Club.
Capturing its ethos to feature the best in new and classic electronic pop music, this compilation is the culmination of a period which has seen the resurgence of the genre.
Over the years, The Electricity Club appears to have reflected the interests of people who love the Synth Britannia era and have a desire to hear new music seeded from that ilk.
Little did The Electricity Club know when it launched on 15th March 2010, it would go on to interview many of the key players in Synth Britannia, get granted an audience with two former members of KRAFTWERK and be influential in helping some of the best new synthesizer talents gain a profile within a reinvigorated scene. So it is highly apt that WOLFGANG FLÜR should make an appearance on this collection.
The Electricity Club is pleased to showcase its ethos in the form of this tangible audio artefact. Among the impressive cast, there are prime movers from the classic era like PAUL HUMPHREYS and VINCE CLARKE. Without the influence of the bands they respectively co-founded, OMD and DEPECHE MODE, electronic pop as The Electricity Club likes it would not exist.
Meanwhile the next generation are represented by acts such as KID MOXIE, NIGHT CLUB, RODNEY CROMWELL and VILE ELECTRODES. Incidentally, the latter were invited to support OMD on their 2013 German tour following ANDY McCLUSKEY's discovery of the duo while perusing The Electricity Club's virtual pages. The bloodline from 'Radio-Activity' to 'Romance Of The Telescope' and then to 'Deep Red' is easily traceable and deeply omnipresent.
The Electricity Club has always relished its diverse taste credentials. It doesn't do retro or contemporary, just good music. No other compendium could dare to include the spiky post-punk of GIRL ONE & THE GREASE GUNS and the rousing electro-rock of MESH alongside pop princesses such as QUEEN OF HEARTS or KATY PERRY. Be it Glasgow's ANALOG ANGEL and MARNIE, Manchester veterans SECTION 25 or Essex boys TENEK, it all fits into The Electricity Club's avant pop playground.
With international representation also from Gothenburg's DAYBEHAVIOR and 047, Shanghai synthpoppers QUIETER THAN SPIDERS, Texan dance duo ELEVEN: ELEVEN, Belgium's own passengers METROLAND and the self-explanatory KEEP SHELLY IN ATHENS, the tracks gathered capture a special moment in time where innovative musical aspirations and good tunes have again manifested themselves in the same context.
The collection features a number of covers including MESH's take on YAZOO's 'Tuesday' and MARSHEAUX's reinterpretation of TEARS FOR FEARS' first single 'Suffer The Children'. In addition, tracks such as MARSHEAUX's stomping remix of KATY PERRY's 'Hot 'N' Cold' and MIRRORS' 'Between Four Walls' make their premiere in CD format.
The tracklisting is:
CD1
01 MAISON VAGUE Synthpop's Alive
02 KID KASIO Full Moon Blue
03 ELECTRONIC CIRCUS Roundabout
04 DAYBEHAVIOR It's A Game (Marsheaux remix)
05 MARNIE The Hunter
06 ELEVEN:ELEVEN Through The Veil
07 NIGHT CLUB Cruel Devotion
08 QUEEN OF HEARTS United
09 KATY PERRY Hot 'N' Cold (Marsheaux remix)
10 ERASURE Be The One (Paul Humphreys remix)
11 KID MOXIE The Bailor
12 KEEP SHELLY IN ATHENS Oostende
13 FOTONOVELA featuring JAMES NEW Our Sorrow (Original mix)
14 GIRL ONE & THE GREASE GUNS Jessica 6
15 AUTOMATIC WRITING Continuous
16 METROLAND Thalys (London Edit)
17 RODNEY CROMWELL Black Dog
CD2
01 SIN COS TAN Trust
02 POLLY SCATTERGOOD Other Too Endless (Vince Clarke remix)
03 TENEK What Do You Want? (Alternate TEC version)
04 ANALOG ANGEL We Won't Walk Away
05 ARTHUR & MARTHA Autovia
06 MARSHEAUX Suffer The Children
07 SECTION 25 My Outrage
08 047 featuring LISA PEDERSEN Everything's Fine
09 TAXX Is It Love?
10 LIEBE I Believe In You
11 QUIETER THAN SPIDERS Shanghai Metro
12 iEUROPEAN featuring WOLFGANG FLÜR Activity Of Sound
13 TWINS NATALIA Destiny
14 MESH Tuesday
15 MIRRORS Between Four Walls
16 OMD Time Burns (Fotonovela rework)
17 VILE ELECTRODES Deep Red
---
'The Electricity Club'
is released by Amour Records / Minos EMI / Universal Music in collaboration with Undo Records as a 34 track 2CD set in a deluxe 6 panel digipak with track-by-track commentary and 'O' card; the compilation be purchased from the following retailers:
Europe http://www.poponaut.de/various-artists-electricity-club-p-18056.html
North America https://stormingthebase.bandcamp.com/merch/various-the-electricity-club-2cd
Please note this product is NOT on sale through The Electricity Club website and only via retailers
https://www.facebook.com/amour.records/
https://twitter.com/Amour_Records
https://www.instagram.com/amour_records/
https://www.facebook.com/MinosEmi/
---
Text by Chi Ming Lai
12th November 2018, updated 16th January 2020