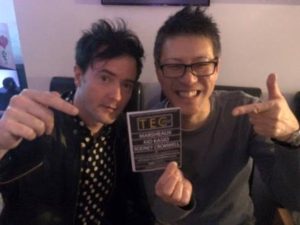 The Electricity Club's Chi Ming Lai was the special guest on a recent edition of 'The Synth Wave Show' hosted by Rob Green.
Also the main man behind synth combo THE DEPARTMENT, Rob Green's show broadcasts fortnightly Wednesdays on the Mexican-based internet station Artefaktor Radio, which now also is the home of Rusty Egan's weekly Friday evening broadcast 'The Electronic Family Tree'.
With lots of great new and classic electronic music of both synthpop and synthwave variants, among the topics of conversation were the influence of formative artists such as KRAFTWERK, JEAN-MICHEL JARRE, GARY NUMAN and OMD, the emergence of modern synthesizer acts such as VILLA NAH, VILE ELECTRODES, MARSHEAUX and RODNEY CROMWELL plus the upcoming 2CD compilation 'The Electricity Club' due out on Undo Records, including an airing of some of its contents.
---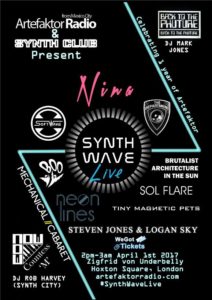 Synth Wave Live takes place on SATURDAY 1ST APRIL 2017 at Zigfrid von Underbelly of Hoxton in London. The event will feature NINA, BATTERY OPERATED ORCHESTRA, TINY MAGNETIC PETS, SOFTWAVE, THE DEPARTMENT, MECHANICAL CABARET and many more…
Tickets are available from:
https://www.wegottickets.com/event/377517
https://www.facebook.com/synthwavelive/
https://www.mixcloud.com/robsoundgreen/
---
Text by Kerstin Key
1st December 2016