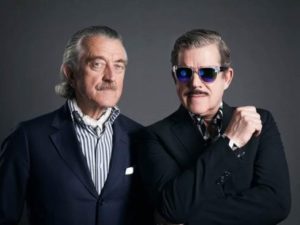 Swiss electronic trailblazers YELLO have announced that they will release their new album 'Toy' this Autumn and celebrate the occasion with four live shows at Kraftwerk Berlin, a disused power station in the German capital.
Best known in the UK for the hit single 'The Race' in 1988, 'Toy' will be YELLO's first album since 2009's 'Touch Yello'. The pair have spent the years in between on solo projects.
But instrumentalist Boris Blank said to TEC on the release of his 'Electrified' box set: "I am proud that YELLO still exists in 2014. In 1977, I never would have believed it… 2014 is the year of the side-chain…YELLO will return to the main street. The new album is nearly ready".
YELLO made a recorded return earlier in the year on a moody track entitled 'Why This, Why That & Why?', in collaboration with JEAN-MICHEL JARRE as part of the Frenchman's 'Electronica 2: The Heart Of Noise' album.
'Toy' is said to be "playful, super-sharp and ultra-modern", with YELLO's quirky technostalgic continental flavours very much in evidence. But sparking more excitement amongst fans is the news that YELLO will play the first full live shows of their career.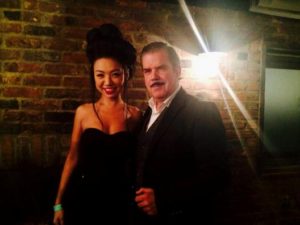 In addition to featuring live musicians, guest singers Malia and Fifi Rong will be adding their alluring vocals to songs such as 'Vicious Games' and 'The Rhythm Divine', as well as tracks from 'Toy'.
With her releases 'Wrong', 'Next Pursuit', Violently Silently' and 'Forbidden Desire', Fifi Rong has become one of Boris Blank's favourite artists. She told TEC: "He reached out to me by email and said he really liked my music and the way I do my harmonies in my tracks".
Meanwhile, having been buoyed by his own 'Out Of Chaos' solo tour, vocalist Dieter Meier said: "With the decision to play live for the first time ever at the Kraftwerk Berlin, a new era for YELLO begins. Get out of cyberspace and into the live experience" – set to include more than 20 songs reloaded for live performance, the concerts will showcase YELLO's past, present and future with an audio / visual experience inspired by their award-winning videos.
The announcement that Dieter Meier and Boris Blank will be playing live shows in support of 'Toy' has sparked online debate as to what their previous concert appearances actually were; the duo presented a virtual concert with Electronic Beats Classics to celebrate their 30th Anniversary, while their legendary 'Live At The Roxy' film recorded in 1983 can now be considered as more of an enjoyable extended performance art piece.
---
'Toy' will be released via Universal on 30th September 2016
YELLO appear at Kraftwerk Berlin on 26th, 28th, 29th and 30th October 2016
https://www.facebook.com/yello.ch/
---
Text by Chi Ming Lai
30th May 2016