Hailing from Buenos Aires, Maru Pardo Saguier and Sebastian Cordoves have been making music as COSAQUITOS EN GLOBO since 2004.
Their underground electronic pop has always been strong on melody and rhythm, although their musical journey has taken them into experimenting with guitars and finding their voice linguistically.
Now located in Berlin, COSAQUITOS EN GLOBO are again reflecting more of the European heritage that is a key part of Argentina and the duo's love of synthesizers in pop. Whatever, their music influenced by Ralf, Florian and Giorgio transcends language.
Having spent a charming evening having dinner with the couple in their adopted home last Autumn, ELECTRICITYCLUB.CO.UK chatted to COSAQUITOS EN GLOBO about their career to date.
Your self-tilted 2007 debut album seems such a long time ago. It featured a fabulous song called 'Fantasy', how did you arrive at your style of music?
Sebastian: The first album 'Cosaquitos En Globo'
was an experiment. When we started, we were a bit bored of the styles of music we were doing with our previous projects, so we tried to do something different.
We started doing some Trip-Hop songs in early 2004…actually, the first release of our first album was independently in 2005!
Then we started to experiment a bit with different styles, some electroclash, electropop and synthpop, until we were comfortable with the later styles and maybe something that today we can call synthwave (as 'Fantasy' is very synthwave). So, the first album turned out as an eclectic mix of all that as a result of our search for our own style.
Maru: It's amazing to think back to that time and remember that 'Fantasy' almost didn't make it to the album. We quarrelled a lot about that. By that time, we were working differently to what we do today. Sebastian would give me a recording of his ideas and I would come up with some melody and lyrics in my dead times at the office I used to work in. The song was very much there musically, but I couldn't make anything to work on my side.
One day, the lyrics started to be sung by themselves. I was not very happy with my almost spoken melody, but showed it to Sebastian anyway. I thought he would hate it but on the contrary, he loved it and there it was, the first song that really felt like we had something else than the sum of the both of us. It's the song that we can never take out of a show.
Argentina appears to have more musicians and producers interested in electronic pop than other South American countries, why do you think that is?
Maru: Argentina has always looked to Europe in terms of influence, not only in music and art but also in other aspects. It's a country that has always welcomed immigration, not only from other fellow American countries, but also a strong part of the population is European, so our ears and sensibility have always been tuned up with what was going on there (or here, now!). We are curious, we receive the info but then, as it always happens, we mix it up with our own DNA and make our own Argentine version.
Sebastian: Also, Argentina had a very rich pop/synthpop scene during the 80s and had some of the artists that can be considered pioneers in the electronic and synth scene in South America. I think that scene influenced a lot the music scene of other countries, but now there are other countries that have a lot of artists making electronic music in all of it forms. Mostly Chile has a lot of electronic pop artists.
Your second album 'Moving Under' from 2010 had even more great songs like 'The System is Running Out', 'Out of Presence' and 'Silence', how do you think you were developing at this point?
Maru: After 'Fantasy', which we consider the milestone of our personality, songs started to come out more easily. It was a very nice period for us, we were enjoying ourselves because we were convinced about our material and also our live shows were benefited by that sense of, let's say, pride. In addition to that, we'd found an image to project we felt comfortable with.
Sebastian: We continued the search for our own sound; we were a bit more confident about our direction and what we were doing. I think it's more electro, a bit darker (I think it is our darkest album) and more consistent than our first one.
But for the 'Voy a Buscarte' EP in 2011, you changed direction and starting to exclusively sing in Spanish and add guitars, what were the reasons for this?
Maru: When we started with Cosaquitos we had a guitarist. We were almost getting to a trio stage because we were very much in sync with what he was bringing to the table, but due to one of the many big crises of our country, he emigrated and we went back to "square one". Time passed and the what if? question about having a permanent guitarist kept haunting us, so we decided that we should give that possibility a shot.
Sebastian: At that time, the music scene in Buenos Aires was very strange, very rock oriented, and we felt a bit disconnected with the public. In the first two albums, we have songs in Spanish and in English but the most popular songs were in English ('Fantasy', 'Out of Presence', etc). The Spanish songs were more melancholic, so we tried to do some more danceable songs in Spanish trying to make a connection with people.
Maru: it wasn't easy because we didn't have an influence in Spanish of the style we were doing. When I tried forcing myself to translate the songs I wrote in English, it didn't feel natural, but kind of forced and romantic, instead. I felt like a melodic singer from the 70s.
We were much criticized because of the choice of language in Argentina. We were considered too European for our country's ears, so it was natural that we had better response from outside our own land.
We didn't have a problem with maintaining this linguistic duality, but at some point we wanted to force ourselves to having more songs in Spanish because the balance had switched too much to the English side. So 'Voy a Buscarte'
was the sum of that, plus presenting our new formation with guitars.
Around that time was our first European tour. We weren't sure about how our songs in Spanish would be received but, besides in the UK, Spanish was much celebrated. It's amazing to see how much time changed, because now the UK is one of the countries that listens to us the most, where our songs in Spanish and English are invited to be part of compilations and where radio shows play our music these days.
Sebastian: By that time, we started playing at places a bit bigger and we started to feel we needed another member in the band to make our shows more dynamic. We'd had guest guitar players before and, as the scene was so rock oriented, having a guitar player in the band looked like a good choice, then.
How did you find working with a guitarist, was it what you had hoped?
Sebastian: Working with a guitar player is like working like any other musician, a real pain, hahaha! Seriously it was a nice experience, especially live. I felt a bit freer to do what I wanted to do live because I had fewer eyes on me. We had some musical differences with both guitar players we had, and the result was that we did some music that was a bit different to what we'd do as a duo, but I think that's the reason of having another member in the band, to collaborate and do something different…
Maru: There was a rockish sound that we sometimes appreciated, but mostly we thought it was too much. We weren't looking for that. As the music we were trying to make was not very popular in our country, we struggled to find a guitarist who would understand the role of the instrument in the band – that didn't have anything to do with playing chords all the time nor with playing all the time!
We enjoyed it though, and it also seemed to be the time where our popularity started to raise in Argentina. Shows were fun and it let the rock part of our influences come out and play for a little while. But that was it. We didn't want to pursue that line of sound in the future. As the composition always remained between Sebastian and me, we thought we should carry on with just the two of us.
Your 2014 album 'Asimetricos' was also in Spanish, but on its follow-up 'Humanum', songs in English like 'Loop of Love', 'We Have Enough' and 'About Love' returned, why was there a change of heart linguistically?
Sebastian: I think there are several reasons and no reason at all… we became a duo again and we wanted to make music without imposing anything to ourselves. In 'Asimetricos', we had some songs in English but tried to do most of them in Spanish. In 'Humanum', we just let the music take control.
Maru: In every stage of Cosaquitos' life, besides most of our first album, we did exactly what we felt at the time. When we explored the sometimes darker and somewhat detached sound of 'Moving Under'
, we were channelling our man-machine dialog; with the more rough sound that started with 'Voy a Buscarte' and had its peak in 'Asimetricos'
, there was some kind of violence within us, how we felt about the world at that moment, that needed to be expressed with those albums. Language-wise English seemed to be suitable for one stage and Spanish for another.
'Humanum'
came along in a period in which we realized the world and the people were going to hell and we needed to find the sensibility, we thought it was being erased from the face of the earth.
If we were missing sensibility and delicacy, we needed to find it in ourselves and then offer them to whoever needed to connect from that place. We found it to be one of the albums we love the most.
With this in mind, why did you choose to relocate to Berlin?
Sebastian: We visited Berlin in our 2011 European tour (the year that we met you at our show in London) and fell in love with the city.
We liked the vibe, the people and the music scene; so on our second tour in 2015, we decided to spend more time here and we stayed for a month playing around the city. At that time we decided we wanted to live here, at least for some time, but we didn't know how…
Maru: It took us another four years to really decide to leave everything behind and move here. It wasn't easy.
So what sort of instrument and software set-up do you use now?
Sebastian: Because of moving to Berlin, we had to sell most of our gear, mostly big vintage synths that were very expensive to bring to Europe. So we came with a minimal set-up and bought a few things here.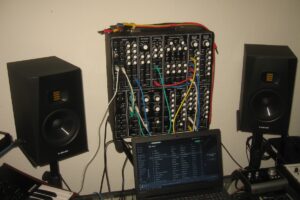 At the moment, to produce we use a DIY Modular Synth (5U format), a Korg Prologue 8, a Novation Bass Station 2, an Arturia MiniBrute SE, a Korg R3 and a very modified Roland TR-707 for drums, I added extra sound EPROMs and various mods to the circuit.
At live shows we bring the R3, the Bass Station 2 and MicroBrute, also Maru uses a Digitech Vocalist Pro for vocal effects.
Software-wise we use Cakewalk by Bandlab to produce, record and mix, and Ableton Live 7 LE to play the backing tracks live. I used Cakewalk since the early 90s (it then become SONAR, now it is called Cakewalk again)
Your most recent EP release 'Fast Cars' saw you go in an artistic circle and back to the style of your first two albums with no guitars and singing in English, what has been the motivation for this?
Maru: By this time, we had already taken the decision to move to Berlin. We thought we needed to have some new material almost ready to start a new stage of our lives and career with a fresh sound. Besides, we weren´t sure if we would have the time or would find a place where we could turn the volume up… we were not mistaken!
'Humanum' had opened a door to us that we didn't feel like closing. English started to come back to me as naturally as Spanish did in 2011 and 2014. Some songs just are born one way or another and we just stopped arguing with that. I imagine Spanish will still appear in the future, but not in the near future. We have another EP in English that will be released in a couple of months.
Sebastian: I think that our comeback to that synthpop and synthwave sound started with 'Humanum'. To me, 'Humanum' is our more finished album, the one that is closest to the idea we had when we started to make it and the one we made with more freedom, so when we started to make new songs, we wanted to stay in that path. The 'Fast Cars' EP is a continuation of the musical idea of 'Humanum'.
What is the song 'Fast Cars' about and what was the idea behind the simple but very effective video?
Maru: 'Fast Cars' is a song about closing up to the noise of this world and finding your own way. Sebastian says all of my lyrics are melancholic and I think he has a point, especially when it comes to the melodies. But this song is mainly about hope, to find something good where it's not supposed to be.
The video is a photoshoot gone… wrong? It was a lovely afternoon we spent with our creative friends Wanda Panda and Marcelo Espinola aka CINERS. They sort of, had prepared a video trap for us and we gladly fell right into it. We were trying to make a change image-wise that would reflect our change of location – and also, hairstyles – that would support our new release, to press a very much needed refresh button in every aspect.
So, they had the concept, the lights prepared and the mood was perfect. We shot it without even realizing and we think they understood perfectly where we were trying to go. We are happy about it! Since our arrival to Berlin, they both have been a great source of help, comfort and creative support for us. Marcelo is joining us in most of our shows here with his live visuals and Wanda takes amazing pictures. Back in 2015, they were responsible of registering our live shows here in video and photos and they also made a short video documentation of our life through the month we spent here.
Has moving to Berlin had a positive effect on your creativity? Have you had much of an opportunity to network with musicians based there and play live?
Sebastian: I think at the moment, it is a bit early to say something for sure. It was a very hard year settling down in the city, doing paperwork to stay legally, trying to learn the language, etc… but I feel it was positive for me.
We finished 'Fast Cars' EP and now we are finishing a new one, we did a remix for the Danish band SOFTWAVE, we played some great gigs, mostly in small but very nice venues and now we have a new videoclip. Above all, we started to think about a new album.
Maru: During our first months here we played a lot. We didn't expect that. It's an almost surreal thing because being an immigrant has nothing to do with the experience of visiting, coming here to play and enjoy the city.
Paperwork and some sort of depression were the main aspects of our life. If shows weren't in the middle of everything to remind us of the reason we came for – or who we are -, really, I don't know what would have happen with us.
Our first plus to being here is teaming up with these two talented friends we were talking about. Now, when things were starting to be smoother and we were starting to warm up again, this Corona crisis came and the shows from the next month were rescheduled. Hopefully, for the sake of all, this will end soon enough…
How are you finding living in Europe anyway, with the difference in climate and food etc?
Sebastian: I feel really comfortable; I like the food and the climate. The winter is dark, there is much less sunlight that in Argentina, but it's not affecting me much. On the other hand we love Berlin in Springtime, we really enjoy the city. Something we don't have in Buenos Aires and we love here is the rivers crossing the city. Also Berlin has so much green, we and our little dog enjoy going to the parks. We miss a bit some of the food we have back in Argentina like empanadas, dulce de leche and strangely Argentinian pizza, but here there is a lot of food we like. We love wursts, Currywurst, Sauer Kraut and Döner Kebap…
Maru: Of course as the time passes, you cannot help missing things, people, mainly. The way of life here is less frenetic and we like that. We also love the fact that you can feel history through your bones and live music is still a very important aspect of the personality of the city
Looking back, what songs or albums have been artistic highs for you?
Sebastian: In general, what I think is our high changes over time. Trying to be as objective as possible, I think our best album is 'Humanum'. Song-wise I think that 'Fantasy', 'Out of Presence', 'Cruzando el Puente', 'We Have Enough', 'Fast Cars' and in the less popular category but that I like a lot are 'Explora', 'The System is Running Out', 'Voy a Dejarte' and 'Zero Gravity'…
Maru: I agree. I would add' Loop of Love'.
What's next for COSAQUITOS EN GLOBO?
Sebastian: Soon we will be releasing a new EP called 'Recall'. It's a three song EP, kind of a brother of 'Fast Cars' EP, as we wrote the songs at the same time. Also, we are talking with CINERS about making another video for one of the songs. And we started to think in a new album, possibly for next year…
Maru: We have a couple of festivals we'll be playing at, providing this pandemic ends soon. Aztec Records have released 'Pure Latin Synth Vol 1', a compilation with songs in Spanish in which we participate with our song 'Cristal' from our 2017 album 'Humanum'.
Following that, 'We Have Enough', another song from that album is going to be included into another Aztec Records compilation called 'Synth Songs of Hope'. This compilation was born out of this COVID-19 pandemic situation. Half of the proceedings will be donated to the International Council of Nurses, which supports the advancement of nursing education, research and support for their families.
And hopefully, more shows to come, not only in Berlin. We want to play everywhere!
---
ELECTRICITYCLUB.CO.UK gives its sincerest thanks to COSAQUITOS EN GLOBO
The 'Fast Cars'
EP is available now as a download from https://cosaquitosenglobo.bandcamp.com/
'Pure Latin Synth Vol. 1' is available from Aztec Records at https://aztecrecords.bandcamp.com/album/pure-latin-synth-vol-1
https://www.facebook.com/cosaquitos/
https://www.instagram.com/cosaquitos/
---
Text and Interview by Chi Ming Lai
7th April 2020