CULT WITH NO NAME are a London based duo comprising of Erik Stein and Jon Boux.
Referring to themselves as "post-punk electronic balladeers", they released their debut album 'Paper Wraps Rock' in 2007.
The expanded palette of 2010's 'Adrenalin'
and 2012's 'Above As Below' gained them further plaudits, while 'Another Landing'
released in 2014 featured noted guests such as Blaine L Reininger, Bruce Geduldig and Luc van Lieshout from cult American band TUXEDOMOON, former SNEAKER PIMPS singer Kelli Ali and Japanese electronica artist COPPÉ.
As well as recording song based material, they produced an original contemporary score for the German expressionist silent film 'The Cabinet of Dr Caligari'. Continuing along this theme, their most recent project has been in collaboration with TUXEDOMOON and JOHN FOXX for the soundtrack of 'Blue Velvet Revisited'
, a documentary based around previously unseen footage filmed on the set of the David Lynch's film 'Blue Velvet'.
CULT WITH NO NAME's vocalist Erik Stein kindly chatted about the duo's career to date and his interest in the subgenre of synthpunk.
Why did you choose CULT WITH NO NAME as the moniker for your music? Many know it as one of the names for the New Romantics that didn't stick, but your music does not appear to reflect a connection with that?
There were a number of factors. Firstly, I'd heard GARY NUMAN repeatedly say that one of the reasons he chose TUBEWAY ARMY as a name was because every single punk band was called 'The' something. That always stuck, and around the time we formed there was such a glut of 'The' bands it was unbelievable… THE STROKES, THE HIVES, THE VINES, THE WHITE STRIPES, THE ZUTONS, THE DELAYS etc. Secondly, I was reading a book called 'Join Me' by Danny Wallace, who had created his own cult with no name by placing ads in newspapers that just said "join me". I liked that too.
As a phrase it had a nice ring to it. Having a band with two people in it calling itself a cult is faintly ridiculous. I always knew of the New Romantic connections of course, so it was also a tongue in cheek reference to that. We may not sound like SPAUNDAU BALLET, but we really do love an awful lot of music from 1981. I've since worked with inimitable Rusty Egan a fair bit, founder of The Blitz Club, and he's championed us. It's funny how these things come full circle.
CULT WITH NO NAME's music is hard to categorise. How would you describe it and are there any musical references you could highlight for those who are curious?
I'm very flattered that you think it's hard to categorise, thank you, particularly as we basically write songs rather than create anything deliberately obtuse. My primary influences are post-punk electronic bands, from the better known to the really obscure. My two favourite bands growing up were actually THE STRANGLERS and THE RESIDENTS, both of whom have a bigger place in the evolution of electronic music than I think is acknowledged.
Jon loves a lot of 20th century classical music, the likes of Arvo Part, which is definitely key to our sound. A big shared electronic influence we have is OMD, and I think you can hear the early OMD influence in at least some of what we do. Another really important musical reference point for the two of us, and anyone that's curious, is a Dutch band called THE NITS, who are criminally unknown in the UK.
Despite the terrible name, THE NITS have released over 20 albums of incredibly inventive music. Much of it is also electronic, or at least very keyboard based. I encourage anyone to check out their 1990 album 'Giant Normal Dwarf'. It's just vocals, keyboards and drums, but I guarantee it doesn't sound like any other electronic album you've heard and is deceptively dark. They are key influence on our music.
Your best known song is possibly 'Breathing' from 2010's 'Adrenalin'? Can you describe the process of its composition as an example of how you work with your musical partner Jon Boux?
'Breathing' was written in the same way as 90% of our songs, so it is a good example. Basically, I write them on guitar, and Jon transposes them on to piano and strings with me there chipping in. I would actually like to use guitars more, but I'm not a very good guitarist and I'm never happy with the guitar sound I get. It's probably a very good thing, as Jon produces something far more interesting than I ever could. The backing tracks are mainly programmed by me, with Jon adding spurious noises and extra parts.
Our instrumental tracks develop differently, with Jon pretty much doing them from scratch and me just producing and mixing them. The writing process seems to work well and is pretty much unchanged from the day we started.
You've released a fair number of albums since your inception in 2004, which ones are you most proud of?
My personal favourite CWNN album is probably 'Above As Below'
from 2012. I think it's our most well-rounded album, whatever that means.
We don't really record songs with albums in mind to be honest. We simply put out an album when we feel we have enough good ones to unleash. Somehow though, 'Above as Below' feels a bit more cohesive.
It's also the first time we used a lot of guest contributors, and they all added so very much. Jonathan Barnbrook, who designed DAVID BOWIE's last four albums (and does most of JOHN FOXX's), did a breathtaking cover for it too, using a letterpress.
Of course more recently, 'Blue Velvet Revisited' was released, and we're immensely proud of that album. The label it is released on, the amazing Crammed Discs, is my very favourite record label. When I was much younger I remember buying records on Crammed and seeing that they had an office in Wardour Street, London, which is now no longer there. I always dreamt to myself, "one day, I will work for that label". Never in a million years did I think I would actually release an album on it, and it still makes me smile.
Your most recent project has been the 'Blue Velvet Revisited' soundtrack with TUXEDOMOON and JOHN FOXX. How did you all conceive and realise it?
A friend of mine is Peter Braatz, founder of the German punk / post-punk band S.Y.P.H. whom I adore. Getting to know Peter I found out that as a filmmaker (his primary occupation these days), he worked with David Lynch on 'Blue Velvet', documenting the making of it in 1985. Listening to 'As Below' from our 'Above as Below' album he conceived the idea of editing a feature length 'Blue Velvet Revisited' film set to CWNN music.
He got the funding and then commissioned us. I then invited TUXEDOMOON and JOHN FOXX to take part, basically because I thought that would make a seriously cool album. I hope I was right.
Was there much collaboration between the different parties, what was the creative dynamic like?
The JOHN FOXX track was conceived totally separately, although I had to edit it down as the original track was much longer. Luckily, he was very happy with my edit and I think the piece is a perfect fit. The CWNN / TUXEDOMOON tracks are all collaborations. Half of them are tracks that we generated for TUXEDOMOON members to play on and half of them are tracks that they generated for us to edit, add to and produce. As all the collaborations were done virtually via the web, a lot of trust was involved. We'd worked with a number of TUXEDOMOON members before and knew them, so that wasn't so much of an issue.
They gave us an awful lot of freedom, a surprising amount actually, so the creative dynamic was great. I totally deconstructed some of the pieces they gave us, but they were really delighted with the results. I hope the opportunity arises to work more with them. A little bit of music is left over and certainly the reviews have all been fantastic, and better than we could have ever imagined.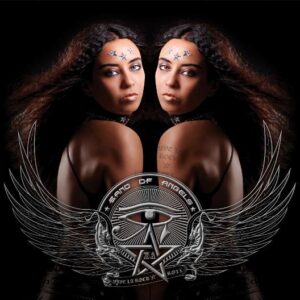 You've collaborated a number of times with former SNEAKER PIMPS singer Kelli Ali; how did you find working with her?
Kelli is an absolute delight to work with and has become a very good friend. We met via my friend Tim Riley, once of the 90s goth trailblazers SERAPHIN TWIN, who got to know her through an interview he conducted. Our 2008 album 'Careful What You Wish For' is one of her very favourite albums, which is of course very flattering for us.
When I tentatively first suggested she sings some backing vocals on one of our albums she was delighted. I gave her the tracks and thought she might sing on one or two, but she came back with vocals on 8 tracks for 'Above as Below'! Same goes for the follow up album, 'Another Landing'.
She has a unique voice, something which I feel is all too lacking in music these days, particularly in electronic music. For all our collective noodling to find the juiciest analogue synth sound around, it's worth remembering that the human voice is the only instrument in the world with over 8 billion patches. It's worth taking the time to find the right one and Kelli is a great fit for CWNN. To be honest, I'd love to do an album one day without me singing on it at all, and have various guest singers.
CULT WITH NO NAME have a foot within the UK electronic scene without actually being fully immersed in it. Is there any reason for that and how to you think electronic music in general has developed in the last 10 years?
Every band loves to think of themselves as misfits, don't they? We're no exception, and are as boringly self-conscious as they come, but I really do think we can be considered true misfits.
When we started, we split our time between playing acoustic, singer-songwriter venues and electro nights at the likes of Madame JoJos. We'd try anywhere. At the acoustic nights, people would sneer at the fact that we had a synthesizer on stage. (Stage? Who am I kidding, there was never a stage.) Meanwhile, at the electro nights the audience were like "what, some of their songs are just voice and piano, no drums?!" (Audience? Who am I kidding, there was never an audience.) Once, within the same year, we had one review that compared us to RANDY NEWMAN and another to GARY NUMAN… that about sums it up, really.
Another way I feel we don't fit in is the subtle use of humour and irony. Subtle humour is a great and more insidious way of making a serious point and was more prevalent than people think in the 80s with the likes of BLANCMANGE, YELLO, THE ART OF NOISE and MOMUS. Parts of the music scene of the past 10 years (not just electronic) do seem to be lacking that sense of irony in the music and certainly the lyrics. If I had it my way, every home would own at least one SPARKS album.
Also, referencing your earlier question about being hard to categorise, that bothers gig promoters greatly, which is understandable as they're effectively in the marketing business. So, that makes it hard for us to have a foot in any kind of camp without soon needing to buy new shoes.
What's next for CULT WITH NO NAME?
We're about 75% through a new album. Just to stick to the band stereotype I can confidently say that it's our best one yet. No, it really is! We're not sure if that will come out this year or early next, yet. Meanwhile, we have a track on a forthcoming S'EXPRESS covers album. People might think that's a strange connection, but remember that acid house was the electronic alternative scene when I was growing up. I was unfortunately just too young to rave, but loved the squelchy bass lines.
Crammed Discs are releasing a covers album of the TUXEDOMOON classic 'Half Mute' album this year, a different band tackling a different track, and we're on that too. Finally, we're also supporting TUXEDOMOON in Cologne in June. I'm sure there will be more.
You're an avid enthusiast of synthpunk and have even been featured in Record Collector talking about it. To the uninitiated, what is it and why do you think it is worth investigating?
Good question. Not very well defined is what it is. Synthpunk, for me, focuses on a few key scenes in the late 70s, most notably in San Francisco, Los Angeles, Pittsburgh, Melbourne and Sydney.
What binds it together is that it's largely non-European. It lacks the gloominess of European post-punk electronic music (replacing it with aggression at times) and also in some ways the strong KRAFTWERK lineage and Teutonic undertones. SUICIDE are a great example, but also an anomaly as New York had No Wave.
To say that it's punk music using synths and electronics is a big oversimplification, though some of it is, particularly THE SCREAMERS. Most of it, however, is highly creative and using electronics and electronic instruments without ever surrendering to them. In terms of bands to check out, try THE UNITS, WHIRLYWIRLD, THE SCREAMERS, PRIMITIVE CALCULATORS, EQUAL LOCAL, TINY DESK UNIT, THE CARDBOARDS, DOW JONES & THE INDUSTRIALS, TONE SET and NERVOUS GENDER to name but a few.
---
ELECTRICITYCLUB.CO.UK gives it warmest thanks to Erik Stein
TUXEDOMOON & CULT WITH NO NAME 'Blue Velvet Revisited'
is released by Crammed Discs in CD, vinyl LP and digital formats
https://www.cultwithnoname.com/
https://www.facebook.com/cwnnofficial/
---
Text and Interview by Chi Ming Lai
5th April 2016