"From all over the world comes inspiration. We have been very lucky, because the music we envisioned, the ideas we had of The Man Machine and electro music, have become reality and technology has developed in our direction… and electro is everywhere": Ralf Hütter, KRAFTWERK
Despite the resurgence of sophisticated electronic pop in 2010 with its own new classic sounding acts such as HURTS and MIRRORS plus the long awaited return of OMD and THE HUMAN LEAGUE, it would appear that British ears are still largely oblivious to the distinct musical quality on offer.
However, across the Channel in mainland Europe, the artful sound of the synthesizer is being embraced again, especially in electronic music's spiritual homeland of Germany. So why is this? Is it 'Der Deutsche Faktor'?
Is Germany more likely to accept synthesized pop presented in a stylish, modernistic manner purely because of its own electronic tradition? And is it really all down to KRAFTWERK? But then if that is the case, why has the majority of the best electropop been produced in the UK where its cultural significance is still mostly ignored by critics and public alike?
The British have always had a strange attitude to its own cultural intelligencia, be they musicians, composers, film makers, artists or writers. The ordinary public somehow see having ideas, values and style as being pretentious or elitist while traits like ignorance and shallowness are somehow embraced. Britain has always looked towards its American cousins for trends in popular music and the street credibility of the scruffy drug fuelled rocker or the expletive laden misogynistic urban spokesman is always somehow seen as more preferable.
But with a heritage of classical and contemporary art all of its own, Europeans didn't take so kindly to American influences such as rock 'n' roll and rhythm 'n' blues being brought over in the second half of the 20th Century.
In Germany, this post-war reaction was even stronger. Despite the apparent freedoms compared with their compatriots in the East, Die Bundes Republik was effectively an occupied territory and this provoked a backlash within the student population.
At its extremes, this meant the brutal violence of the Baader-Meinhof gang and Red Army Faction. But on the other side of the coin, young Germans were inspired to be creative either in film as with Wim Wenders, Werner Herzog and Rainer Fassbinder, in art as with Anselm Kiefer and Sigmar Polke, or in music. The Germans have always had a history of self-definition through art and music has often been the centrepiece.
So eschewing blues scales, acts such as CAN, TANGERINE DREAM, CLUSTER, NEU! and KRAFTWERK looked towards the avant-garde traditions of Karl-Heinz Stockhausen for their inspiration and used new instruments such as electronic keyboards, synthesizers and rhythm units to create a whole new German aesthetic.
Although these all acts used electronics in some form, it was KRAFTWERK who in 1975 first fully embraced making music exclusively in this manner, eventually adopting a Gilbert & George demeanour of short hair, suits and ties. Their new pioneering musical form featuring a strict percussive base and an accessible melodicism in the European classical tradition was the antithesis of what had come previously via the North Atlantic.
However, despite KRAFTWERK's influential success internationally, along with their fellow exponents of this experimental music, they were largely ignored in their homeland.
The instrumentalist nature was simply too abstract for some and although innovative, very rarely did Ralf Hütter, Florian Schneider, Wolfgang Flür and Karl Bartos write actual pop songs. That was the mantle that the UK was about to take up.
David Bowie and Brian Eno were among the first British artists to adopt these new Mitteleuropa colours with the albums 'Low' and 'Heroes' each featuring fine examples of their collaborative zenith during an inspired sojourn in West Berlin. As a result, one of the focal points of this expanded interest became The Blitz Club in London where their resident DJ Rusty Egan played this neu musik von Deutschland at its regular 'Bowie Nights'. Similar scenes were developing throughout post-punk Britain.
Although artists such as ULTRAVOX, TUBEWAY ARMY and THE HUMAN LEAGUE used KRAFTWERK as an important reference point and had synthesizers dominating their sound, the first British act to aspire to KRAFTWERK's retro-futurist blueprint was ORCHESTRAL MANOEUVRES IN THE DARK. Alongside their suitably clean and tidy presentation, OMD subconsciously put a pop element into the Kling Klang quartet's electronic template. There was now an emotive lyrical focus incorporated into what had been perceived as the mechanical chill of Teutonic electronic music… the morality with the architecture if you will.
OMD's music ultimately connected with Germanic ears who traditionally loved strong musical melodies and precise rhythmical frameworks. At its worse, this could mean embracing folk laden schlagermusik but as a positive, opening up to songs sung in a plethora of languages. The eventual result was 'Maid Of Orleans' reaching No1 in Germany and becoming the country's biggest selling single in 1982; this at a time when the West German market was the largest in the world after America and Japan.
A precedent had already been set in 1981 when via The Blitz Club, VISAGE's 'Fade To Grey' reached No1. Although 'Maid Of Orleans' and 'Fade To Grey' were both Top 10 hits in Britain, neither song has been held with the high regard and cultural gravitas that they both are in Germany.
'Fade To Grey' was recently voted 'Song of the Decade' on the prestigious German music show 'Hit Giganten' while it was an invitation to perform 'Maid Of Orleans' on a celebratory edition of RTL's 'Ultimative Chartshow' in 2005 that was the beginning of the current OMD reunion. Often less judgemental and commercially orientated than the UK, the German market also later allowed other synthesizer acts such as DEPECHE MODE and PET SHOP BOYS to achieve significant success. And more recently, British electro acts such as MESH and CLIENT have been more welcomed here than at home.
Fast forward to 2010 and with the release of their new album 'History Of Modern', OMD's musical legacy in the spiritual homeland of electronic music led to an innovative record deal with Saturn, one of Germany's leading technology superstores, and a promotional schedule predominantly concentrating on that territory. With the majority of the European tour focused on Germany too, OMD have managed to recapture the hearts of an audience that still recognises intelligent artistic integrity whatever the age of the performer and doesn't get into debates about how real music doesn't use synthesizers, or how thoughtful presentation is arty!
In 2010, Germany has again shown itself to be more discerning. The magnificent 'Wonderful Life' by Manchester duo HURTS stayed at No2 for several weeks while the song struggled to reach No24 in Britain where they were accused of style over substance. Theo Hutchcraft and Adam Anderson's 'Bros Go To Bavaria' imagery and cinematic grandeur have obviously struck a chord.
Attending HURTS' show in Cologne, Lola said: "I was surprised that so many people went to see them. I came to the venue just a half hour before doors opened and I didn't expect so many people to be outside waiting. So I was late and ended up standing behind a gang of very tall people. I couldn't see that much, but the music was fantastic of course! I loved the charming nature of their performance and their way of communication with the audience. It's beautiful pop music, I like it"
Following the success of HURTS, one UK act now set to crack the German market are MIRRORS who have strong KRAFTWERK and OMD based principals. The quartet comprises of James New, Ally Young, Josef Page and James Arguile. OMD's Paul Humphreys had already witnessed their potential: "I went to see them in Camden at Proud. They're lovely blokes and I was absolutely blown away by them. Their songs are brilliant."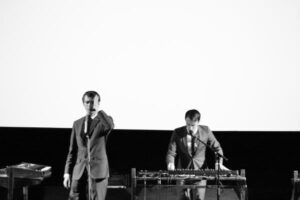 Playing as support to OMD on their European tour, MIRRORS have been able to showcase their majestic electronic pop-noir such as 'Hide & Seek', 'Fear Of Drowning' and 'Into The Heart' to a crowd that was almost tailor made for them.
However, when asked about this in the summer, their singer James wasn't getting too presumptuous: "We'll have to up our game won't we? I don't know. It's going to be really interesting to see how Germany reacts to it. I have every hope that they're going to really like it."
And like it they did. Lola attended three shows including Cologne and Hamburg to report:"Support bands often have problems to get enough respect, especially if the crowd is waiting for the main act. But not MIRRORS… the Germans loved them! I've heard from a lot of people that they were absolutely delighted with them. It's not only because of their influences like KRAFTWERK, OMD or any other band. I listened to some tracks before the tour thanks to ELECTRICITYCLUB.CO.UK and their great taste in music. I expected a fantastic support act for OMD but I must admit MIRRORS were more than that. Their music is emotional, melodic, epic, intelligent and also powerful and fresh. Well, simply beautiful!"
"Of course the crowd loved MIRRORS!" added Nella who saw the band's appearance in Hannover, "Great mixture, they had a KRAFTWERK-feeling mixed with Andy-dancing, CHINA CRISIS-singing and HURTS-looking. They will surely be a successful band. They really did a good job… first time ever I thought at a concert: 'oh, sad, the support act has finished? I want to hear and see more!' They got lots of applause". She wasn't alone in that feeling: "I also heard some 'Zugabe' chants after MIRRORS left the stage" remembered Lola.
In Stuttgart, Lars  was also impressed: "I think most of the audience really did like the MIRRORS. We stood in front of stage but we could see the concert hall was well filled as they started to play. Most reactions were very positive. It was a small but very effective stage show. Very charismatic guys, it was fun to watch them make music. Powerful and moving electro-pop with a small theatrical touch… stoic and minimalist. They sound like KRAFTWERK should sound in 2010".
MIRRORS' stage presence and presentation are key factors in their appeal: "I was so fascinated by the way Ally played his synthesizer and James' passionate dancing… I was having flashbacks of Ian Curtis! Oh, and I forgot to mention his excellent voice. Very cool performance!" recalled Lola, "I'm really looking forward to seeing them back in Germany as a main act." Asked why she thought MIRRORS and also HURTS had got into the heart of the Germans, Lola smiled and gave a Teutonically direct answer: "It's because Germans like good music!"
But they also connected with the audience: "I'm sure their tour EP sold very well, especially with the autographs they gave at the same time. So everybody had the chance to talk to them. Very nice! I also met them backstage after the Cologne concert. They are such nice and good-looking guys! Those guys are just amazing, adorable and very talented."
So is the intelligent sartorial elegance of acts like MIRRORS and HURTS more likely to appeal to the Germans? "Possibly…" Lola replied, "but I myself must admit, I like their smart style"
Of their European jaunt, James New from MIRRORS said: "This tour with OMD has been a complete revelation for us. For the most part, our journey in the UK has been fantastic but in Germany and Europe the reaction to our music has been genuinely overwhelming. People's enthusiasm has only fed our own and I think we would all say that these past shows have been the best of our career so far."
OMD's Andy McCluskey himself remarked enthusiastically during the tour: "MIRRORS are doing brilliantly… good guys and really great music." However, with the way MIRRORS have been impressing, there clearly appears to be a changing of the guard happening right before German eyes.
This was reflected by OMD's drummer Mal Holmes who amusingly said: "MIRRORS do OMD better than OMD do OMD… they look and sound great!" Lola summed things up by saying: "I must admit, I will always love OMD's music. But it seems that MIRRORS could be their worthy successors."
Just as when THE HUMAN LEAGUE's Philip Oakey appeared on stage with LITTE BOOTS at Heaven in 2009 and HEAVEN 17 performed with LA ROUX on BBC 6Music, the electro torch is steadily being handed over. Synth Britannia's elder statesmen are playing their part in helping the youngsters take electropop into the next generation.
In the meantime, HURTS have reached No2 with their 'Happiness' album and will reinforce their success by touring Germany again in 2011. The pair even commented: "we've been in and out of Germany like it's our back garden". 
And with a superb debut album 'Lights & Offerings' ready to be released by Skint Records early next year, MIRRORS look set to gain a foothold in mainland Europe. Whether the UK wakes up and decides to join in the party with its EU neighbours remains to be seen.
---
Text by Chi Ming Lai
8th December 2010