Anatomy Of A Remix
ELECTRICITYCLUB.CO.UK's renowned studio boffin and producer Paul Boddy entered the recent GARY NUMAN remix competition. Here is his story about how he approached his reworking of 'Love Hurt Bleed'…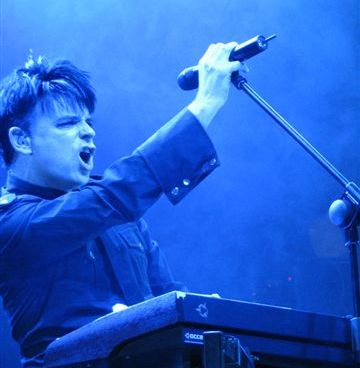 I tend to approach remixes in a pretty ordered and pre-ordained way, I usually keep what I think are the best elements then add a fresh twist to the track keeping things very electronic and melodic.
In the past I have been lucky enough to win remix competitions for both ULTRAVOX (twice) and AESTHETIC PERFECTION, but with the announcement of a new GARY NUMAN remix competition which coincided with the launch of the new 'Splinter (Songs From A Broken Mind)' album, I thought it time to throw myself out of my comfort zone and take a new approach.
Like many, although loving his creative rebirth, it has become apparent that Numan these days is so in awe of Trent Reznor and NINE INCH NAILS that as well starting to sound like him, even the new song titles are starting to bear a striking similarity to NIN ones ('Where I Can Never Be?' anybody?). So, there was the 'lightbulb moment', let's try and make Numan sound like 'Numan' again! I had a mission statement, only use sounds that GARY NUMAN would have used back in his classic period and try and drag 'Love Hurt Bleed' back to a time when the Minimoog and Polymoog were kings…….
However, it soon became apparent that this was going to be tricky – by using a potentially limited palette of sounds could result in something sounding dated production-wise, but not in a good way, so I tweaked the mission statement a little and aimed to take a selection of Numan-esque sounds from his back catalogue, but combine them with sounds and techniques that I was comfortable with. As with most remix competitions, the entrant initially downloads the audio stems from Soundcloud.
I decided pretty soon that I was only going to use the vocal and replay/re-work/create anything musical within the new interpretation, I also made an early decision to keep the main musical hook from the chorus and build things up from there.
So as to get a musical palette to work with, I started by finding a wonderful Polymoog 'Vox Humana' EXS24 sample set which was compatible with the Logic music software I use on my Mac, this immediately prompted me to play the main musical hook with this sound that was a Numan staple for so many years.
I found that the octave bass style from 'Metal' fitted rather well and with a few harmonic/chordal changes gave me the retro feel I was starting to aim for. It also gave me a Ced Sharpley-style drum pattern which would work, and after adding a synthesized white noise percussion sound I felt I had something which started to feel could go somewhere.
Originally I planned to feature a mix of live instrumentation. Unfortunately, due to a few technical issues ('We Have a Technical'!) the guitar idea didn't come to fruition but I did end up getting a live bass part from longtime musician friend Charlie Parish who did his best Paul Gardiner impersonation to follow the octave synth part I'd given as a guide. As I didn't get my 'real' guitar parts, I spent a long time creating power chord riffs which used a mixture of palm-muted and open string sounds.
In order to embellish the percussive nature of the track, I 'borrowed' little flavours from a few Numan tracks, a drum fill which echo-ed that from 'Metal', a step programmed Roland CR78 drum pattern and shaker sound similar to the one in 'Music for Chameleons'.
Although individual samples from the various bits of retro kit have been used in my remix, I ended up playing and programming absolutely everything – when entering a remix competition, there are rules to abide by, and with the amount of labels Numan's been affiliated with, the last thing I wanted was any legal issues with uncleared samples!
Although pretty much everything up to this point was or could be hand played, I decided I wanted some more robotic sequencer elements, especially something which emulated the Roland JP4 sounds in 'I Die, You Die' and to achieve this I used the Arturia Minimoog again. Unlike the original Minimoog, the software emulation has a built-in arpeggiator which gave me exactly the sort of sound I was after for the 2nd verse and the later Middle 16.
Once I was happy with the mixdown, I used Logic's suite of mastering plug-ins including Multipressor and Adaptive Limiter to give the track it's final boost in loudness. It remains to be seen how well the remix will fare, but all in all this has been a great experience and I am very pleased with the overall outcome and retro/modern sound of the track, have a listen to the Soundcloud link below and see what you think!
---
'Splinter (Songs From A Broken Mind)' is released by Mortal Records / Cooking Vinyl
With special thanks to Charlie Parish
Equipment used and tech specifications:
Apple Macbook Pro 2.4 GHz Intel Core 2 Duo w/Logic Pro 8 music software
Novation Impulse 49 Controller Keyboard
Digidesign MBox Mini USB Soundcard
EXS24 Sampler – Roland CR78 / Polymoog / Various drum sounds incl. Simmons SDS8 / Vengeance library / Live kits / Shakers / Tambourine / Hi-Q percussion / Riser FX sounds
EPiano and Grand Piano plug-ins
Tuned Percussion plug-in 'Celesta' patch
Strings plug-in 'Violas Legato' patch
ES1 Synth – chorus 3 sequencer part
ES2 Synth – white noise drum sound
Analog Mono Synth – 'Metal'-style synth bass
Guitar (x6) fed through Logic's Guitar Amp Pro and Waves GTR Stomp / GTR Amp simulators
Gladiator 2 – 'EP Underwater' patch
TAL Noisemaker – sound FX and 'Juicy Bass' patch
Arturia Minimoog – Verse ARP synth and 'Metal' bass double-track
Live bass (Charlie Parish) – Customised Fender Precision played fingerstyle through a Line6 UX1 with Gearbox Amp Simulator software and recorded into Cubase, bass was then processed in Logic with Waves Chris Lord-Alge plug-in
Mastering – Logic Channel EQ + Multipressor + Adaptive Limiter
https://soundcloud.com/paul-boddy-emp-remixes/
---
Text by Paul Boddy
Live photo by Richard Price
8th December 2013