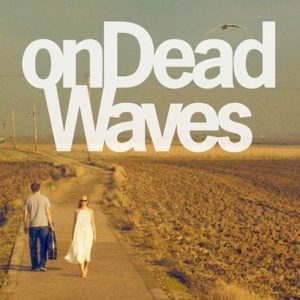 Both Polly Scattergood and James Chapman aka MAPS, have established themselves as two of the brighter stars on the current Mute Records roster.
MAPS' last album 'Viscissitude' was a superb work which presented a far subtler and more atmospheric take on synthpop, showing that a wall of sound approach can function in the context of melodic synthesized music.
Meanwhile, Polly Scattergood has released two albums of quirky indie / alt-rock and getting a Vince Clarke remix along the way for her track 'Other Too Endless'.
Having previously worked together at the Mute Short Circuit Festival, the two have joined musical forces and this has resulted in the eponymous 'On Dead Waves'
album, a collection of songs which have a far more retro-based aesthetic than their individual works.
Chapman's guitar work has always been present in MAPS' music, but normally buried in the background underneath a wall of synths and reverberant electronic drums. But here it takes centre stage in an album that vocally is directly influenced by the songs of LEE HAZELWOOD & NANCY SINATRA. Chapman's voice throughout is pitched at a low baritone level (usually an octave below Scattergood's) and provides textural support to her atmospheric musings.
There have already been three singles from 'On Dead Waves' and these are undoubtedly the main highlights here – 'Blue Inside' is a thing of beauty, full of melancholy and hinging around a chiming guitar / synth figure which lifts the track to another level in its chorus.
The confessional 'Blackbird' takes some of MAPS' Shoegaze elements and combines it with nods to both country and the films of David Lynch. 'California' is short and sweet, incorporating a BYRDS-style twelve string electric guitar, and is the most upbeat and bass-driven track here with its percussive handclap / tambourine / shaker combo making the track fly by in an instant.
Also present is a cover of the classic 'Autumn Leaves' which has previously been recorded by artists such as BOB DYLAN, ERIC CLAPTON and EDITH PIAF. Here the song is held together by wide cinematic tremolo guitars and subtle underpinning electronics, with both Scattergood's and Chapman's vocals harmonising throughout until the songs ambient conclusion.
The closing 'Winter's Child' initially recalls GOLDFRAPP's 'Lovely Head' with its ethereal introduction and features some welcome electronic pad and synth bass textures. The tolling bells in the track and whistling take their cue from the soundtrack work of ENNIO MORRICONE and the concluding hypnotic 'On Dead Waves' mantra appears to accompany the end credits to an unseen movie.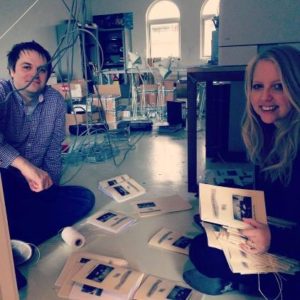 The fact that LANA DEL REY has already previously mined this kind of sound does steal a bit thunder from ON DEAD WAVES, but this doesn't stop it from being judged on its own merits. 'On Dead Waves' is the kind of album to zone out to on a Sunday morning and perfect for re-imagining yourself on a desolate and dusty American highway somewhere.
Considering Chapman's previous back catalogue, there is a noticeable lack of synths here, but in recreating a sound which is more retrograde sounding, the use of organ, guitar and lighter percussion are obviously the correct musical layers to use to evoke this period.
In a world where everything appears to be moving too fast, an album like 'On Dead Waves' is most welcome, it makes you pause… take a step back and appreciate that not all music needs to batter you incessantly for attention.
Probably the biggest compliment to give this would be that if a third series of the critically acclaimed 'True Detective' were to ever hit our screens, the songs here would be an absolute perfect fit to soundtrack it.
---
'On Dead Waves'
is released by Mute Artists in CD, vinyl and download formats
https://www.facebook.com/ondeadwaves/
http://www.pollyscattergood.com/
http://mute.com/artists/on-dead-waves
---
Text by Paul Boddy
25th May 2016