TINY MAGNETIC PETS have a new album but it's not 'The Point Of Collapse' which has been discussed for a number of years, tracks from which having been showcased live as well.
The Dublin trio of Paula Gilmer, Seán Quinn and Eugene Somers have surprised all with a collection of new material recorded during the 2020 lockdown under the title of 'Blue Wave'. Following the current trend for eight track albums and recorded at locations called The Yellow Room, The Red Room and The Green Room, the self-produced work has been mixed by Charles 'Chicky' Reeves, best known for his live work with OMD and Claudia Brücken.
As Gary Numan did with 'Dead Son Rising' before the work-in-progress 'Splinter' and Bryan Ferry did with 'Taxi' before 'Horoscope' which mutated into 'Mamouna', 'Blue Wave' acts as an interim prelude to 'The Point Of Collapse' and moves away from TINY MAGNETIC PETS previous preference for EPs like their most recent body of work 'Girl In A White Dress'
; in many respects, it could be seen as two EPs released simultaneously.
It begins superbly with 'Testcard Freaks (& Modular Geeks)' which is all catchy mechanical beats with detuned synths and swirls, offset by Gilmer's fabulous vocal that kisses the machine and Seán Quinn's unexpected indie guitar.
Staccato synthbass, distorted guitar and Eugene Somers' ominous drum mantra come together to shape 'City Sleeps Tonight', reflecting the solitude of confinement although Gilmer reassures everyone that "It's alright!" before 'Drowning In Indigo' provides a wonderful atmospheric set piece with an understated electronic template affirming "nothing is rose tinted".
Seán Quinn duets on 'Broken Record' as its solemn tone heads on an epic Eastern European journey. Meanwhile Paula Gilmer takes on synthesizers herself for 'Rear View Mirror' although the track is dominated by the piano of Seamus Quinn in a continuation of that Eastern European theme. A musical twist comes on 'Automation' which is almost industrial as TINY MAGNETIC PETS aim for the more Gothic-inclined stages of the Amphi Festival.
At over 12 minutes, 'Blue Wave (Parts I-III)' is a development of the cosmic prog-inspired heart of TINY MAGNETIC PETS that revealed itself on 'Semaphore' from the 'Deluxe/Debris' album.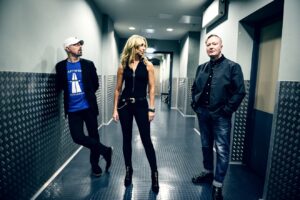 The middle section enters a classic German electronic pop zone sweetened by the understated effected guitar textures that SIMPLE MINDS were once so good at, complementing the swathes of synths as the closing third drifts off into an esoteric cacophony of processed sound passages. Appropriately 'Blue Wave' ends with another duet in 'Mid-Atlantic Drift' that echoes Brian Eno as a nostalgic nod to Seán Quinn's younger days within the EG family as a member of DUBH CHAPTER.
For an album recorded largely in isolation and remotely, 'Blue Wave' does capture a unified feel and is very immediate. It acts as a worthy follow-up to 'Deluxe / Debris'
, so until 'The Point Of Collapse' eventually goes public, there is something this in the meantime…
---
'Blue Wave' is released on 29th January 2021 as a CD and download by TMP / Vitamin C Records, available direct from https://tinymagneticpets.bandcamp.com/album/blue-wave
https://www.tinymagneticpets.com/
https://www.facebook.com/tinymagneticpets
https://twitter.com/TinyMagneticPet
https://www.instagram.com/tinymagneticpets/
---
Text by Chi Ming Lai
Photo by Conor Kerr
27th January 2021