With two high profile European tours coming up this autumn opening for MIDGE URE and OMD, TINY MAGNETIC PETS are back with a new EP 'Girl In A White Dress' out on Happy Robots Records.
Although moving away from the Cold War themes of their previous EPs, 'Girl in a White Dress'
does though continue their different Germany adventure as seen from the Emerald Isle.
Based around a re-recording of the title song which originally featured on their 2010 debut album, it sees the Dublin trio of Paula Gilmer, Sean Quinn and Eugene Somers explore the realities of modern life.
The now Mellotron heavy take on 'Girl In A White Dress' fits in with its lyrical theme of a nostalgic re-connection to a past carefree existence. With a more punchy rhythmic backbone compared to the version originale, it recalls 'On An Inter-City Train' from the 'Stalingrad' EP.
A sublime slice of Motorik with its vintage aesthetics and swathed in an uplifting understated energy, the song is sure to become a live favourite in the future.
Meanwhile, winning the award for song title of the year if nothing else, the superb 'Kicked Off In Ikea' takes its cue from indie-pop NEW ORDER with a good use of synths, bass guitar and live drums like 'Age Of Consent' meeting 'Love Vigilantes'.
Inspired by a real incident in London where a Black Friday sale turned into a riot, Paula Gilmer attacks crass out-of-control consumerism as she feistily pushes her vocals out in a way that is strangely alluring, yet away from the airier delivery that many listeners may be more used to.
That airy vocal styling though shapes the more ambient art piece 'All The Mad Things' which despite the SAINT ETIENNE feel, pushes perceptions by featuring a predominately spoken vocal and some unexpected a trumpet passages.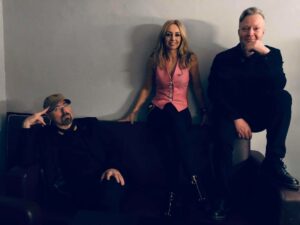 The neo-instrumental 'Above & Overture' sees Paula Gilmer do her gorgeous Sarah Cracknell inspired ad-libs, while caked in Mellotron with smatterings of guitar and a reverbed Roland TR77, the drum machine used by Warren Cann on ULTRAVOX's 'Hiroshima Mon Amour'. As Eugene Somers augments with reggae-inflected offbeats, it evokes a sinister alienated feel that appropriately ends the short collection. Showcasing further facets within the TINY MAGNETIC PETS canon, it will be interesting to see where the long awaited third album 'The Point Of Collapse' actually heads.
---
'Girl in a White Dress' EP
is released by Happy Robots Records on 15th November 2019 as a 12 inch white vinyl EP, available from https://happyrobotsrecords.bandcamp.com/album/girl-in-a-white-dress-ep
TINY MAGNETIC PETS 2019 live dates opening for OMD include:
Rostock Stadthalle (25th November), Dresden Kulturpalast (26th November), Leipzig Haus Auensee (28th November), Berlin Tempodrom (29th November), Hamburg Grosse Freiheit 36 (30th November), Berlin Tempodrom (2nd December), Stuttgart Leiderhalle (3rd December), Düsseldorf Mitsubishi Electric-Halle (5th December)
TINY MAGNETIC PETS 2019 live dates opening for MIDGE URE include:
Bochum Ruhr Congress (6th December), Osnabrück Rosenhof (7th December), Berlin Columbia Theater (8th December), Hamburg Gruenspan (9th December), Ravensburg Konzerthaus (11th December), Munich Teknikum (12th December), Kassel Congress Palais Stadthalle (13th December), Düsseldorf Stahlwerk (14th December), Aarhus Train (17th December), Copenhagen Amager Bio (18th December), The Hague Paard Van Troje (19th December)
https://www.tinymagneticpets.com/
https://www.facebook.com/tinymagneticpets/
https://twitter.com/TinyMagneticPet
https://www.instagram.com/tinymagneticpets/
https://www.happyrobots.co.uk/tiny-magnetic-pets
---
Text by Chi Ming Lai
8th November 2019