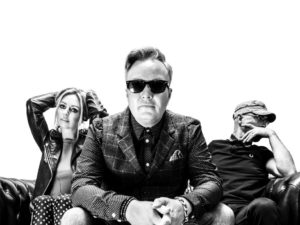 Proving the luck of the Irish, TINY MAGNETIC PETS continue their upward momentum with imminent European tours opening for MIDGE URE and OMD.
And if that wasn't enough to keep them busy, there will be a new EP released on Happy Robots Records entitled 'Girl In A White Dress' to coincide.
Meanwhile, the long-awaited third album 'The Point Of Collapse' is set for 2020 with all-new material.
The delightful Dublin trio of Paula Gilmer, Sean Quinn and Eugene Somers kindly took some time out from rehearsals to speak about all the latest goings on within the TINY MAGNETIC PETS camp.
Since opening for OMD in 2017, TINY MAGNETIC PETS have been able to undertake a number of headline dates, how have those been for you? Any particular favourite cities or gigs from those jaunts?
Seán: We are so privileged that we are now able to do our own headline shows and it was really great that people came out to see us. It was such a buzz. Synth Wave Live 2 at Electrowerkz in London was really good as we got to play with Chris Payne.
Paula: The Islington was an absolute pleasure to play. It was packed to the brim, hot, loud and sweaty! Loved every minute of it.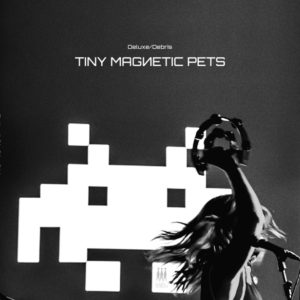 Eugene: There have been so many memorable moments on TMP's journey so far but definite highlights for me it was the hot and sweaty gig in The Islington in London on our second outing on our own mini-tour 2019.
How do you look back now on your 2017 album 'Deluxe/Debris'?
Paula: 'D/D' holds plenty of fond memories for me. It was a great album to write and it came together surprisingly easy. 'Semaphore' has become a permanent fixture on our live set and it's a personal favourite of mine!
Seán: I love 'D/D' and I'm still listening to it at home. I remember the thrill of working with Wolfgang Flür! We recorded some of it in Westland Studios here in Dublin and just being in the same place where KATE BUSH, THE CURE and HORSLIPS had recorded was a real vibe. I also love that the actual song 'Deluxe/Debris' is not on it!
Eugene: I love our sonic progression from 'Return Of…' to now. I feel we have grown together as writers and performers and 'D/D' is a highlight in those areas for me. I loved the studio time writing and recording it and now I love playing those songs live in our set. A highlight for me in the set is and I'm sure will always be 'Semaphore'.
What direction are you heading in for the new album 'The Point Of Collapse', same but different or radical? How's it coming along?
Seán: It's finished apart from the final sequencing which we'll probably do over Christmas. We tend to spend a while getting the tracks in the best order. As far as direction goes, 'same but different' would fit, yeah but it's a step on from 'Deluxe…' in that it's a bigger album – it's even got an orchestra on it! As the title would suggest, it's lyrically a lot darker than its predecessors – Dystopia beckons and as much as we want to retreat into the music and blot it all out, we can't.
Also, for the first time we got someone else to mix: Charles 'Chicky' Reeves who we met on the OMD tour. As well as doing OMD's sound and ours, he recorded our live album 'Pink/White' without us knowing and we liked it so much we asked him to mix the new album. A couple of people asked how we could just hand our work over to someone else to mix but we'd spent a month on the road with him and we trusted him and he did an amazing job. We're all really proud of it – it's our best album yet.
Paula: I am proud of this album. We pushed ourselves maybe a little out of our comfort zone by getting Chicky to mix it, but it was without a shadow of doubt the right decision. 'The Point Of Collapse' has, as Seán says above a definite bigger sound and from a vocal point of view, well I'm very happy with how it sounds and can't wait to get it out there!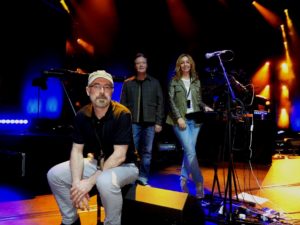 Word has it that Seán has dug his guitar out and is singing lead vocals on a track?
Paula: Don't believe everything you hear!
Seán: I've had a few comments about the guitar, but this is the only TMP album where I don't play any. All the guitars you do hear are played by Seamus Quinn and it's not your typical guitar playing either. It's also him singing the lead vocal with Paula on 'French Cinéma', not me.
I do it live, though. We only use guitars if we have something to say with them. There are way too many people playing guitars without an idea – just whack a bit of distortion on a few barre chords and it's ROCK! – It absolutely isn't! It's one of the main reasons that rock isn't what it was – and I love rock music.
One of the tracks already premiered live from 'Point Of Collapse' is 'Falling Apart In Slow Motion', how did that come together?
Paula: Oh I do love singing this live. It's quite an emotional song. I guess it happened when Seán came up with an initial sketch and developed from there.
Seán: I had written a sketch on guitar with a different chorus, then switched to synths with a Bhangra beat for the demo and found the chorus didn't work, so we ditched the chorus, Eugene ditched the Bhangra, Paula did the vocal and Seamus added guitars and backing vocals. It's about a relationship that's ending, but they're both trying to save it and the mixed feelings that ensue. Whether the breakup is amicable or not is not specified but despite their best efforts, it's over. Its working title was 'Roxy Thang'…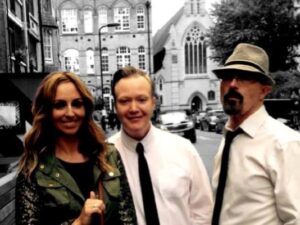 'Cексичок' takes on an unexpected rhythmic stomp, it's almost 60s like?
Seán: It does have an odd arrangement doesn't it? The 60s was coolest decade and I think there are quite a lot of 60s references on the new album. 'Not My Day' has a very BEATLES feel to it without actually sounding like them, the organ breakdown in the middle of 'Sitting Target' reminds me of THE SMALL FACES and take the Simmons drums out of 'European Grey' and it could be a 60s TV theme.
We're huge BEATLES fans and to this day, they remain one of the oddest bands for instrumentation, production and arrangement quirks. We're still trying to decode their messages from the 60s…
Eugene: When I presented the drums for 'Cексичок' Seán said and I quote: "You're taking it down Rio way…", so I took that as a compliment 😉 and continued down Rio way. All joking aside; I'm a big fan of 60s grooves and one groover in particular – the one and only Ringo! He is a musical drummer and I from time to time, take a leaf from his book.
Seán: Wolfgang Flür loves Ringo!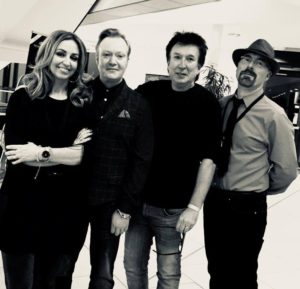 Having had Wolfgang Flür appear on two tracks for 'Deluxe/Debris', are you able to reveal any of the guests that you have gathered for 'The Point Of Collapse'?
Eugene: It's an absolute honour to have the very talented and true gent that is Chris Payne on two tracks.
After three EPs 'Stalingrad', 'The NATO Alphabet' and 'The Politburo Disko' over the last five years, there's a new EP on the way via Happy Robots Records, what can you say about it and does it also have a Cold War theme?
Seán: The 21st century Cold War is boring – sitting at home hacking an election is not as cool as a stand-off with huge nukes in space and it's down to you to save the planet… so no Cold War theme this time.
We re-recorded 'Girl In A White Dress' as we felt it never had a fair shake in the first place. This EP has more vintage instruments: Mellotron, Stylophone and of course the ubiquitous TR77 – sorry Paula! It's covered in Mellotron, actually. It also has the usual false ending on one track.
A lyrical first for us is the inclusion of a song about an actual event: 'Kicked Off In Ikea' which is about an incident in London in 2013 where a Black Friday sale turned nasty. It's written from the perspective of a person scoffing at the crassness of it all but the curiosity gets the better of them and they turn up to see what it's all about. It's a sad indictment of modern consumerism and society that people will resort to violence just to get some cheap furniture. It's a very 'Happy Robots' record!
TINY MAGNETIC PETS offer good value for money by not duplicating tracks from albums on EPs and vice versa, but what has been the process in deciding what tracks go on the album and which up end on the EPs?
Seán: Given that everyone writes, we always have plenty of material to work with and as albums take shape, it's obvious which of the recorded tracks will make the cut. Our motto is: "You know it when you hear it". We try not to force anything, it all has to flow naturally so the opening and closing tracks usually make themselves known early on.
Once we've established this, then it's a question of what's the best track to follow the opener, what follows that and so on until we meet the closing track. We only finish the ideas we really love so there are usually five or six tracks that, for one reason or another didn't find a place on whichever album. These usually get issued as EPs, which we view as stand-alone works so we don't include them on albums – 'Girl In A White Dress' is a one-off.
Are there any particular favourite tracks from either of the two upcoming new releases?
Paula: 'Above & Overture' (EP) and currently 'Echoes' or 'French Ciméma' from the album. Ooooh, there's also 'No Time Today' and…
Eugene: 'Above & Overture' is my favourite from the EP and currently 'Dreamless' and 'Cosmonaut's Lullaby' from 'The Point Of Collapse' are both my favourites at the moment, but it changes week by week. Why? Because they are so beautiful TBH 🙂
Seán: It keeps changing but at the moment: 'All The Mad Things' on the EP, 'Not My Day' and the ten minute 'At The Point Of Collapse' (almost a title-track) on the album.
TINY MAGNETIC PETS played the W-Festival in Belgium alongside a host of big names, what's it like as an occasion? Are you able to be choosier about what types of festivals you will play now?
Seán: We had a great time at W-Fest. It was just a nice vibe and nice to be at a festival where it didn't rain! We hung around backstage, I did a painting and we watched the bands until it was our turn. We missed KILLING JOKE because we had to leave early as our hotel was actually in France! As regards what types of festivals – I don't think we're at the choosy stage just yet.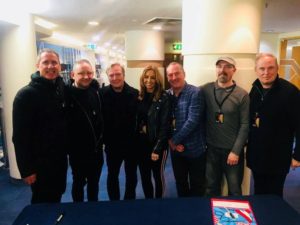 Two years on from supporting one set of Synth Britannia heroes in OMD, you're opening for MIDGE URE on selected dates of his '1980' Tour…
Seán: Hard to believe isn't it? And we're doing it again with OMD! We are so honoured that it's the 'Vienna' / 'Visage' tour and OMD's 40th. Andy McCluskey once said that KRAFTWERK was in OMD's DNA, well OMD and ULTRAVOX are in ours. Sorry we won't be around for any of the shows with Rusty Egan…
Eugene: What dreams are made of; I still have to pinch myself sometimes.
Do you have any favourite Ure-related ULTRAVOX and VISAGE tracks that you're looking forward to hearing live?
Eugene: 'Astradyne' for sure, most definitely 'Vienna' and another of my favourite ULTRAVOX songs is 'Dancing With Tears In My Eyes'.
Seán: 'Astradyne' and 'New Europeans' for me, and of course we all want to hear 'Fade To Grey'.
Paula: 'All Stood Still', 'Vienna' and 'Fade To Grey'.
So with all this activity, is the new album 'The Point Of Collapse' more likely to have a 2020 release now?
Seán: It is going to be 2020.
Paula: Yup 2020 it is!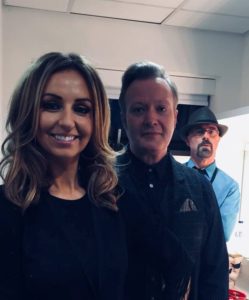 TINY MAGNETIC PETS have shown how a band at this independent level of modern synthpop can gain traction and make in-roads within the music industry today, so are there any words of wisdom you could offer to fellow acts who have been observing your progress and have similar aspirations?
Eugene: Keep doing what you love and what drives you!
Paula: As long as music makes you happy, just do what you love and keep going for it. Don't hold back! It's definitely a roller coaster of emotions, but the highs absolutely outweigh the lows!
Seán: The only advice I could possibly offer is stick to your guns when everybody is ignoring you and get out on stages and social media, make connections and LET EVERYONE KNOW YOU'RE HERE – oh! And send your music to Rusty Egan!
---
ELECTRICITY.CO.UK gives its warmest thanks to TINY MAGNETIC PETS
The forthcoming 'Girl In A White Dress' EP will be released by Happy Robots Records on 15th November 2019 in white vinyl, pre-order from https://www.happyrobots.co.uk/product-page/tiny-magnetic-pets-girl-in-a-white-dress-ep-new-pre-order
'Deluxe/Debris'
is still available as a CD from https://www.happyrobots.co.uk/product-page/tiny-magnetic-pets-deluxe-debris-cd
The 'Stalingrad', 'The NATO Alphabet' + 'The Politburo Disco' EPs are available from https://tinymagneticpets.bandcamp.com/
TINY MAGNETIC PETS 2019 live dates opening for MIDGE URE include:
Manchester Albert Hall (25th October), Liverpool Philharmonic Hall (26th October), Belfast Ulster Hall (26th October), Dublin (29th October), Bochum Ruhr Congress (6th December), Osnabrück Rosenhof (7th December), Berlin Columbia Theater (8th December), Hamburg Gruenspan (9th December), Ravensburg Konzerthaus (11th December), Munich Teknikum (12th December), Kassel Congress Palais Stadthalle (13th December), Düsseldorf Stahlwerk (14th December), Aarhus Train (17th December), Copenhagen Amager Bio (18th December), The Hague Paard Van Troje (19th December)
TINY MAGNETIC PETS 2019 live dates opening for OMD include:
Belfast Ulster Hall (23rd October), Dublin Olympia (24th October), Rostock Stadthalle (25th November), Dresden Kulturpalast (26th November), Leipzig Haus Auensee (28th November), Berlin Tempodrom (29th November), Hamburg Grosse Freiheit 36 (30th November), Berlin Tempodrom (2nd December), Stuttgart Leiderhalle (3rd December), Düsseldorf Mitsubishi Electric-Halle (5th December)
https://www.tinymagneticpets.com/
https://www.facebook.com/tinymagneticpets/
https://twitter.com/TinyMagneticPet
https://www.instagram.com/tinymagneticpets/
https://www.happyrobots.co.uk/tiny-magnetic-pets
https://open.spotify.com/artist/3t3ITkzKzWOludV0CeUqYk
---
Text and Interview by Chi Ming Lai
23rd October 2019