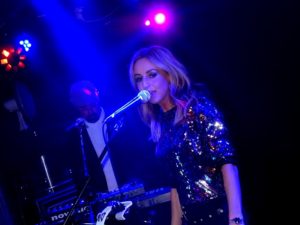 While their first album was released in 2010, it's only been in the last three years that TINY MAGNETIC PETS have truly picked up audience momentum.
The Blitz Club's legendary DJ Rusty Egan was an early champion.
But it was an invitation to open for OMD on the UK leg of 'The Punishment Of Luxury' tour on the back on their second album 'Deluxe / Debris' that has put the very personable Irish trio into an enviable position.
Undertaking their first headlining 'Here Comes The Noise' tour, also on board was Happy Robots label mate RODNEY CROMWELL
Led by Happy Robots CEO Adam Cresswell, RODNEY CROMWELL is essentially a solo project although live, it also features Martin J Langthorne on synths and Richard Salt on electric guitar. But springing a presentational surprise, the trio began their performance with some triple Stylophone action on the neo-instrumental 'Technocrats'.
Recalling KRAFTWERK's live presentation of 'Pocket Calculator' during the 'Computer World' tour of 1981, it was fun and endearing with Salt actually managing to make his stylus operated instrument sound like a klanky six string! A big fan of both JOY DIVISION and NEW ORDER, the live bass and guitar elements of 'Barbed Wire' allowed Cresswell to pay tribute to the former, while on his ode to depression 'Black Dog', the bright pulsing sequences and shadier Hooky riffs inspired by 'Temptation' were reminiscent of the latter.
In a set with further surprises, the 2002 string machine coated cult favourite 'Intimacy' by Cresswell's former band SALOON was dusted off while performing a glitchy disco version of 'You Will Struggle', he finished the number on claves, recalling those percussive Factory Records acts of yore who liked to bash things live. Closing with the fabulous 'Comrades', undoubtedly one of the songs of 2018, a cosmic chill bathed the Water Rats with the sound of vocoder and lo-fi Giorgio Moroder.
Taking their usual stance of a steady beginning before upping the pace, the 'Pink' variant of 'Here Comes The Noise' serenely opened proceedings for TINY MAGNETIC PETS.
With singer Paula Gilmer promising old and new songs, the dreamy 'We Shine' satisfied the expectant crowd who had discovered TINY MAGNETIC PETS when they arrived early for OMD last year.
Coupled to Eugene Somers' precise electronic backbone and Sean Quinn's manual synth control, this was the common ground for fans of Messrs Humphreys and McCluskey.
The reggaefied overtones of 'Not Giving In' from 'The NATO Alphabet' EP saw Somers come into his own like Stewart Copeland on a tea tray while on the Düsseldorf flavoured delight of 'Never Alone', a co-write with ex-KRAFTWERK percussionist Wolfgang Flür, Gilmer exuded that alluring air of Sarah Cracknell from SAINT ETIENNE but with her own distinct glowing poise and sophistication. As Rusty Egan was watching from the wings, Gilmer, Quinn and Somers interrupted proceedings to invite to him onto the stage to take a bow as a thank you for his very public endorsement of them in 2015.
'Blitzed' from the forthcoming EP release 'The Politburo Disko' provided some uptempo thrust with a surprising rock edge, as did another new number 'Sexychoc' which unveiled the unexpected stomp of THE DAVE CLARK FIVE and Dublin meeting Tottenham!
While tracks from 'The Politburo Disko' will not be on the Pets' currently being completed third album, one brand new song that was aired 'Falling Apart In Slow Motion' will and it was a fine number in the lineage of 'Not Giving In' and 'Never Alone'.
An extra treat came with 'French Cinema', a previously unheard duet between Quinn and Gilmer but to close the main part of the set was the exultant kosmische synth prog of 'Semaphore', its Emerald Endless synthetic string lines affirming TINY MAGNETIC PETS' spiritual connection to KRAFTWERK and delighting all those gathered.
There was an audience singalong of 'Happy Birthday' for Eugene Somers ahead of the encore, but a swift costume change for Paula Gilmer before the happy robotics of 'Control Me' meant the noise of jaws dropping could be heard from the front row.
And with the rhythmic 'White' take of 'Here Comes The Noise', TINY MAGNETIC PETS concluded their first headlining London performance. The evening was indeed a success and with a supporting line-up of quality complementary acts from various sides of the electronic pop spectrum, the people came and they enjoyed. With an engaging and well-paced show, TINY MAGNETIC PETS have used their experience of touring with OMD very well and have a good understanding of how best to utilise the dynamics of their sound in a live presentation.
The next step will be to maintain this upward development but until then, there's 'The Politburo Disko' EP to look forward to in 2019 and more than likely, further live dates.
---
TINY MAGNETIC PETS 'Radio On' featuring Wolfgang Flür is released by Happy Robots Records as a CD single, available direct from https://www.happyrobots.co.uk/botshop as is 'Rodney's English Disco' EP by RODNEY CROMWELL
https://www.tinymagneticpets.com/
https://www.facebook.com/tinymagneticpets/
https://twitter.com/TinyMagneticPet
https://www.facebook.com/rodneycromwellartist/
https://twitter.com/robot_rocker
---
Text and Photos by Chi Ming Lai
7th November 2018