TRAIN TO SPAIN released their debut album 'What It's All About' in 2015 and showcased their appealing Lana Del Rey fronting YAZOO template with catchy songs like 'Passion'.
It's been just over two years since the Swedish duo of singer Helena Wigeborn and producer Jonas Rasmusson presented their second album 'A Journey'. The new five-track EP '¿Amor?' is the first part of a digital EP trilogy to be released in six month intervals. While 'A Journey' was not too radical a departure, one of its highlights was the explosive stomper 'Monsters', a track with the sort of chunky triplets that filled German discos once upon a time.
Indeed, 'Monsters' was reissued as a remix for the summer dancefloors to herald the return of TRAIN TO SPAIN. The EP opener 'Living Now' turns up that Eurodance wick to 11 and parties like its 1994! Meanwhile, the elastic 'Everyday Nightmare' is no less frantic as the rhythm pounds like a dancer.
'Something's Missing In My Heart' eases the mood and is reminiscent of their Danish neighbours SOFTWAVE who stole something of a march by nabbing the OMD support slot of their Scandinavian tour. But TRAIN TO SPAIN show they are equal of such an accolade being offered to them in the future with a tune that has a great vocal and some enticing crystalline synth hooks. 'Tsunami' comes from a similar midtempo cloth although Wigeborn's vocals take on more of a detached snarl on a piece that exudes a more Germanic feel.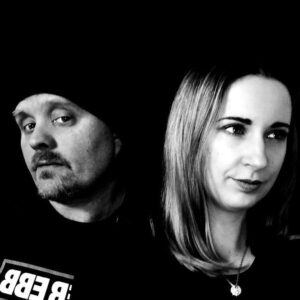 To conclude, the bonus remix of 'Living Now' by Nórdika plays with a trancey Schaffel structure but while it is different, it is not a patch on the original.
'¿Amor?' does the job of leaving the listener wanting more but if there is a criticism of this short and sharp EP, it's that the overall sound across the four main songs is a bit on the cloudy side and could do with more dynamic clarity.
However, this doesn't detract that this is a very immediate and enjoyable body of work. With the 40th Anniversary of THE HUMAN LEAGUE's 'Dare' looming, it is fitting that it is time to take that TRAIN TO SPAIN again.
---
'¿Amor?' is released by pbhmedia / Blyh Media on 25th September 2020 and available via the usual digital outlets including https://traintospain.bandcamp.com/album/amor
https://www.facebook.com/train2spain/
https://twitter.com/TrainToSpain
https://www.instagram.com/traintospain/
---
Text by Chi Ming Lai
25th September 2020