Part two of Swedish synthpop duo TRAIN TO SPAIN's "love" EP trilogy, 'Liebe?' is the follow-up to '¿Amor?' which was released in September 2020.
While '¿Amor?'
did a good the job of leaving the listener wanting more, 'Liebe?'
is perhaps sharper and more dynamic than is predecessor which did suffer slightly from a cloudy mix.
For the opening of 'Liebe?', it is business as usual for Helena Wigeborn and Jonas Rasmusson with the energetic Eurodance of 'Dreaming Away', although it does show some restraint from the crashing drums usually associated with TRAIN TO SPAIN.
Similarly paced and discussing "stupid things", 'Hide & Seek' is not a Howard Jones cover but another immediate dancefloor friendly concoction. Meanwhile the wonderful 'Let The Music Play' is not the Shannon song but a glistening understated Scandipop number. Set at a less boisterous pace, it allows Wigeborn to make the most out of her voice as she optimistically declares that "It's time for some fun now", a feeling than many can relate to.
The touching 'You Made Me Laugh' has an anthemic ABBA quality in its chorus augmented by shades of OMD in its synth melodies. With the subtle use of vintage drum machine, it steers clear of being bombastic and allows the song to do the carrying.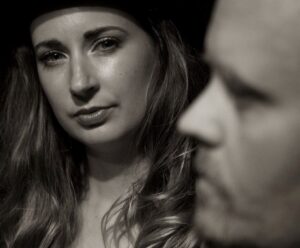 As a bonus, Swedish electro-punk combo CAT RAPES DOG's remix of 'Dreaming Away' is dark and rumbly, which may or may not suit TRAIN TO SPAIN's usual fanbase. But on the whole, the four main songs on 'Liebe?' outstrip those of '¿Amor?'.
With two full length albums 'What It's All About'
and 'A Journey'
already to their name, 'Liebe?' showcases a subtle refinement of their synthpop sound. What will the final part of the trilogy bring?
---
'Liebe?'
is released by pbhmedia / Blyh Media and available via the usual digital outlets including https://traintospain.bandcamp.com/album/liebe
https://www.facebook.com/train2spain/
https://twitter.com/TrainToSpain
https://www.instagram.com/traintospain/
---
Text by Chi Ming Lai
2nd February 2021