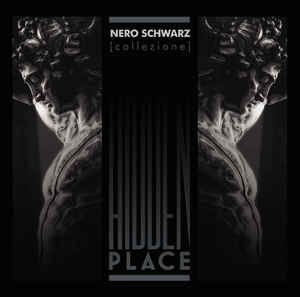 Italian quartet HIDDEN PLACE came into being in 2004 and have since gathered a sizeable audience within the followers of electro wave trends.
Antonio Losenno, Fabio Vitelli and Giampiero Di Barbaro are the three culprits responsible for the music, while the lyrics and vocals fall into the ownership of Sara Lux.
Having released a few albums like the excellent 'Fantasia Meccanica' in 2007 and a compilation of their body of work over ten years; this annum sees the release of another long player, 'Nero Schwarz'.
'Nero Schwartz' is a retrospective collection of tunes sounding not too dissimilar from the works of KIRLIAN CAMERA, another Italian band fronted by the songstress Elena Alice Fossi; also known as Spectra Paris, she recently featured on John Fryer's BLACK NEEDLE NOISE album 'Before The Tears Came'.
Sara Lux's vocals are frosty and laced with cold, indifferent exterior, especially when backed with gentle sounding, ethereal guitar on tracks such as 'Picture Hall' or 'Histoire D'Amour', both reminiscent of the riffs from JOY DIVISION or early DURAN DURAN. 'Nei Versi Di Prevert', which had previously been released as a 7″ single, strikes as an enjoyable concoction of LADYTRON and early MARSHEAUX.
'Without Time' strikes with cold electronica, while 'Window Sill', this time in English, rings unusual connections with Polish new wave band MAANAM.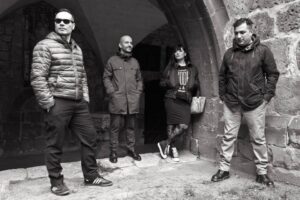 The darkness continues with 'Alexander Strasse'; Lux's vocal clearly leading the mood into the gloomier of directions, while the musical elements of the greatest synthy decade are fully palpable.
'Nero Schwartz' equally embraces the good old age of synthesis with avant-garde references. The album is both arty and sophisticated with frosty feel of the icy new wave. As far as Sara Lux's voice goes, some will find her vocal tedious, others will marvel at its stability and glacial clarity. One thing is certain, however, the Italians aren't doing too badly at the electronic game.
---
'Nero Schwarz' is available on CD from https://hiddenplace.bandcamp.com/album/nero-schwarz-collezione
https://www.facebook.com/hiddenplaceitalia/
---
Text by Monika Izabela Trigwell
Photo by Daniele Onarati
14th October 2016