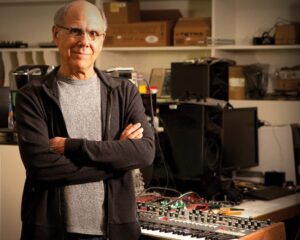 Dave Smith, the synthesizer pioneer and one of the Godfathers of MIDI has sadly passed away aged 72. 
Through his company Sequential Circuits, the American revolutionised electronic music with his practical solutions and a unifying spirit within a very competitive marketing environment. In a statement, Sequential announced "It is with heavy hearts that we share the news that Dave Smith has died. We're heartbroken, but take some small solace in knowing he was on the road doing what he loved best in the company of family, friends, and artists."
The list of acts who used his instruments over the years reads like a who's who of music: YELLOW MAGIC ORCHESTRA, KRAFTWERK, PINK FLOYD, TANGERINE DREAM, DEVO, JAPAN, OMD, NEW ORDER, SOFT CELL, DURAN DURAN, YAZOO, ULTRAVOX, ERASURE, THOMPSON TWINS, TALKING HEADS, BERLIN, PAGE, PSYCHE, KID KASIO, MIRRORS, VILE ELECTRODES, MAISON VAGUE, RADIOHEAD, SOFT METALS, KITE BASE, FM ATTACK, BETAMAXX, ULTRAFLEX and CIRCUIT3 among many.
Born in San Francisco, Smith became fascinated by music via the family piano. He later played guitar and bass in bands while studying Electrical Engineering and Computer Science at the University of California in Berkeley. Mesmerised by 'Switched On Bach' by Wendy Carlos, he visited a music store to try out a Minimoog and ARP Odyssey. He favoured the Bob Moog instrument and securing a credit union from his then-employer Lockheed, he acquired one with the serial number 1340.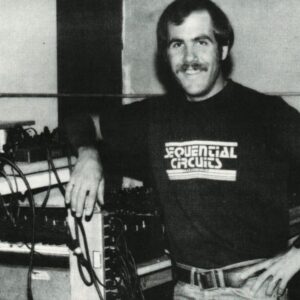 Exploring his Minimoog while using a TEAC 4 track reel-to-reel, he identified a need for a low price analogue sequencer to work with Moog and ARP synths, so launched a company in 1974 to produce a 16 step machine called the Model 600. The microprocessor controlled Model 800 digital sequencer followed.
But his 8-step Model 700 Programmer, which set up sounds on Moog and ARP synths that could be recorded to memory and recalled at the touch of a button, sparked Dave Smith's epiphanal moment; why not combine microprocessors with synthesizer integrated circuits to create a programmable synthesizer?
With neither Moog or ARP seemingly on the ball to come up with such an instrument, Smith gave up his day job to work full-time on designing what became the Prophet 5. Demonstrated at the popular NAMM trade show in 1978, it was the world's first fully programmable polyphonic synthesizer. Among the first purchasers were veterans such as Rick Wakeman, David Bowie and Tony Banks but with its use of silicon chip technology, it was also affordable compared with the Polymoog or Yamaha CS80. The new guard such as Gary Numan, David Sylvian, Richard Barbieri, Dave Ball, Nick Rhodes and Paul Humphreys made it top of their shopping list when their record label advances came in.
Commenting on its usability, Paul Humphreys remarked "The Prophet 5 is one where I can imagine a sound and build it myself. I can programme it inside out" while Richard Barbieri said "I've never found anything that sounds as lush, warm and beautiful".

Chris Payne who played with Gary Numan remembered "I bought my first Prophet 5 whilst touring in the States. I spent an entire night messing around with it editing sounds and trying desperately to create some cool strings. Sadly with the tiredness and overwhelming enthusiasm I created a string sound which was a lot worse than the preset. But having said that, this synth was a game changer and I purchased another one for live work. Our other keyboard player Denis had the Prophet 10 and I'd love to know what happened to that…"
The Prophet 10 was the twin keyboard variant of the Prophet 5 which was prone to overheating problems, but it was the ProOne, a monophonic version of the Prophet 5, that proved to be more popular, with Vince Clarke, Howard Jones and Tom Bailey among its exponents.
In 1981, after meetings with Tom Oberheim and Ikutaro Kakehashi of Roland, Smith presented a paper outlining the idea of a Universal Synthesizer Interface to create a standard means of synchronising electronic instruments manufactured by different companies. He and Sequential engineer Chet Wood designed an interface based on Roland's Digital Control Bus. Also working in association Yamaha, Korg and Kawai, the Musical Instrument Digital Interface or MIDI was born in 1983 and remains in use today. Smith and Kakehashi were awarded a Technical Grammy for their innovation in 2013.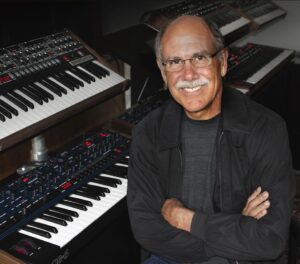 Despite these successes and presenting the first MIDI compatible digital drum machine in the Drumtraks, Sequential's fortunes were taking a downturn thanks to success of the Yamaha DX7 and E-mu Emulator samplers.
The very expensive Prophet T8 with its wooden piano weighted velocity sensitive keyboard turned out to be a white elephant and although Howard Jones liked using it to control his DX7, Billy Currie of ULTRAVOX remarked "I got it thinking it would be a competitor to the Yamaha CS80 but the action was always far too heavy."
The Prophet 2000 sampler and the Prophet VS using vector synthesis were unable to regain the lost commercial momentum and Sequential closed in 1987 with the brand purchased by Yamaha, although the Japanese company never issued any products with that name. In 1989, Smith joined Korg to refine the vector synthesis concept of the Prophet VS on the Wavestation which was subsequently used by ENIGMA, ORBITAL, THE FUTURE SOUND OF LONDON, DUBSTAR, OZRIC TENTACLES and on the soundtrack of 'The X-Files'.
After working on the software side of synthesis, Dave Smith Instruments was established in 2002 with the analogue-digital hybrid Evolver being the first in a new product line. Meanwhile the bright yellow Mopho was a compact but powerful monophonic that proved to be very versatile when used in a live context. Martin Swan of VILE ELECTRODES described it in 2011 as "a modern take on the Sequential Circuits ProOne. The Mopho is a combination of that and the Moog Source, which was the first monosynth that had memories. Obviously, it really helps for playing live to switch from one patch to another. It's kind of old school vintage synth in one way but it's got a modern aesthetic as well. It's very muscley!"
Reviving the Prophet name, the 08 polyphonic featured a 100% analogue signal path and a front panel with rotary controls using potentiometers while maintaining digital interfaces. It was popular with the next generation of synth musicians; James New of MIRRORS was particularly enthused, saying in 2010 "it seems to do a bit of everything. It sounds like an old Moog and it's part digital so it doesn't go ridiculously out of tune!" while bandmate Ally Young added "the way the sound is created in the DS is totally analogue and the pretext of the Prophet is that it's not a homage to the Prophet 5 which Dave Smith and Sequential Circuits obviously made… it's if he never made the Prophet 5 and was going to make one now, this is what it would be"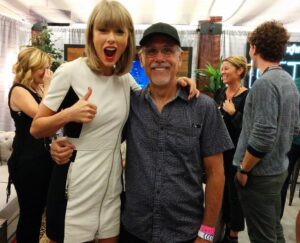 The expansive bi-timbral Prophet 12 combined two hybrid analogue-digital six voice synths into one package and was endorsed by Taylor Swift. Ever the one for collaboration, Smith brought in Roger Linn to co-design the Tempest drum machine sequencer while he teamed up with Tom Oberheim for the OB6 inspired by his classic SEM sound.
But in a gesture of goodwill and with the encouragement of Roland's Ikutaro Kakehashi, Yamaha returned the Sequential Circuits brand to Smith in 2015.
The Prophet 6 and Prophet X followed as the first genuine Sequential products in several decades while in 2018, the Prophet 5 was reissued to mark its 40th anniversary. In a far cry from the company's 1987 demise, its multi-million dollar revenue streams led to Sequential being bought in 2021 by Focusrite, the British audio technology company which had been established by recording studio trailblazer Rupert Neve.
Dave Smith had been scheduled to appear at NAMM 2022; his untimely passing will not only leave a void at that event but throughout the music world. Often pictured smiling and occasionally enjoying a Margarita, his impactful life can be truly said to have changed music making forever.
---
Text by Chi Ming Lai
2nd June 2022