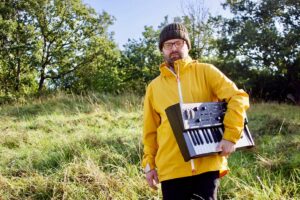 Indie synth veteran Adam Cresswell is back as Rodney Cromwell with his second full length long player under that nom de théâtre, having recorded and released albums over the last two decades as a member of SALOON and ARTHUR & MARTHA.
Issued on Cresswell's own boutique label Happy Robots Records, the enjoyably hazy 12 track work is entitled 'Memory Box'.
In this bizarre post-truth world where hypocrisy is rife and blatant lies are not questioned, where those who complained about fake news on mainstream media then celebrated the 40th Anniversary of DEPECHE MODE's 'Speak & Spell' album on the incorrect date of 5th October 2021 and some who dismissed the music of the 80s are now writing about the music of the 80s, 'Memory Box' is timely.
The follow-up to the acclaimed debut 'Age Of Anxiety' from 2015, Adam Cresswell chatted at length to ELECTRICITYCLUB.CO.UK about the making of his new opus.
What is the theme of the 'Memory Box' album and then specifically, the title song?
Well I guess it's the 'Choose Your Own Adventure' of concept albums; it's a concept album where the listener finds the concept that works for them.
The title came about half way through making it. I'd always planned to record an album in 2020, I just hadn't thought I would write it locked in my tiny loft room in a pandemic. For most of my career I've been writing about our dystopian future, and then when it felt like it had finally arrived, I really didn't want to write about it. So rather than looking outward, on what was going on around us, I looked inward; drawing on experiences and relationships from my past in order to look towards the future, digging deep into my own creative memory box.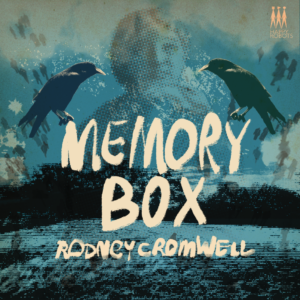 There are on the album moments where I consciously pillage ideas from other records I've released over the last 20 years. 'Fluctuations' nods towards 'Happy Robots' from the second SALOON album. 'Waiting Room' leans towards 'Kasparov' from ARTHUR & MARTHA's 'Navigation' and so on. It is full of Easter Eggs that only about three people might understand.
The song 'Memory Box' is about not trusting the world around you, or at least your perception of it. It's the moment in the album when we fall into the psychological rabbit hole and it goes from being a straight synthpop album into something a bit more cerebral and psychedelic.
It's been 6 years since 'Age Of Anxiety', how is it to actually create a traditional full length body of work as an independent artist and to ensure it is of the highest quality?
I'm not going to lie, it was really hard and I had to dig really deep. Even at my most proficient, I've rarely written more than four songs a year. I spent over a year making the 'Rodney's English Disco', EP and at least three months on the remix for Alice Hubble alone. Perhaps if I taught myself to use a modern DAW and I bought sample packs and all that stuff, it would be easier, but I've chosen to work in this very old-school analogue way.
The big difference between writing 'Memory Box' and 'Age of Anxiety' was that I knew that people would be listening this time, some of whom will be wanting me to fail. I had none of that pressure with 'Age Of Anxiety' because I genuinely thought no-one would care. So I put the hours in, working with people I could trust and whose advice I would act on.
Rich Bennett who produced the album would keep pushing me throughout. Every time he said "it's good, but you should add some harmonies", I wanted to cry but it was worth it. And the other key collaborator was Martin J Langthorne, who played most of the guitar parts and who did all the design work on the campaign. He was coming up with these outlandish design ideas, sitting somewhere between Kafka and psychedelia, and they definitely pushed my writing in a more colourful direction.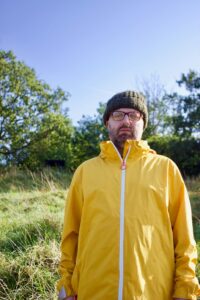 Fifi Rong talked about being distracted from focussing on an album by the streaming metrics which favour single songs and remixes…
Yeah, playing the streaming game of releasing a rush of singles for the one-in-a-thousand chance of getting in a curated playlist is a massive distraction. I made my priority making a record that would sound great on vinyl. That's why the songs are shorter than on 'Age of Anxiety,' to fit them on a single LP without compromising the sound, while at the same time breaking the mould of making a 10 track LP like all my previous studio albums.
Is radio play still important or is it about getting onto playlists and podcasts now? But with so many platforms, doesn't it all get a bit saturated but ultimately fragmented now?
I guess radio play is really important, because no hipster Spotify playlisters will stick me in their playlists anyway. Ha! I can get great reviews in blogs or printed magazines, but can I persuade somebody on SubmitHub to drag-and-drop my song into a playlist with 200 other songs – nope. It's a bit depressing. Being on BBC 6 Music though is always very special, not least because I can listen back on the 'big telly' in the living room, which even impresses my wife and kids… a bit.
This album appears to have a more vintage psychedelic presence than your previous work, as indicated by the instrumentals like 'Cloud Catalogue', 'Butterflies In The Filing Cabinet' and 'Calculations' which use Mellotron-derived sounds?
Yeah I mean that was partly to do with the fact when the pandemic started, I went back to listening to some of the bands that I really love – BROADCAST, SILVER APPLES, THE BEATLES and hauntological electronica like PYE CORNER AUDIO and FOCUS GROUP. While writing I also had a few run-ins with characters on the 'synth scene' and I just wanted some space from that. But by the end of last year I got over that, mainly through listening to NATION OF LANGUAGE and PEAKES on repeat, who reminded me how much I love synth music.
I didn't buy a load of new synths to find those more esoteric sounds though; the Mellotron came from digging-deep into the MicroKorg. I also recorded a lot of stuff hot through effects pedals, I have more of a gear-fetish for pedals than synths these days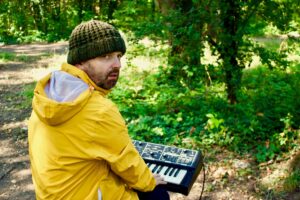 You're not really known for buying lots of new toys and tend to stick with your trusted gear, but has there been any tech, either software or hardware that has proved crucial in the making of this album?
People do say when my stuff comes on the radio that they quickly recognise it as a Rodney Cromwell record and I like to think that's because my arsenal of five synths and assorted toys have been my sound since at least the ARTHUR & MARTHA album.
My favourite new toy is probably my iZettle card reader, which brings me endless joy on the merch stall, but that's probably not the answer you are after.
Did you binge watch THE BEATLES' 'Get Back' documentary series earlier in the year? Your thoughts?
Of course, I insisted my wife used her Tesco Clubcard points for our Disney subscription. It goes without saying that 'Get Back' is brilliant; it sounds great, it looks great and it's just wonderful seeing the creative process, even if they are playing 'Maxwell's Silver Hammer' at the time. I'm a terrible BEATLES bore, I think on one trip back from Glasgow, Martin and I talked solidly about THE BEATLES for the whole journey. 'Cloud Catalogue' on this album is my attempt at re-imagining 'Flying,' had The Fabs written it on entry-level synths after listening to a lot of STEREOLAB.
There is quite a bit of vocoder like on the opener 'Intercom' and 'Wristwatch Television', as the tech pre-dates the Second World War, it does fit in with the whole 'Memory Box' vibe…
The lo-fi vocoder-voice has become one of my trademark sounds, along with ARP strings, DR-55 drums and the melodica. I usually use the vocoder when I've written a song in a key that I struggle to sing in, like 'Comrades' on the last EP which always sounds like the world's worst ACTORS impression if I don't use the vocoder.
'Intercom' was a pain because I recorded it in 2020, a year later I decided to change two lines of the lyrics. I originally sung "Now I'm a populist, it's easy", which was of course meant ironically, but then after reading theUwe Schütte book on KRAFTWERK (which you gave me – thanks for that), I was reminded of the whole 'Radioactivity' furore and how people just don't get irony in pop, so I changed the line to "Now I'm a nihilist" which is a bit closer to my real position anyway. I then had to spend hours trying to replicate the vocoder sound which didn't work and I had to re-record the whole thing. It wasn't quite like when MY BLOODY VALENTINE had to re-record all the guitars on 'Loveless' because they'd forgotten what tunings they'd used, but it didn't feel far off.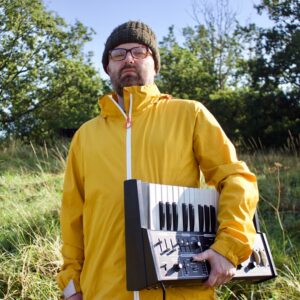 'The Department Of Public Tranquility' sounds like something you might have done in ARTHUR & MARTHA?
I hadn't really noticed that similarity, but it was an attempt to break the synthpop mould by writing something in 3/4 with a weird key change.
The file corrupted while I was writing it so Rich had to retrieve it and rebuild it, so I'm not entirely sure what is me playing and what is him. Apparently I'm playing bass on that one, but I don't believe him, it sounds too well played to be me.
While you are pursuing a slightly different direction on this album, there's still some Motorik beats on 'Fluctuations' and 'The Winter Palace'?
Ha – of course I love it who doesn't love that beat. In 2020 I played as part of Damo Suzuki's backing-band with Alice Hubble and I would have happily had us just play that beat for the whole set.
With every album, I dream of writing a Motorik track that's as good as 'Isi', 'Mother Sky' or 'We're Not Adult Orientated'. Of course that is never going to happen, but it does mean a lot of my songs start off with the apache beat; songs like 'Autovia', 'Barry Was An Arms Dealer', 'Squarewave To Heaven'. I find that it absolutely captivating, like a clear natural high. Beats sniffing glue.
After years of imitating Peter Hook musically, you finally do a Bernard Sumner impersonation on 'Opus Three'?
I don't know, I think I've been channelling Bernard for years in my melodica playing. But yeah I was getting fed up that every time someone asked me to do a collaboration or a remix they'd say "just put some Hooky bass on it". So that's why there isn't much chorused bass on this album. Hooky is still the real-deal and he's playing all the time, so you don't need me doing my 'Stars In Their Eyes' bit anyway.
Do you have any particular favourite tracks?
'Waiting Room' because it's a proper love song about someone I actually love rather than another song about fictional unrequited lover. I was listening to a lot of 'McCartney One' when I penned that one.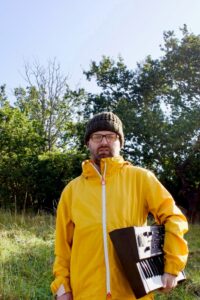 Aside from the 'Memory Box' album, you have released a limited edition of some unreleased instrumentals 'Get Me To Prague' and 'Radagast The Brown'?
Yeah the idea of releasing some really old stuff as part of this campaign seemed to resonate with what 'Memory Box' is all about; looking backwards to look forward.
Also there are a bunch of great electronic artists out there making vintage sounding instrumentals, that sit somewhere between the ambient and hauntology spaces getting lots of acclaim. They are usually using modern DAWs to replicate a vintage sound, and I guess this was my way of saying "hey guys I've been making that sort of stuff for the last 20 years!"; I'm not sure anyone got the memo though.
You been quite vocal about the lot of the independent label and how the physical editions of their releases are in a very big queue behind major labels with their coloured vinyl reissues of 'Rumours' and the like? How are things looking for Happy Robots Records?
I've been as guilty as anyone of buying re-issues and totally inessential live-albums over the last few years so I can't preach too much. The label though is doing pretty well, I'm steadily building up a great customer base of supportive fans. I can't say I'm making a great deal of money, but our infrastructure is improving; I've got Martin doing the design work, we've signed a publishing deal alongside our distribution deal with Cargo, we're investing in a few ads, it's coming together. The biggest risk in terms of single-point-of-failure though, is that so-much rests on my shoulders. I am probably going to have to take a sabbatical, at some point to recharge by batteries, do bit of decorating and hopefully find the next brilliant new act to join the family.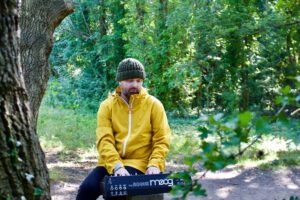 What about live gigs and possibly venturing into post-Brexit Europe?
Who knows! We had a show booked in Düsseldorf for February but we had to pull it because of Covid. I've also been talking about going to Paris. Let's see. I love playing live, but at the moment the UK looks like the safer bet, unless a European booking agent wants to get in touch and take a punt. Cough, anyone?…
Your hopes and fears as we aim to "stay negative to be positive" in 2022 to quote Mark Reeder?
Right now I think if we can avoid World War 3 I'll be quite happy. The world doesn't feel like it's in a great place, but saying that it was a great Eurovision result, so who knows, perhaps the tide is turning!
---
ELECTRICITYCLUB.CO.UK gives its grateful thanks to Adam Cresswell
'Memory Box' is released as a yellow vinyl LP by Happy Robots Records, available via https://www.happyrobots.co.uk/product-page/rodney-cromwell-memory-box-12-coloured-lp-bot33 ordirect from https://rodneycromwell.bandcamp.com/album/memory-box-2
Rodney Cromwell opens for BLANCMANGE on the 'Private View' 2022 tour for the following dates:
Exeter The Pheonix (4th November), Southampton The Brook (5th November), Diss Corn Hall (17th November)
Before that, Rodney Cromwell will be the special guest of Gemma Cullingford at Bristol Crofter's Rights on 29th October 2022
https://www.happyrobots.co.uk/rodney-cromwell
https://www.facebook.com/rodneycromwellartist/
https://twitter.com/robot_rocker
https://www.instagram.com/robot_rocker/
---
Text and Interview by Chi Ming Lai
Photos by Alison Ahern
25th May 2022, updated 21st June 2022