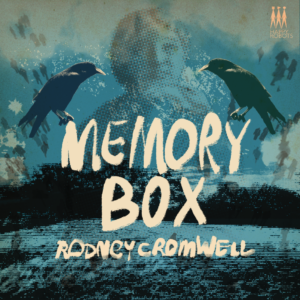 Intended as a soundtrack to a sadly post truth world, Rodney Cromwell returns with his second album 'Memory Box'.
Behind the persona of Rodney Cromwell is Adam Cresswell who said: "For most of my career I've been writing about our dystopian future, and then when it finally arrived, I really didn't want to write about it. So rather than looking outward, on what was going on around us in the landscape of the pandemic, I looked inward; drawing on experiences and relationships from my past in order to look to the future. I essentially dug deep into my own creative memory box."
A very different album to the melancholic but upbeat synthpop sensibility of 2015's 'Age Of Anxiety', 'Memory Box' is a much hazier record presented with cerebral impressionistic qualities. It all begins with the motorik buzz 'n' bleep fest of 'Intercom' with vocoders that sound like 'Trans' era Neil Young if he had a more indie bent.
Then after years of imitating Peter Hook musically, 'Opus Three' sees Cresswell do his best Bernard Sumner impression in his very own 'Bizarre Love Triangle' if ever there was one, although with its charming Stylophone solo, the homage is perhaps isn't quite as blatant as NATION OF LANGUAGE's 'On Division Street'!
Meanwhile, the 'Memory Box' title song is an appealing metronomic number that reflects frustration and resignation about how truth and honesty are of so little worth in modern society, especially with the likes of Boris Johnson exploiting their posh boy privilege with blatant lies and being applauded for it!
Taking its lead from STEREOLAB, the grim moods of 'Fluctuations' are made more haunting by spacey keyboard swirls while the neo-acoustic 'Waiting Room' takes its lead from in 'Kasparov', one of Cresswell's past musical adventures in ARTHUR & MARTHA.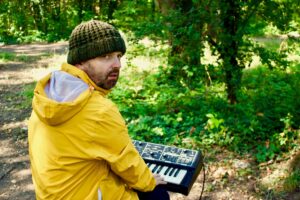 The interlude 'Butterflies In The Filing Cabinet' utilises Mellotron-derived sounds for some uneasy psychedelic overtures but imagining 'Tanzmusik' from 'KRAFTWERK's 'Ralf & Florian' album meeting THE BEATLES 'Flying', the wonderful 'Cloud Catalogue' provides a catchy cosmic instrumental journey. Swung in 6/8 with catchy keyboard arpeggios, 'The Department Of Public Tranquility' also references ARTHUR & MARTHA with Theremin tones and sombre vocals encapsulating an aura of hopelessness.
Despite its electro-glam backbeat, 'Wristwatch Television' still fits with the tribulations of the 'Memory Box' concept, highlighting the wider public tunnel vision of not accepting the bigger picture when acquiring news from Martin on Facebook who has suddenly become an expert on vaccines and an authority on synthpop despite dissing THE HUMAN LEAGUE only four years before!
More stringy Mellotron-derived sounds come with the wordless 'Calculations, but 'The Winter Palace' is a wonderful icy closer that is classic Rodders embracing motorik mechanisation within a hypnotic electronic backdrop and providing a glorious synth solo for a hopeful uplift to savour.
With the past two years seeing the circuit schematics of a Boss guitar pedal being viralled by anti-vax conspiracy theorists as the 5G chip sitting within the Covid vaccine and accepted as fact, where Devotees still think DEPECHE MODE's 'Speak & Spell was released on 5th October 1981 despite archive sales evidence to the contrary, where surreal distortion is starting to become reality, 'Memory Box' is a fine Kafkaesque concept album for exhausted souls to dance to as an imploding disaster awaits…
But what's that No-Vacs Djokovic, you're happy to forgo a few more Grand Slam titles at the height of your tennis career in order to maintain your stubborn stance? Don't look up!
---
'Memory Box' is released as a yellow vinyl EP by Happy Robots Records on 18th March 2022, pre-order available from https://www.happyrobots.co.uk/product-page/rodney-cromwell-memory-box-12-coloured-lp-bot33
Pre-order the digital download in the usual formats via https://rodneycromwell.bandcamp.com/album/memory-box-2
RODNEY CROMWELL, SPRAY and CIRCUIT3 play The Cavendish Arms, 128 Hartington Rd, London SW8 2HJ on Saturday 19th March 2022 – tickets available in advance from https://www.happyrobots.co.uk/tickets
https://www.happyrobots.co.uk/rodney-cromwell
https://www.facebook.com/rodneycromwellartist/
https://twitter.com/robot_rocker
https://www.instagram.com/robot_rocker/
---
Text by Chi Ming Lai
Photos by Alison Ahern
1st March 2022