After the longing Roy Orbison meets 'Twin Peaks' noir atmospherics of 'Better Than Electric' in collaboration with MAPS, Los Angeles based KID MOXIE does something of a complete 180. 
The follow-up 'Shine' features a much darker and harder sound thanks to German producer FADERHEAD. Taking both musical and lyrical inspiration from DEPECHE MODE's 'Never Let Me Down Again', front woman Elena Charbila assertively declares on this superb number that "I'm taking the lead in the back seat". 
Reflecting that attitude, things are taken further with the raunchy visual accompaniment featuring a confirmed bachelorette party with lots of lipstick and black PVC in abundance. It was directed by Joe Rubinstein who also worked on the video for the KID MOXIE cover of the ALPHAVILLE hit 'Big In Japan'.
With 'Shine' featuring on the brand new KID MOXIE album entitled 'Better Than Electric' out later in 2022, Elena Charbila had a quick chat with ELECTRICITYCLUB.CO.UK to offer some insights into both song and video…
'Shine' is both gritty and catchy, plus you've absorbed some DEPECHE MODE influences?
We definitely channelled some DM vibes, it was even a running joke while we were in studio recording it with FADERHEAD. At some point I even suggested we should first give this to Dave Gahan to sing (!) but then I got too impatient and excited about so I sang it myself.
The striking video is quite sexually charged and sends up a number of fetishes, what was the thinking?
The song was inspired by a visual scene of two girls making out in the back seat of a car, so the video was a continuation of that sexual energy that had fuelled the actual song. We didn't plan for the fetishes but the mood of the song kinda called for them to be featured *laughs*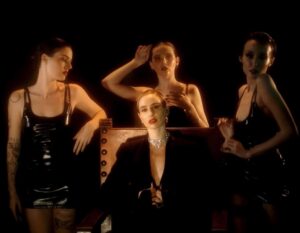 There are beautiful ladies present like in a Robert Palmer or Duran video but the message appears to be female empowerment?
Yes. It definitely is a message about female empowerment and women owning their sexuality without shame. The role play that goes on suggests that both the ones in the dominant roles and the submissive roles are equally powerful as they are performing those roles by choice.
---
ELECTRICITYCLUB.CO.UK gives its sincerest thanks to KID MOXIE
'Shine' is available via the usual digital platforms including https://kidmoxie.bandcamp.com/
http://www.facebook.com/kidmoxie
https://twitter.com/KIDMOXIEMUSIC
https://www.instagram.com/kid.moxie/
---
Text and Interview by Chi Ming Lai
27th February 2022