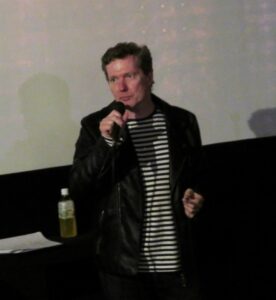 Album launches are a weird and wonderful thing. Usually consisting of either a payback of the latest release in a club to an invited audience where the band sit around disinterested waiting for the bar to open or a gig used to guilt folk into buying the new opus neither are really a celebration of the hard work and effort put into getting the product out.
The approach taken by Tim Bowness for the release of 'Butterfly Mind' was, as usual for this most singular of artists, to beat his own path. The Everyman 4, venue for tonight's performance, is a cinema  so not your usual cathedral of rock and roll excess and seats about 50, so not an excuse to shift 1000 copies of the album.
The small queue outside were given access once Tim and his band casually wandered into the venue. Once inside a taste of how tonight was to go came from the sight of Bowness having piles of CDs pushed into his hands by his longtime collaborator Steven Wilson, and this set the tone for what was less gig and more akin to going round to your mates to watch him jam in his living room. With backing consisting of Fierce and the Dead guitarist Matt Stevens and another established Bowness contributor Peter Chilvers on keys, this was not going to be a full on rock and roll show, there was just enough room for a small merch table in the venue, let alone lasers and pyro.
Bowness started the evening by acknowledging the reason for us all coming together, the new album 'Butterfly Mind' and then promptly told the audience he is going to ignore that and go for a wander through his own extensive back catalogue. This 'disregard' for the new release even extended to there being no copies of 'Butterfly Mind' available to buy on the night. As I say, ploughing his own furrow.
Things kicked off with a very early composition 'Never Needing'. We were then treated, and it was a treat, to 'Brightest Blue', a track written with another long term musical sparring partner Richard Barbieri. This was a theme for the evening with a number of unexpected treats played, some for the first time in decades.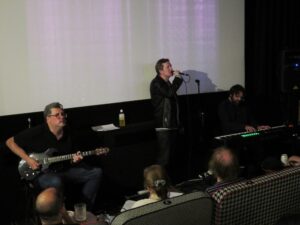 The most enthusiastically received tracks were from the band Bowness formed with Steven Wilson, NO-MAN. The first of these 'Time Travel In Texas' featured some fine playing from Stevens and apparently a hidden homage to Roobarb and Custard!
The work with Peter Chilvers was represented by the melancholy 'Days Turn Into Years' from the 'California, Norfolk' album, a holiday destination we were all encouraged to visit.
Anyone who has listened to the excellent 'The Album Years' podcast will know Bowness is an engaging conversationalist and this carries forward to his back and forth with the audience. The first set closed with 'Back When You Were Beautiful' which was introduced with a tale of shoplifting in a Norwich Thornton's chocolate shop. As I said, not your typical gig…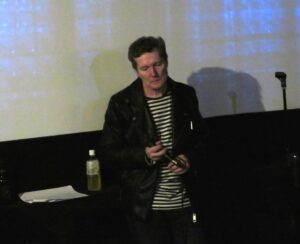 The interval was a chance for the band to mingle with the audience in the evening sunshine. This included well-kent faces like John Mitchell and comedian Al Murray. Tim got so caught up in mixing with his guests, he had to be reminded by Peter Chilvers he had a second set to play.
That second set picked up where the first left off with more NO-MAN music in the shape of 'Wherever There is Light' and the Bowness track 'The Warm-Up Man Forever' which was welcome as it is a particular favourite not only of mine but also the audience.
'Not Married Anymore' once again highlighted how wonderful Bowness's voice is. In an almost 'torchsong' setting and with minimal instrumentation, it is allowed to come to the fore. I have never hidden my regard for his vocal style and the up-close nature of this show only reinforces that. His ability to deliver the saddest of lyrical content without it seeming forced is a skill few possess.
A ukulele free 'Rainmark' heralded the home stretch for the set which did include one 'Butterfly Mind track', 'It's Easier To Love' before that back catalogue was raided for a final time with an excerpt of Sweetheart Raw. This showed age has not diminished Bowness's vocal prowess despite his worry about the song being in the original key.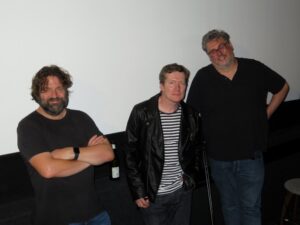 There was also welcome outing for the early NO-MAN song 'Days in the Trees'. Another run through of 'The Warm-Up Man Forever' as 'voted' for by the audience closed proceedings off.
This was an album launch unlike any I have attended before. It was more a celebration of a career which thankfully, on the evidence of that new album 'Butterfly Mind', shows no signs of decline. I look forward to more live outings, hopefully in the very near future.
---
ELECTRICITYCLUB.CO.UK gives its warmest thanks to Tim Bowness
'Butterfly Mind' is released by InsideOutMusic / Sony Music as a limited 2CD and vinyl LP+CD editions via https://timbowness.lnk.to/ButterflyMind
https://www.facebook.com/timbowness/
https://twitter.com/TimBowness
---
Text by Ian Ferguson
Photos by Chi Ming Lai
14th August 2022