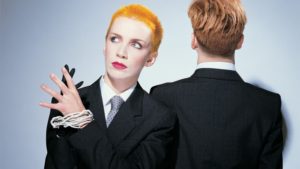 Between April and October this year, sees the vinyl reissues of eight EURYTHMICS albums 'In The Garden', 'Sweet Dreams (Are Made of This)', 'Touch', 'Be Yourself Tonight', 'Revenge', 'We Too Are One', 'Savage' and 'Peace' and gives a welcome chance to look back retrospectively over the duo's musical output.
Although it didn't trouble the charts, the debut 1981 album 'In The Garden'
provided a necessary bridging point between Annie Lennox and David A Stewart's output as New Wave act THE TOURISTS and their newly convened status as a duo.
Co-produced by the legendary Conny Plank in his Cologne studio and featuring BLONDIE drummer Clem Burke, Robert Görl from DAF, and CAN's Holger Czukay and Jaki Liebezeit, the album swings between the guitar-driven post-punk sound of 'English Summer' and the more rocky 'Belinda' which would foreshadow some the band's more rockist leanings latterly in their career.
Due to Plank's top notch production and Lennox's effortlessly beautiful vocals throughout, the album hasn't dated too badly and if never listened to before certainly doesn't hint at the stellar jump with their subsequent offering 'Sweet Dreams (Are Made Of This)'
.
Recorded in their newly fitted out 8 track home studio in Chalk Farm London purchased using a £5,000 bank loan, 'Sweet Dreams (Are Made of This)' would have come as a complete curveball if as a fan you'd latched onto the more pastoral guitar-based sound of 'In The Garden'; almost purely electronic in conception and with the backbeat of Stewart's Movement Drum Computer (which puts in a cameo appearance in the iconic 'Sweet Dreams' promo video).
Also significant for the album was the use of Dave Stewart's EDP Wasp synth which (according to Synth Guru Paul Wiffen) was often recorded using a microphone placed over the in-built speaker in order to capture the sound of the resonating body of the synth's case alongside its source sound.
With YAZOO's debut 'Upstairs at Eric's' opening the public's perception to cold electronics with an accompaniment of soulful vocals, the timing of 'Sweet Dreams' couldn't have been better. There are obvious echoes of Clarke and Moyet in tracks such as 'Wrap it Up', but the addition of Stewart's guitar and the bigger multi-layered vocal production meant that they don't come across as mere pastiches.
Musically one of the things that becomes apparent on 'Sweet Dreams' is Stewart's knack at creating some truly wonderful synth basslines, often using a Roland SH09. From 'I Could Give You (A Mirror)' to the 'The Walk', these perfectly counterpointed Lennox's glacial vocals and set a template for what was to follow with album number three 'Touch'.
'Touch' is often overlooked when it comes to people's go-to classic electronic albums; this could possibly be down to the huge success of the Calypso-themed 'Right By Your Side' which at the end of the day really wasn't representative of the album as a whole. This is a shame, because 'Touch'
is arguably the band's finest hour, tracks such as the singles 'Who's That Girl?' and 'Here Comes The Rain Again' are matched by album cuts 'Regrets' and 'No Fear, No Hate, No Pain (No Broken Hearts).
'The First Cut' echoes YAZOO's 'Sweet Thing' but brings in some live guitar and fretless/slapped bass to the party; whilst the epic 7 and a half minute closing 'Paint A Rumour' takes the listener on a spellbinding musical journey incorporating blippy Kraftwerkian electro pop, dub brass and BLANCMANGE-like Middle Eastern synth elements along the way. Unfortunately the band were never truly this electronic again, with the remix/mini-LP 'Touch Dance' eventually giving way to 1985's 'Be Yourself Tonight'…….
The next two albums 'Be Yourself Tonight'
and 'Revenge'
continued to give the band some huge chart hits; 'There Must Be An Angel' was the band's only UK No1 single from the former, but tracks which had the potential to echo EURYTHMICS earlier electronic work (including the Linn Drum-driven 'I Love You Like A Ball & Chain') seemed to become an excuse for Stewart to wig-out with a show-off guitar solo.
Songs such as 'Thorn in My Side' started to showcase EURYTHMICS steady mutation (and some would say decline) into a US radio-friendly guitar act with most of their electronic elements gradually being exorcised from the bands' production. In some ways EURYTHMICS followed a similar career trajectory to SIMPLE MINDS with stadium rock leanings starting to filter into their recorded output and before you knew it, songs appeared to be written specifically for large arenas.
With the next couple of albums there were still a few glimmers of experimentation, THE ART OF NOISE-aping, Fairlight-driven 'Beethoven (I Love To Listen)' from 'Savage'
was an unexpected single choice, but stalled at number 25 in the UK charts.
The highlight of 1989's 'We Too Are One'
(with its striking cover photo by Jean Baptiste Mondino) was the melancholic break-up single 'Don't Ask Me Why' which in many ways echoed 'Here Comes The Rain Again', especially with its use of pizzicato strings.
After a ten year hiatus, 'Peace'
saw Lennox and Stewart reconvene with the understated 'I Saved the World Today' giving them some chart success, only narrowly missing the UK top 10. With its almost PORTISHEAD retro-style textures, it went some way in distancing the band from its more bombastic productions.
By overviewing the band's output, the listener could cynically surmise that EURYTHMICS jumped on the Synth Britannia bandwagon; riding on YAZOO's coat tails by adopting an electronic aesthetic and then slowly revealing themselves as the rock band that they actually were all along (underneath all of the production surface). That would however do a huge disservice to their early work, which includes some of the VERY best electronic pop tracks from that era.
Interestingly, Dave Stewart confirmed the spiritual link with YAZOO by eventually going on to work with Alison Moyet, co-writing / co-producing 'Is This Love?' under the pseudonym Jean Guiot (used to avoid problems with his music publishers).
The mid-period and latter albums (although in many places giving the band deserved huge commercial success) do however chart EURYTHMICS slow transformation into an entirely different musical beast altogether. For those that bemoan the way DEPECHE MODE now deliver their songs live, should take some solace in that Lennox and Stewart committed far worse musical crimes to some of their iconic synth pop hits than Gahan and co are doing now…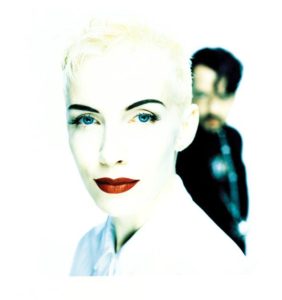 So in terms of influence, what is there left to say about EURYTHMICS legacy? Their nearest contemporaries now would be GOLDFRAPP and PURITY RING; acts that use that male synth / female vocal dynamic.
Completists could possibly complain that the soundtrack to the motion picture '1984 (For The Love Of Big Brother)' and 'Touch Dance' albums should have made the set up to a round 10, but for most, 'Sweet Dreams' and 'Touch' still remain the essential albums to own, with 'In The Garden' being seen as more of an interesting curio in the band's back catalogue.
---
EURYTHMICS' back catalogue is reissued by Sony Music in three stages through 2018
https://www.facebook.com/eurythmics/
https://www.pledgemusic.com/projects/eurythmics-catalogue-vinyl-reissues
---
Text by Paul Boddy
16th April 2018