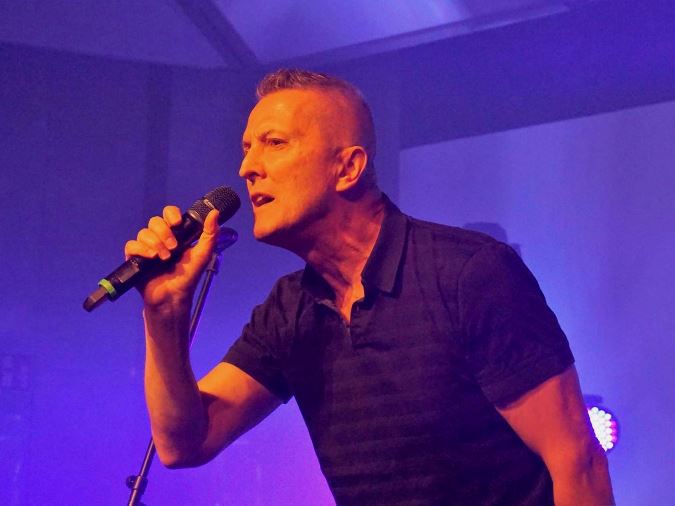 DEUTSCH AMERIKANISCHE FREUNDSCHAFT or DAF are the influential pioneers of electronic body music.
Forming at Die Ratinger Hof in Düsseldorf, DAF's punky ethos became fully realised thanks to the availability of newly affordable synthesizer technology from Japan. Attaching the powerful sound to heavy rhythms and Teutonic expression, the energetic aggression of the music reflected their militaristic aesthetic, as exemplified by songs like 'Der Mussolini' and' Kebabträume'.
Between 1981-1982, the nucleus of Gabi Delgado on vocals and Robert Görl on drums and electronics released an acclaimed trilogy comprising of 'Alles Ist Gut', 'Gold Und Liebe' and 'Für Immer' which were produced by the legendary Conny Plank and originally came out on Virgin Records.
That trilogy along with what was the first album ever released on Mute Records 'Die Kleinen Und Die Bösen' (which Plank also worked on) form the bulk of 'Das Ist DAF'
;  a celebratory boxed set released by Grönland Records, the set also features a bonus disc of respectful remixes while the lavish vinyl edition exclusively contains the treat of a brand new DAF single entitled 'Die Sprache Der Liebe'.
While DAF fell under a haze of "sex, drugs and sequencer" after 1982, Görl began a solo career with the cult favourite 'Mit Dir' in 1983. This was followed by 'Night Full Of Tension', an album which saw Görl embracing synthpop and the English language. It featured vocal contributions from Annie Lennox of EURYTHMICS.
Fast forward to the present day, Görl and Delgado-Lopez have more than occasionally reunited for DAF shows, while the DAF drummer has been showcasing his 'Glücksritter' live only project to audiences around Europe, most recently at the 2017 ELECTRI_CITY CONFERENCE in Düsseldorf.
With the success of the 'Das Is DAF' boxed set and the accompanying authorised biography of the same title due to break cover, Robert Görl kindly chatted about DAF's past, present and future while also reminiscing about the beginnings of his solo career and working with Conny Plank.
Are you pleased with the 'Das Ist DAF' boxed set and what it has achieved?
Yes, I'm happy, we put in just the core albums and I thought the different remixes were a great idea plus of course, there is a very special new DAF single in the box.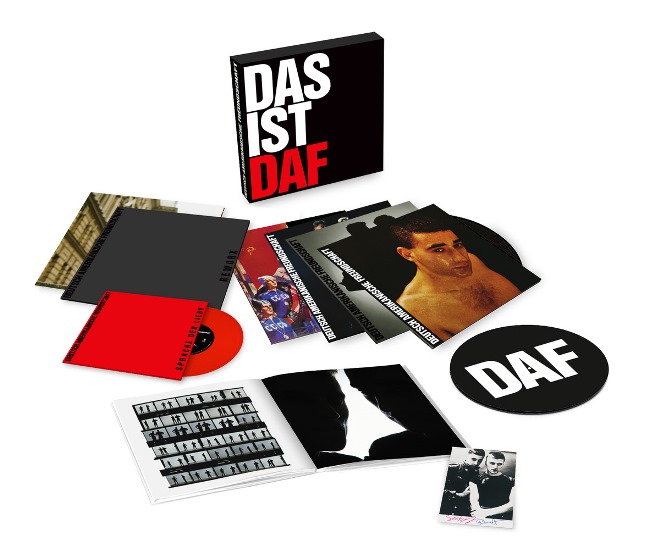 It's taken a long time to get new DAF material together, what was the idea behind 'Die Sprache Der Liebe'?
The working process how we did it was completely old school, like in our old days. I have to say when me and Gabi come together, we don't do so many new records, we have lots of different projects and sometimes we do DAF. The last DAF album was already 15 years ago! But sometimes we meet and talk about maybe doing something new and this time, it worked because we had Grönland and they said they would be very happy if we did at least a single.
For me and Gabi, the two songs we did was kind of a test, I did the sequences, made all of the music and then the drumming before Gabi did the lyrics and singing. It's in the same style like in the old days. It's not like what many bands do… Gabi lives in Spain and me in Berlin, but I don't send audio files for him to progress further before sending it back to me or for a third person to mix it… I don't like this style of working when people don't even see each other to do a record. This for me is very boring.
So me and Gabi had to meet and come together, I played him my sequences. He sees everything like my drumming and I see Gabi while he puts down his first lines and makes them better while I'm in the studio.
Gabi says you still love your vintage synthesizers?
Yes, I still love them. For example, this single is a Korg MS20 and the Korg sequencer, as is the B-side 'Ich Bin Nicht Da'
Did you and Gabi choose the remixers?
Grönland suggested these guys like WESTBAM and BOYZ NOISE, we were happy with them and agreed. Apparently when they approached Giorgio Moroder, he said "Greetings to the DAF guys, tell them I really want to do it" – this was fantastic.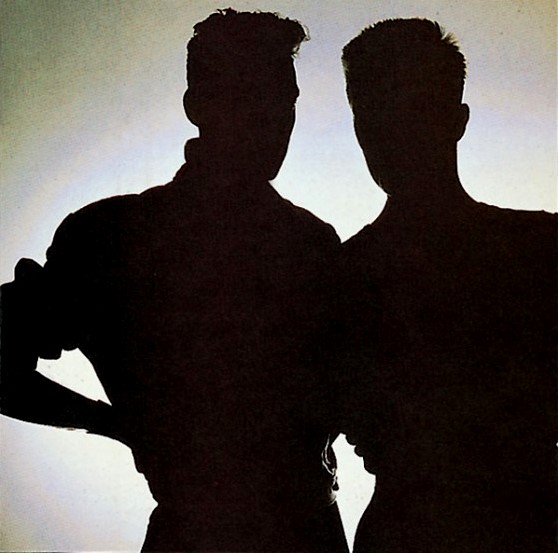 There is this new authorised book 'Das Ist DAF'? Is it a tale of "sex, drugs and sequencer"?
The most interesting part of the book is it tells the hard truth. We were interviewed many times for the book and it is not about a band where everything worked fine, where it's a nice and successful polished career. No, in this book, the reader will see how at many points, Gabi and me had discomfort and there were times when it was not so nice.
We never had fist fights but we did split and said "you go your way and I go mine". We talk very honestly about what happened and when it was sh*t *laughs*
So was your first solo album 'Night Full Of Tension' a result of one of these splits?
Yes, we'd worked for 5 years together as DAF and we were burned out. This was the first split and very heavy, we could not even see each other anymore because we were together day and night for those 5 years. I wanted to do something else.
How did it feel on that album to not be drumming as well as writing and singing in English?
Around this time, I was getting more into pop. When we split DAF at this highpoint, when you look at our style and how we behaved with these three successful DAF albums, we were like pop stars, more or less. We had lots of money and good clothes, I could just book a flight to New York and go… we had everything that we wanted. I wanted to make a pop album and at this time, I was invited to London and New York a lot.
People suggested to me if I wanted to really make it worldwide, I should do an English album. In the 80s, the kingdom of pop music was still London so for me, it was normal and not a big compromise.
What was it like working with Annie Lennox?
She was involved in helping me with lyrics, I went to Montpellier for 2 weeks to write the basic ideas and then I showed her them in London.
She would make suggestions so we worked together on the lyrics, that's why she was also on the album.
You released a great standalone single 'Mit Dir' before 'Night Full Of Tension'. Have you heard DJ HELL and STEREO MCs cover version of it as 'With You'?
I think they did a good well-produced version; 'Mit Dir' is my favourite solo song…
…DJ HELL also did a remix with you of 'Liebe Auf Den Ersten Blick' for 'Das Ist DAF'?
Yes, I liked it… I had a few arguments about how he did it, but in the end it was a good product.
There was also the Prada commercial using the 'Headed For The Sun' version by MURK.FM?
That was a good one…
The 'Das Ist DAF' boxed set highlights your productive relationship with Conny Plank on those classic albums? What sort of person was he?
Conny was like home, he made it comfortable for all the bands he produced. What I really liked about him was he gave you comfort. Even at lunchtime, we met many times in the kitchen and he would just give Gabi and me his studio. He said "Take my studio, it's yours". He gave us time and wouldn't look at the watch saying "we must do this and this and that now", he was not like this.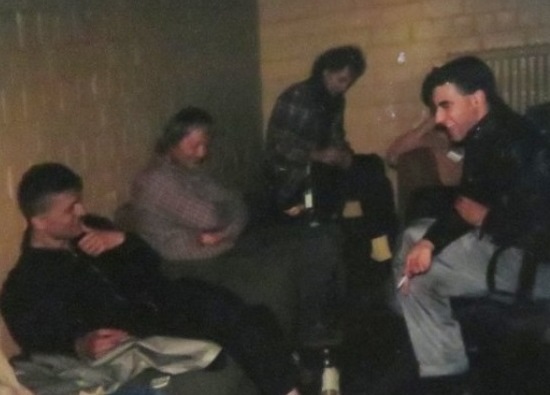 Was he like your favourite uncle?
He was almost like a father to me, we lived at the studio so it was all very familiar. We had a room and slept there, we would go down in the morning and he would be making breakfast, while his girlfriend Christa Fast would make cakes. It was the very homely feeling that we remember most. And this made it easier for us to feel good and create without having a heavy head.
Other studios can give you headaches because of the deadlines, it was the opposite at Conny's Studio. He would come down in the afternoon, listen and say "hey, this sounds good, let's record it"… it was warm and comfortable with no pressure. He was a fan of our music and he was a gentleman. He always found the moment when we were hot… this was very good.
---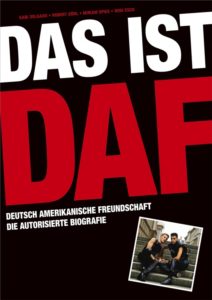 ELECTRICITYCLUB.CO.UK gives its warmest thanks to Robert Görl
Special Thanks to Rudi Esch
'Das Ist DAF: Deutsch Amerikanische Freundschaft – Die Autorisierte Biografie'
by Gabi Delgado, Robert Görl, Miriam Spies and Rudi Esch is published by Schwarzkopf & Schwarzkopf
The boxed set 'Das Ist DAF'
is released by Grönland Records, available in vinyl and CD formats
DAF perform at Malmö Inkonst on Saturday 25th November 2017
https://www.facebook.com/DASISTDAF/
https://www.groenland.com/en/artist/deutsch-amerikanische-freundschaft/
---
Text and Interview by Chi Ming Lai
23rd November 2017