German techno DJ legend WESTBAM celebrates 30 years in the music business with an intriguing mature collection of songs under the title of 'Götterstrasse'.
Literally translated as 'Gods Street', the 14 tracks feature a varied and impressive cast of vocalists. These include THE PSYCHEDELIC FURS' Richard Butler, NEW ORDER's Bernard Sumner, Iggy Pop, Brian Molko of PLACEBO, ex-member of THE STRANGLERS' Hugh Cornwell and even rappers such as Kanye West and Lil' Wayne! 'Götterstrasse' sounds heavenly and while the theme of the album centres on the joy and euphoria of underground nightlife, it also reflects on the consequences of comedown.
Indeed, the album's magnificent launch single 'You Need The Drugs' voiced brilliantly by Richard Butler is not actually celebration of illicit substance use. "There's been practically no interview in the last 30 years in which I wasn't asked about drugs" said WESTBAM, real name Maximilian Lenz. "So the song 'You Need The Drugs', sung by Richard Butler, vocalist of new wave band Psychedelic Furs, is the first explicit electronic appeal AGAINST the use of drugs, with a clear message: drugs are a bore! Drugs destroy relationships! Drugs are always counterproductive!"
'Kick It Like A Sensei' featuring Lil' Wayne follows and the sparse soundtrack held together by symphonic bursts of synth strings and metronomic rhythms provides a dramatic listen. The New Orleans hip-hop star's "Like a Sensei" mantra becomes quite hypnotic and draws the listener in. Meanwhile, Katt Rockell provides a raspy and soulful feminine edge to yet another metronomic percussive base on the superb 'Rebel Heart' which musically builds with tinkling sequences and further synth string stabs.
Whereas the diverse selection of vocalists make on paper an unlikely cohesive album, WESTBAM keeps the musical thread together with a consistent adventure in sound. Instrumentally the songs are the same, yet different and the singers have been given the freedom to shape the songs melodically to provide the necessary variation. Interestingly, dominant staccato bass pulsing is largely absent from proceedings as are banging beats; this in turn makes 'Götterstrasse' sound almost cocoon-like.
Iggy Pop's baritone provides an album highlight with 'Iron Music', the tense militaristic framework being highly Teutonic as the former James Newell Osterberg recalls his own period in Cold War Berlin with echoes of 'Aisha' his 1999 collaboration with DEATH IN VEGAS.
It all sounds strangely like JOY DIVISION gone techno, so the track which pops up next is highly appropriate. 'She Wants' sees the return of Bernard Sumner on a new electronic dance composition and it's great to hear him in fine voice again on something approaching the sound of synth centred NEW ORDER.
Meanwhile, more sombre synthetic strings decorate the beautiful 'Götterstrasse No 1' which sees Ina Humpe's vocals sampled and scatted over a suitably abstract slice of dance art. Humpe's other contribution 'To The Middle of Nowhere' provides a gently autotuned sheen to the pretty Eurocentric backing.
Unsettling Wagnerian overtones dominate 'Sick' with Brian Molko and 'Radio Siberia' with Kanye West. While Molko gives it some angsty Gothic gloom, West is more typically urban with the expected "MF" profanities throughout. After an impressive eight track run of consistent quality, it is from here that 'Götterstrasse' starts to flounder a little.
A change in the instrumental timbre comes with some bass guitar on 'We Feel Love' featuring Afrika Baby Bam but this, like 'Radio Siberia' suffers from comparison with the first half of the album. 'Solid Sound' featuring Southern Blues singer/ songwriter Andrew Tyler returns to the template set earlier on 'Götterstrasse' but by now the momentum is lost and in retrospect, the following downtempo 'Where We're From' with Katt Rockell sounds really out of place. However, 'Götterstrasse' snaps back to the wondrous feel of its first half with an appearance by Hugh Cornwall on the penultimate offering 'A Night to Remember'.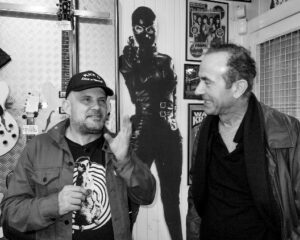 It's the most frantic track of the collection but that's not to say it doesn't have a serene quality, the metallic textures are complimented by piano and soothing ARP Solina reminiscent of the close of ROXY MUSIC's 'If There Was Something'. The ambient instrumental 'Reprise' brings the set to its conclusion.
Overall, 'Götterstrasse' is a fascinating listen, full of character if just a bit too long. A fabulous 9-10 track album nests within its steadfast beats, melancholic strings and vast array of singers. The deluxe 2CD edition incidentally features the dub mixes where the comparative simplicity of the backing tracks is highlighted. It has to be said that while the album's rhythms are repetitive, they are unobtrusive and compliment the various stages carrying the lead characters.
Haunting, lively and enigmatic, some of the best electronic music of 2013 can be found on 'Götterstrasse'.
---
With thanks to Mark Reeder
'Götterstrasse'
is released by Vertigo / Universal Germany as a CD, deluxe 2CD and download
http://www.facebook.com/westbam
---
Text by Chi Ming Lai
6th May 2013