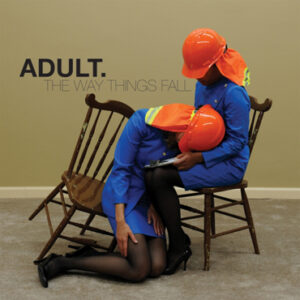 ADULT. – the sonic outlet for musician/film maker Adam Lee Miller and vocalist / photographer / artist Nicola Kuperus – formed in 1998 in Detroit.
Long after the first flush of Detroit techno, and slightly before the electroclash boom, Kuperus and Miller were following a decidedly different trajectory.
A cyborgian Siouxsie Sioux meets Lene Lovich set to the sound of malfunctioning hospital machinery, the duo's sonic and lyrical vistas have been, from the very beginning, heavy with foreboding and paranoia.
They flavour their electro with a clinical disorientation and a tendency towards misanthropy: brought up in an environment in which financial crisis followed cold war and added surveillance to state violence. ADULT. channel this mistrust and isolation, adding an Argento-like theatricality to produce a sound that is uniquely and excitingly their own although no-one could deny there are flashes of influence, particularly KRAFTWERK and Metamatic period JOHN FOXX. In a 2003 interview Miller confirmed: "We think of what we are doing as social commentary. It's about anxiety and social disorder. I know that John Foxx and Tubeway Army are the first records that I bought that put me on this path that I am still on sixteen years later."
No matter how many new acts emerge from the fertile soil laid in the Electroclash years, ADULT.'s musical output – all 15 years of it so far – mine a particular seam few other artists attempt. Alienation and tension are far less likely to get a band commercial reward, and for ADULT. this has meant never attaining the recognition that artists like LADYTRON and MISS KITTIN have enjoyed – yet, it has kept their output focussed, potent and allowed ADULT to remain uncompromised in their ideas. Their interest in French existentialism, horror films and Ballard-like storytelling in photography perhaps count towards this ability to create an unsettlingly original sound – or perhaps it is really down to Kuperus' utterly distinctive tones.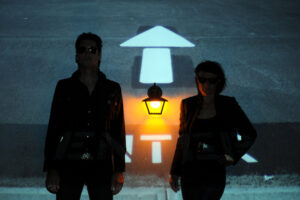 'The Way Things Fall' is their first in 5 years, following – ironically – their 2007 album 'Why Bother?'. We are, of course, glad they did bother to return to music after spending the interstitial years making film. The album is undeniably ADULT. : the subject matter as nihilistic and clever as one could expect, a dreamscape of surgical precision, the entropy of a Peter Greenaway film and the sonic palette composed almost entirely of synthetics which SOUND synthetic.
There's no hearkening to warmth or organic oscillations here, and it is all the more effective for it. On this album, however, melodic influences creep into ADULT's detuned, minimalist arrangements, with some great arpeggiated glimmering, luring us in.
The first track, 'Heartbreak' opens the album with a classic ADULT. topic and feel – love, futility, disappointment. It sets the scene with an edgy, tense atmosphere, and Kuperus exercising her full Siouxsie/Lovich dramatic range. You can hear the echoes of punk's angry young women (and post-punks, for that matter) in her vocal delivery.
It's followed by 'Idle (Second Thoughts)', which continues the Siouxsie theme tangentially by sounding just a little like 'Hong Kong Garden' or perhaps a lost YELLOW MAGIC ORCHESTRA track. It's crystalline and diamond-bright, and if you get no further into this album, listening to 'Heartbreak' and 'Idle' will tell you much of the must-knows about ADULT: minimalism meets post-punk with a new-found flirtation with bright melodies, all the while retaining a sense of the sinister, the uneasy.
Fourth track 'New Frustration' seems the obvious dancefloor winner of this album, with deeper grooves pushing the song forward whilst Kuperus questions low and insistently: catchy and hypnotic. 'Love Lies' sees ADULT. returning to the surgical suite, with a slower insistent heart-beat bleep and tense detuned synth to create a clinical despondence, whilst Kuperus drawls in an emotionless monotone "Love lies… it's no surprise". 'Tonight, We Fall' and 'At The End Of It All' are again typical, vintage ADULT. – sinister, dramatic, and claustrophobic, insistent, frantic and full of sci-fi synth-drama.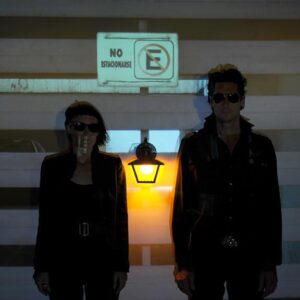 Patience has its rewards – as does pressing shuffle – as towards the end of the album there are two gems awaiting appreciation. After the storm comes the calm, eerie quiet.
'A Day Like Forever' shows our ADULT.s in a different mood; a strangely slow, spacious, funereal drama – uneasy and effective. Kuperus' voice is affected and unsettling, seeming to treat the staccato and the lengthy similarly, slightly, deliberately, out of tune and hollow.
The album's unofficial closer is 'We Will Rest', followed only by a short almost Depeche-worthy instrumental in 'Rise & Fall'.
'We Will Rest' sees Kuperus's lyrical insistence giving way to the sonic landscape, which includes a luxuriant rising arpeggio and textural noise. It would have been nice to see this track a little further up the list, as it contrasts effectively with the rest of the album. Kuperus speaks the lyrics, smothered by heavy reverb and delay. Here she doesn't cut icily through the sonic texture, but is part of it, increasing effectively the atmosphere of melancholy and disorientation. A particular favourite, and a horror soundtrack awaiting its filmic partner. 'Rise & Fall' is short, metallic and thoughtful – perhaps channelling an industrialised Martin Gore instrumental.
'The Way Things Fall' could be the best entry point a new ADULT. fan could have although listening to their most famous track 'Hand To Phone' is essential, too. This reviewer loves 'The Way Things Fall' and hopes you can dig deep to your inner Sartre, Ballard and Lovich to love it too.
---
'The Way Things Fall' is released on 13th May by Ghostly International in the UK and Europe as a CD and download. It can be heard on an audio stream at The Fader
ADULT. live dates include: London XOYO (15th May), Berlin Festsaal Kreuzberg (16th May), Brussels Magasin 4 (18th May), Amsterdam Indiestat Paradiso (20th May)
---
Text by Nix Lowrey
8th May 2013