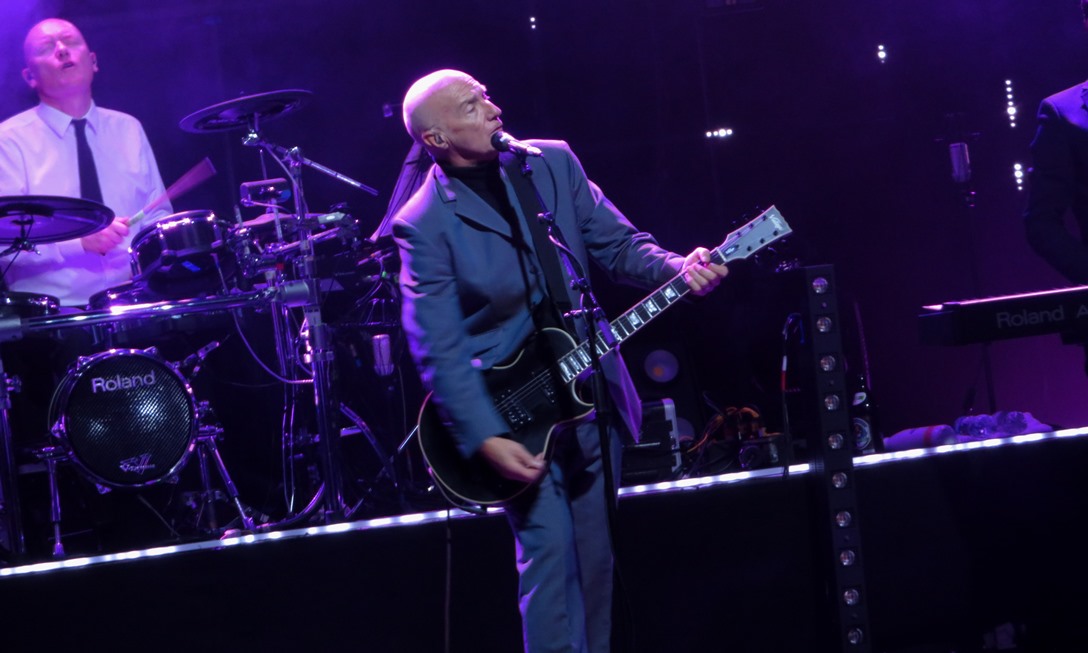 With the success of his '1980' tour celebrating ULTRAVOX's 'Vienna' album and his work as a member of VISAGE, Scottish music veteran Midge Ure finally got his long awaited 'Voice & Visions' adventure on the road.
Delayed in the wake of the worldwide pandemic, the second leg of the tour which had originally been arranged as the first part has been playing to appreciative crowds at packed theatres throughout the UK. Midge Ure will be 70 this coming October but he has shown no sign of wavering with his voice remaining intact, save a few very high notes which are discreetly worked around. Meanwhile, he continues to play guitar and keyboards with an enthusiasm that is obvious for all to see.
The concept of the 'Voice & Visions' tour was to air material from ULTRAVOX's second and third Ure-era long players 'Rage In Eden' and 'Quartet'; the former was the product of three months spent in the isolated countryside studio of German legend Conny Plank near Cologne, while the latter was a comparatively brighter affair with THE BEATLES producer George Martin at the helm which included a mixing sojourn in sunny Monserrat. These two very different approaches netted six Top 20 single in the UK. "This is the logical and emotional follow up to the 1980 tour" Ure said.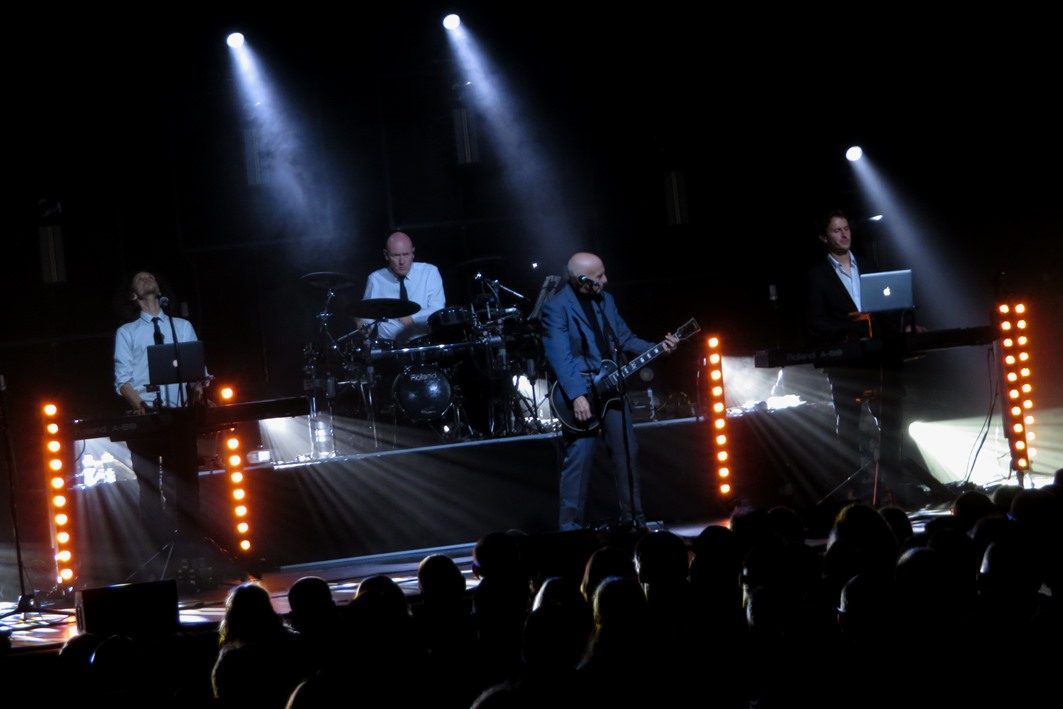 After a number of years performing acoustically and solo, Midge Ure introduced his Band Electronica concept in 2017 to perform full-fat renditions of the key milestones of his glorious musical career, some for the first time since the classic ULTRAVOX line-up reunion with Chris Cross, Warren Cann and Billy Currie that thrilled fans between 2009 to 2013. The format also provided another opportunity to hear some of best electronic pop of the Synth Britannia era in a live context.
With the live band comprising of long standing drummer Russell Field and the talented multi-instrument duo of Cole Stacey on bass, keyboards + guitar and Joseph O'Keefe on keyboards + violin, it was this trio who opened proceedings with a selection of songs that the two youngsters have recorded as INDIA ELECTRIC CO.
Presenting a modern take on traditionally-derived music forms, songs such as 'Only Waiting' and 'Heimat' showcased Stacey's earnest vocal style and O'Keefe's emotive violin playing with Field providing a variety of acoustic percussive colours. An enjoyable cover of Bruce Springsteen 'I'm On Fire' sprung a surprise with Stacey using mini-keys and Field taking to penny whistle while O'Keefe displayed another string to his bow with some six string dexterity.
The elegant 'Parachutes' had touches of folk and Americana while at the other end of the scale, 'Lost in Translation' saw synths and electronic arpeggios brought into the spritely equation. To close the INDIA ELECTRIC CO support set, 'Statues' brought mandolin loops, funk, jazz, classical and synth into an unusual but engaging hybrid of styles.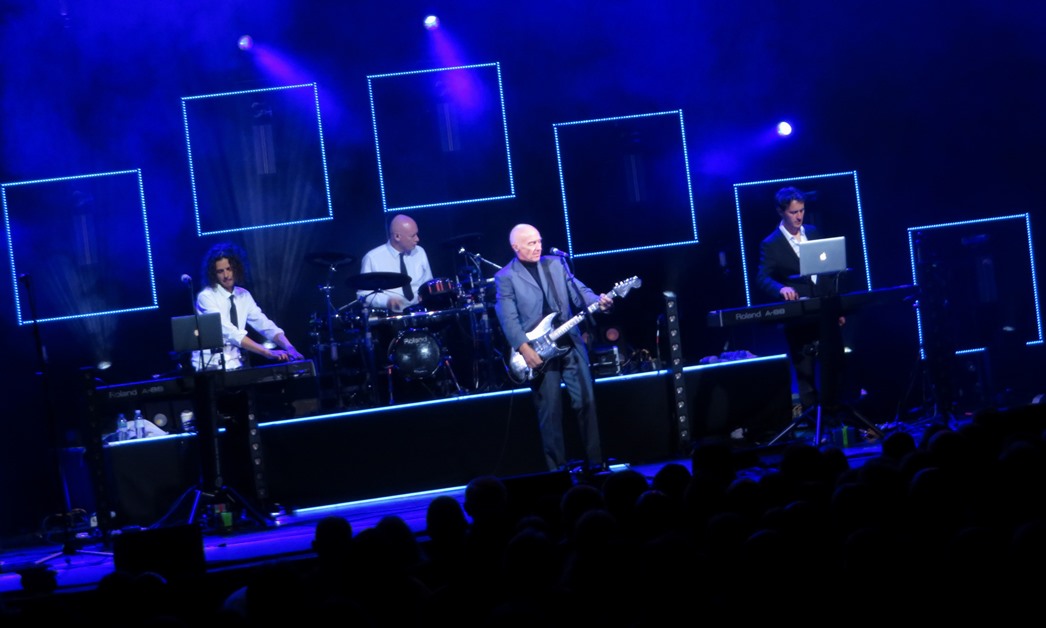 With an impressive 20 minute turnover time, Stacey, O'Keefe and Field returned to the stage to set the scene for Midge Ure's arrival. Taking full advantage of their presence, the ULTRAVOX Mk2 front man launched into impassioned rendition of 'Dear God'; the song he premiered at Wembley Stadium for the Nelson Mandela 70th Birthday Tribute concert in 1988, its call for peace and unity was particularly poignant in relation to current world events.
Maintaining momentum, the rousing 'If I Was' was a reminder of his 1985 solo UK No1 single while the evergreen 'Fade to Grey' was another of his No1s, albeit in West Germany where the VISAGE song became the Bundesrepublik's biggest selling single of 1981.
Ure's solo career actually began in 1982 with a cover of Tom Rush's 'No Regrets'; originally an acoustic number by its author, it was a comeback hit for THE WALKER BROTHERS in 1976. While just simply a great song, his cover of a cover still possesses an icy resonance to compliment the bittersweet lyrics.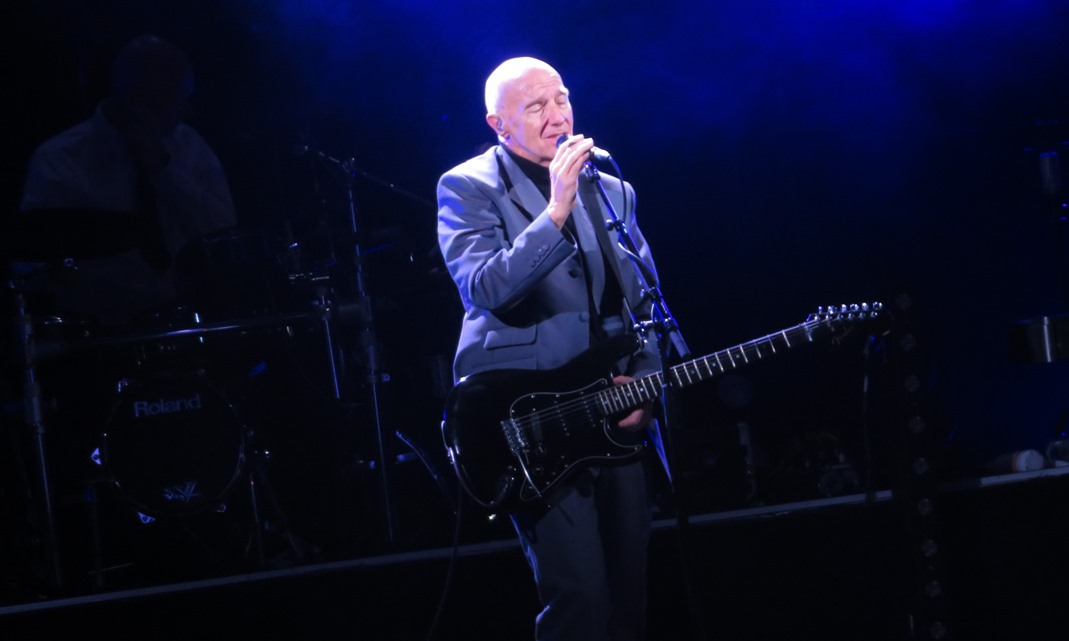 However, the audience at Cambridge Corn Exchange were there to hear ULTRAVOX songs and Ure duly delivered. There were the hits 'The Voice', 'The Thin Wall' and 'Reap the Wild Wind' but there was also 'We Came to Dance' which had not included in any of the 21st Century ULTRAVOX reunion shows. But many were there for the album highlights from 'Rage In Eden' and 'Quartet'; 'We Stand Alone' was enhanced by Joseph O'Keefe's chilling synth stabs while 'I Remember (Death in the Afternoon)' saw a THIN LIZZY style of twin guitar interplay between Ure and Stacey.
'Your Name (Has Slipped My Mind Again)' recalled the claustrophobic intensity of the 'Rage In Eden' album while on the atmospheric title song, Cole Stacey impressively nailed the Middle Eastern toned "noonretfa eht ni htaed… rebmemer i ho" phonetics of its haunting chorus. From the 'Quartet' album, the synth rock of 'Mine For Life' made its return since that particular tour which was preserved on the 'Monument' live artefacts.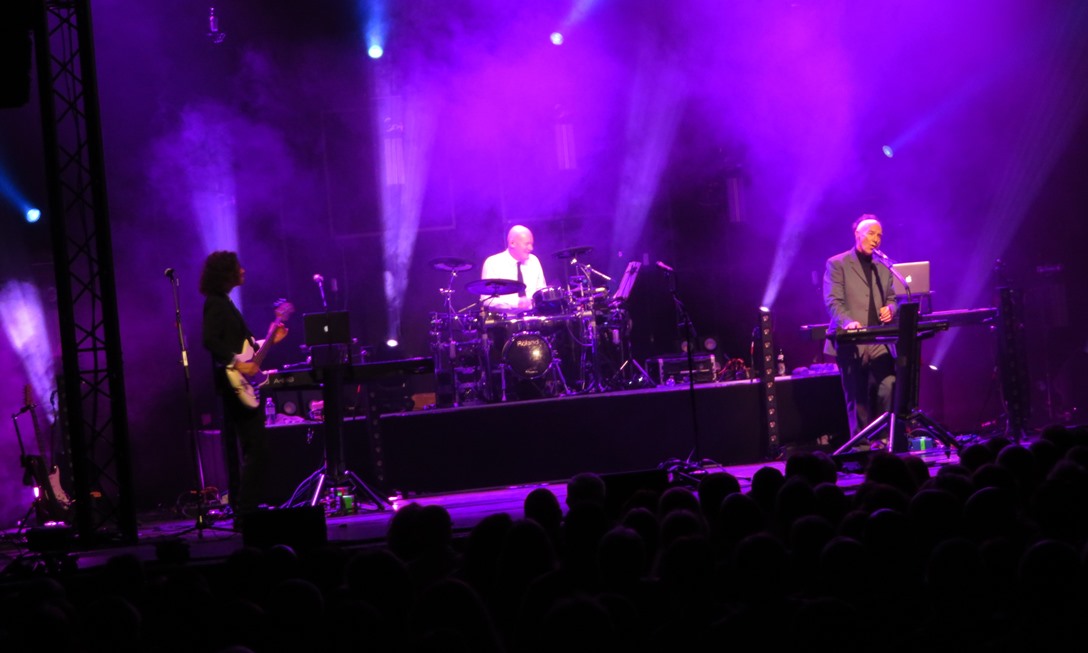 Meanwhile the more frenetic 'Serenade' was another welcome inclusion as a song that had never been performed live until this 'Voice & Visions' tour. Finishing the main part of the set with 'Hymn' and 'Visions in Blue', the end of show crescendo may have been better served if the order of those two songs had been the other way around.
For the four song encore, there was the unexpected inclusion of the mighty electro-prog instrumental 'Astradyne' and of course 'Vienna' with duel ivories from O'Keefe and Stacey to provide a continuous piano passage that, due to physical practicalities, would have to be interrupted during ULTRAVOX renditions of "The Greatest No2 of All Time" as voted by BBC Radio2 listeners.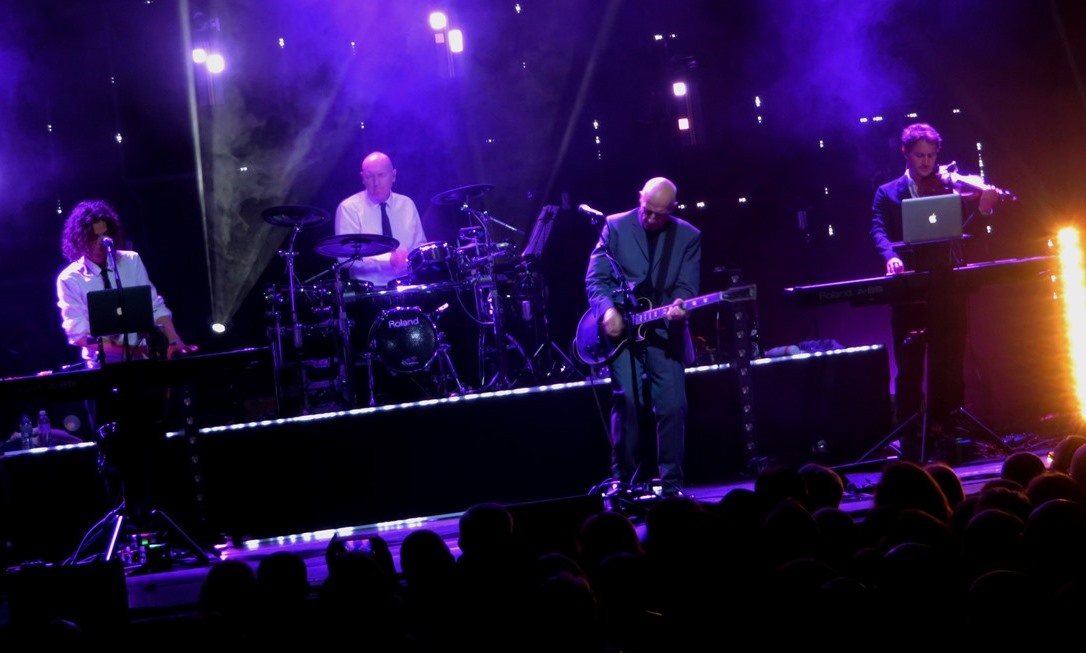 Concluding the evening with 'Dancing With Tears in My Eyes' and 'All Stood Still', this pair of cheerful ditties about Mutually Assured Destruction reflected the Cold War paranoia during which they were created in; as with 'Dear God' at the beginning of the set, that angst has scarily returned to today's uncertain world. Critics used to consider ULTRAVOX pretentious and pompous but they offered intelligent and thoughtful real life observations and concerns.
A triumph all around, the 'Voice & Visions' show was complimented by a straightforward but very effective light show and crystal clear sound. This revisiting of Midge Ure's back catalogue has got potential to run even further and ELECTRICITYCLUB.CO.UK has its fingers crossed for a 'Lament' to 'The Gift' 1984-1985 based tour in the not too distant future 😉
And for those waiting for the DEPECHE MODE dig, to the idiotic Devotee who said that Martin Gore was a better guitarist than Midge Ure… err, no! 🤣
---
With thanks to Cole Stacey
ULTRAVOX 'Rage In Eden' + 'Quartet' are available via Chrysalis Records as deluxe boxed sets
Midge Ure 2023 festival appearances include:
Middlesbrough Let's Rock the North East (10 June), Let's Rock Leeds (17 June), Let's Rock Scotland (24 June), Let's Rock Exeter (1 July), Let's Rock Shrewsbury (15 July), Forever Young 2023 (16 July), Rewind Scotland (23 July), Wickham Festival 2023 (6 August), Chepstow Castle (18 August), Let's Rock Norwich (19 August), Oostende W-Festival 2023 (25 August)
https://www.facebook.com/midge.ure
https://www.instagram.com/midge_ure/
INDIA ELECTRIC CO will be touring later in 2023, dates include:
Deepdale Festival (24 September), Manchester Band On The Wall (17 October), Glasgow Glad Cafe CIC (18 October), Cambridge Junction 2 (24 October), London Kings Place (25 October), Aylesbury Waterside Theatre (26 October), Totnes Barrel House (27 October), Lyme Regis Marine Theatre (28 October)
https://www.facebook.com/indiaelectricco
https://twitter.com/indiaelectricco
https://www.instagram.com/indiaelectricco/
---
Text and Photos by Chi Ming Lai
31 May 2023